MARINE PAINTINGS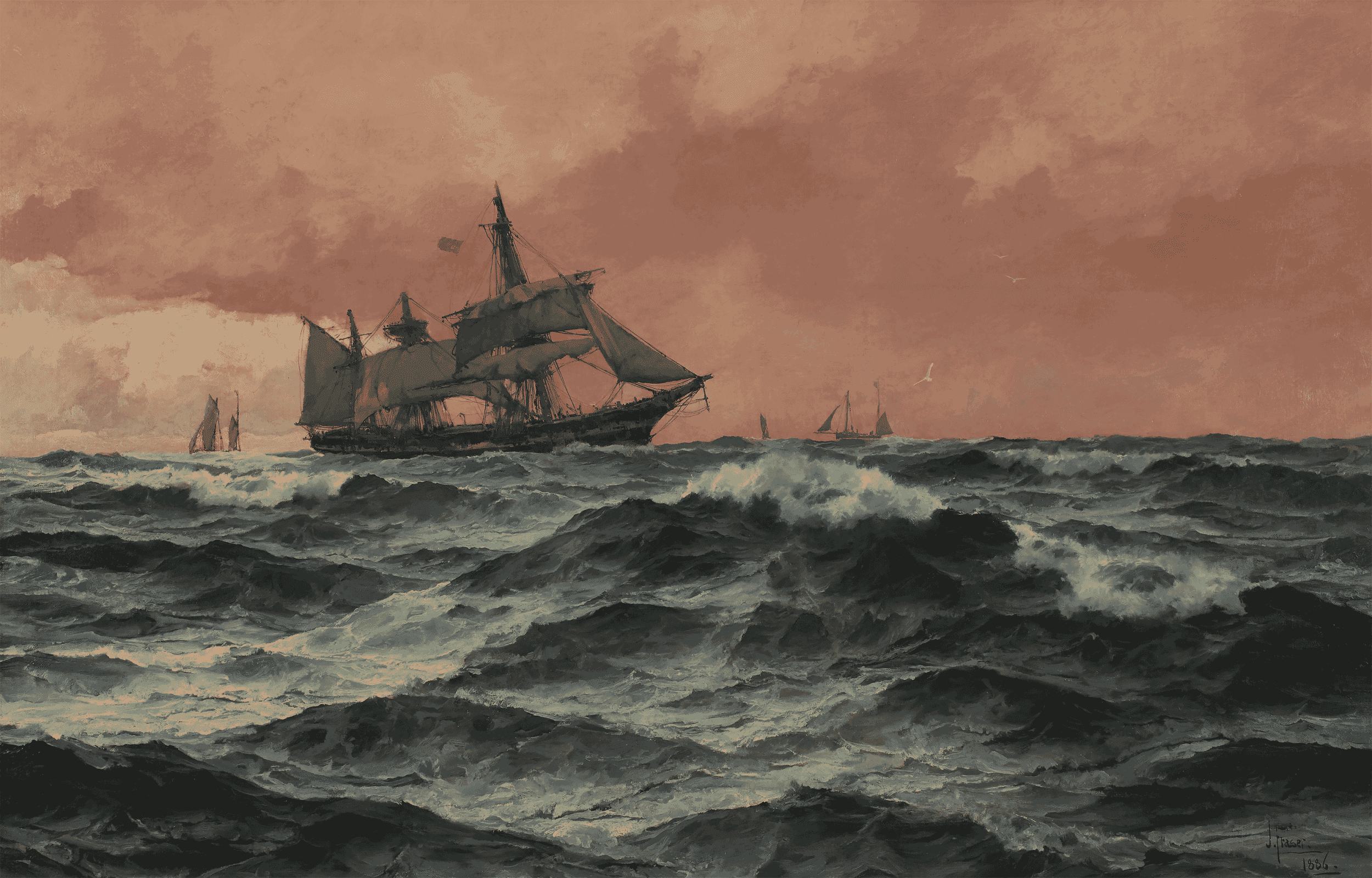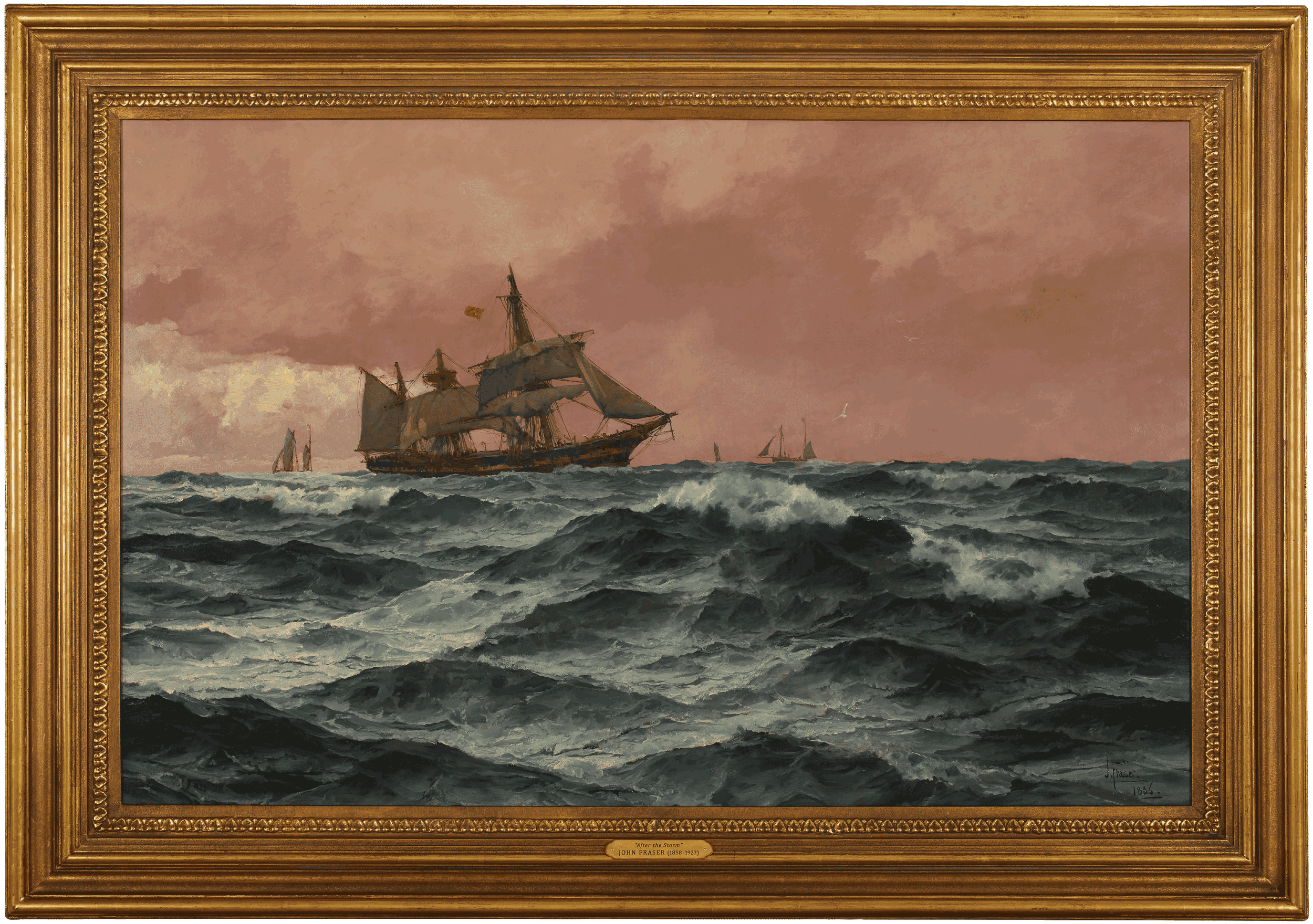 JOHN FRASER
1858-1927
"After the Storm"
John Fraser was born in Tynemouth in 1858 into a traditional nautical family.
His younger brother William went to sea and in 1890, at the age of just eighteen, was lost overboard whilst outward bound for Australia. His other brother Rodney also went to sea, rising to become a master, and he also sadly drowned.
In 1885 at the age of twenty-seven John Fraser, without informing his family, sailed to North America where he was to remain for three years. The next twenty years saw him travelling extensively by sea throughout the Mediterranean and the Far East, and this all accounts for the incredibly diverse and interesting locations represented in his considerable artistic output.
The artist was to develop into one of the foremost painters of the sea in the latter part of the nineteenth century. Indeed, one of the most interesting features of his paintings was that sea and sky usually comprised equal parts of the canvas, rather than the hitherto more traditional and accepted style of painting encompassing one-third sea and two-thirds sky.
John Fraser's work was strongly influenced by the great marine painter Thomas Somerscales as well as Chevalier Eduardo de Martino, the latter being a great friend of Fraser's. Fraser often worked with and for de Martino, whose work was very much in vogue during the early 1900's.
Indeed, the demand from several of the crowned heads of the day, including Queen Victoria, Edward VII, George V and the King of Brazil meant that de Martino's professional ability was sorely stretched, and he would thus hand work on to Fraser to either paint or complete on his behalf, with de Martino taking full credit for any work Fraser had completed.
Fraser was an extremely capable artist and de Martino would often merely add the minutest detail to Fraser's completed work, such as a small flag, before he signed the work and passed it off as his own oeuvre.
After de Martino's death Fraser was unfortunately saddled with claims for works which he had delivered but had not been paid for.
He is known to have lived in Stoke Newington, London in 1880, Seaford in Sussex in 1887, and back again in London in 1891.
Towards the end of his life, John Fraser sold reproductions from his shop in Grosvenor Road in Westminster and it was outside this shop that he suddenly collapsed and died on 25th April, 1927.
John Fraser's exhibited subjects comprised seascapes, coastal scenes and landscapes, and he first showed his paintings at the Royal Academy in 1880, then at the same venue from 1885 to 1905, and later exhibiting there most years up until 1919, with some 55 exhibits in total.
Between 1880 and 1904 he also exhibited 72 paintings at the Royal Society of British Artists in Suffolk Street, as well as other venues of the day; including 7 paintings at the Birmingham Art Gallery, 11 at the Dudley Art Gallery, 60 at the Fine Art Society, 30 at the Walker Art Gallery in Liverpool and 7 works at the Manchester City Art Gallery.
In the mid-1950's his widow, then living in greatly reduced circumstances in a one room apartment, disposed of his remaining studio to the National Maritime Museum in Greenwich; the collection comprising some sixty sketchbooks, sixty oil paintings and more than one hundred watercolours.
Signed and dated 1886
Oil on canvas
26 x 40 inches
66 x 102 cms.

Provenance
Private Collection, London
Framed Size
33.5 x 47.5 inches; 85 x 120.5 cms.