MARINE PAINTINGS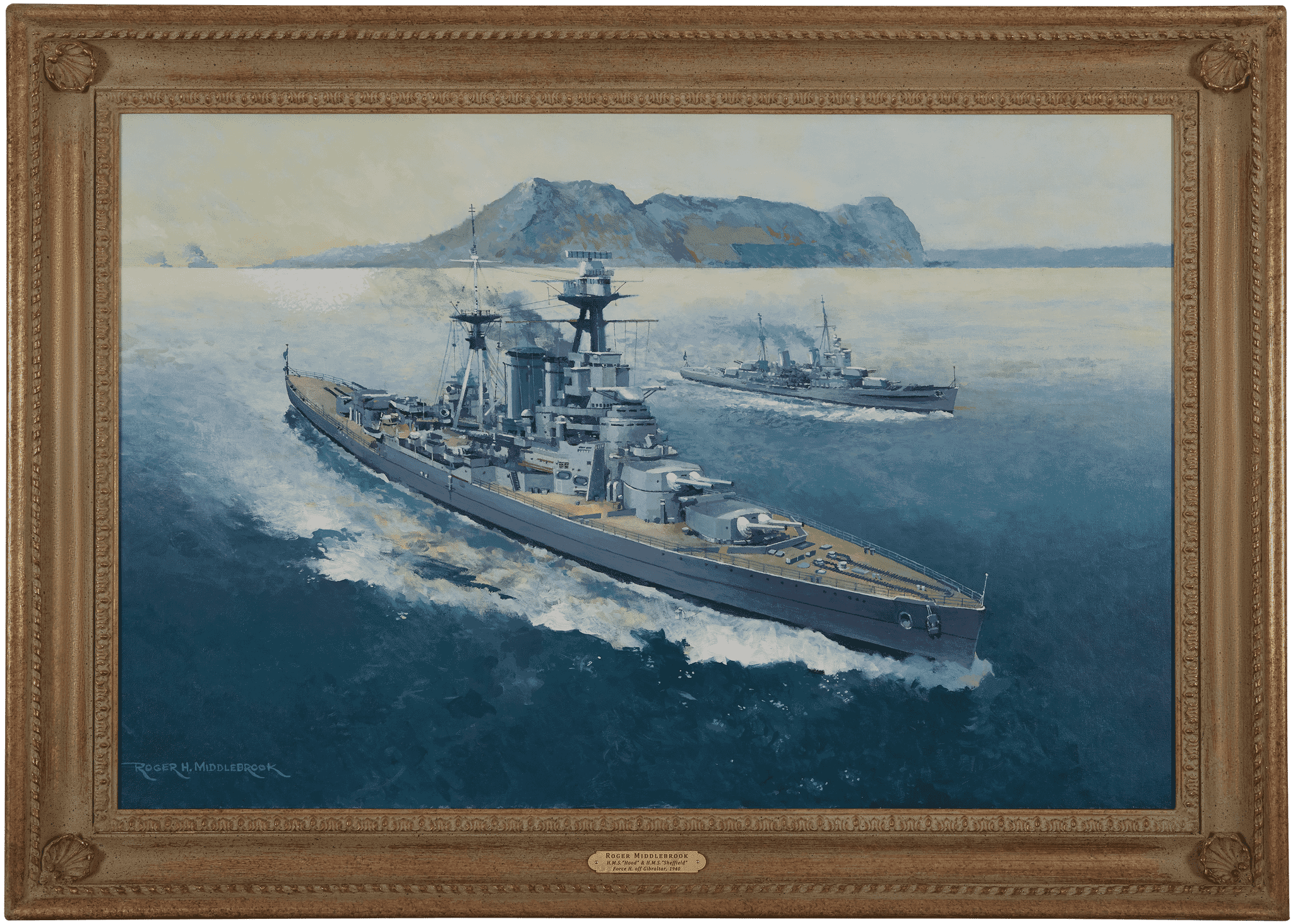 ROGER MIDDLEBROOK
Born 1929
"Force 'H' at Gibraltar, H.M.S. Hood & H.M.S. Sheffield"
The year is 1940. France had already capitulated and Italy was now siding with the Nazis. The Allies foresaw the calamitous possibility of the Italian Fleet running riot in the Mediterranean, and so Force 'H' was formed by the Royal Navy at Gibraltar to combat such an eventuality.
Force 'H' was an extremely powerful group comprising three aircraft carriers, H.M.S. Ark Royal, H.M.S. Illustrious and H.M.S. Eagle, the battle cruiser H.M.S. Hood, as well as 6 battleships, including H.M.S. Valiant and H.M.S. Resolution, and 11 cruisers which included H.M.S Sheffield.
The Mediterranean was now secured.
The battlecruiser H.M.S. Hood was laid down in September 1916 as part of the Emergency War Program. She was built by John Brown's shipyard on Clydebank and launched on 29 March, 1920.
Hood displaced 42,100 tons, and her main armament comprised eight 15 inch guns and twelve 5.5 inch guns. With a top speed of 31 knots, she was the largest and finest capital ship of her day, but she was tragically lost on 24 May, 1941.
Steaming to intercept the mighty new German battleship Bismarck, after the latter had been spotted trying to break out into the Atlantic, she was struck by a shell from Bismarck's fifth salvo, which hit one of her magazines and caused her to explode.
H.M.S. Hood sank very quickly, resulting in an appalling loss of life. There were just three survivors from a complement of 1,341 officers and men.
The Southampton Class Cruiser H.M.S. Sheffield was ordered from Vickers Armstrong at Newcastle on 17th December 1934, and was laid down on 31st January 1935. The ship was launched on 23rd July 1936 and was the first Royal Navy ship to bear this name. Her build was completed on 25th August 1937 and the ship commissioned for service in the 2nd Cruiser Squadron.
Sheffield participated in actions against several major German warships. Unlike most Royal Navy ships of her time, her fittings were constructed from stainless steel instead of the more traditional brass, and in August 1938 she was equipped with a prototype radar system, the first Royal Navy ship to be so equipped.
At the outbreak of war, Sheffield served with the 18th Cruiser Squadron, patrolling the Denmark Straits and then, in April 1940, she was engaged in the Norwegian Campaign.
After a short spell carrying out anti-invasion duties in the English Channel, she joined Force 'H', based in Gibraltar. During that time, she operated in the Mediterranean and the Atlantic until the year's end, participating in Operation White and the battle of Cape Spartivento in November 1940.
Signed
Oil on canvasboard
24 x 36 inches
61 x 91.5 cms.
Framed Size
31 x 43 inches; 79 x 109 cms.