MARINE PAINTINGS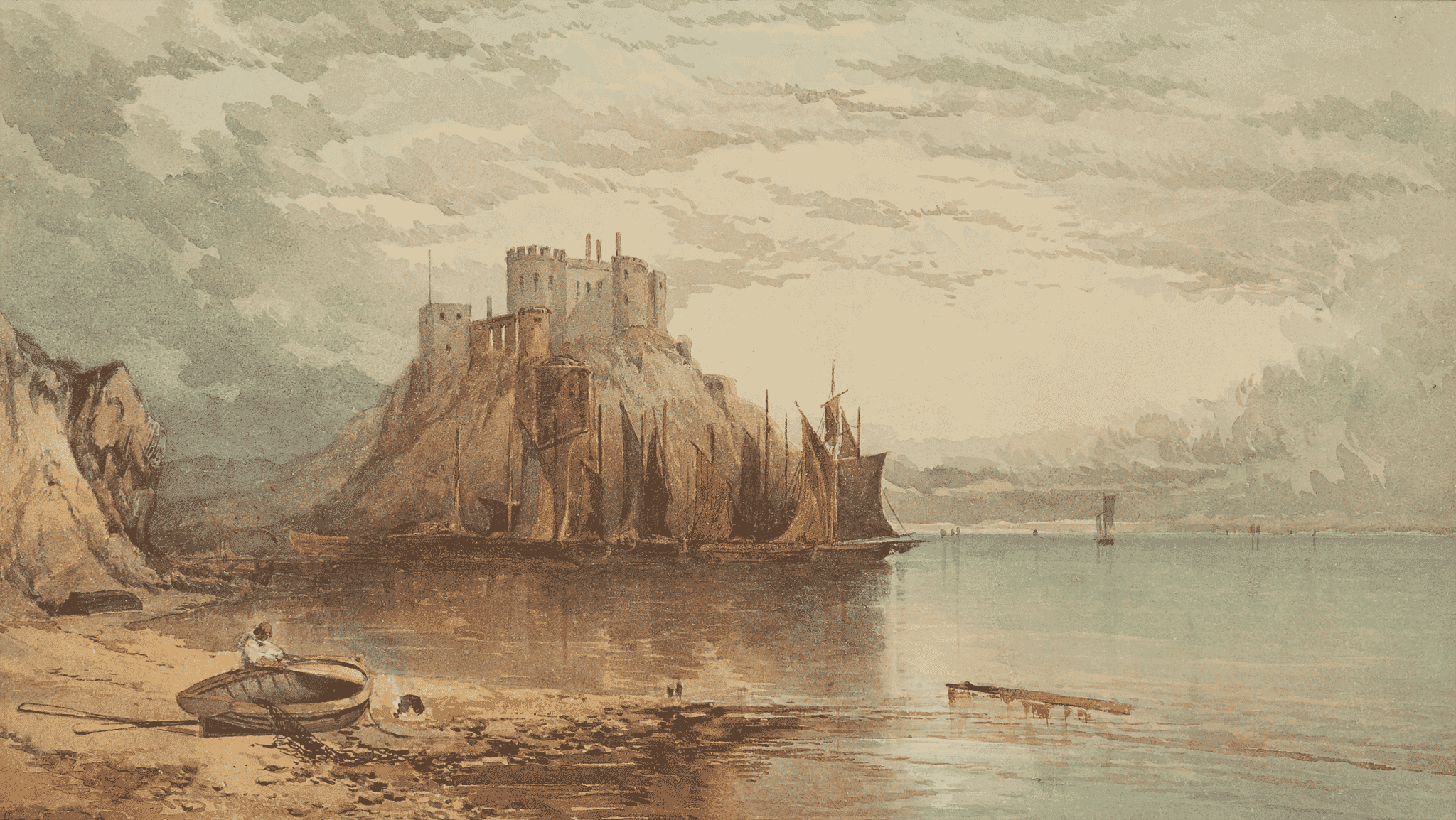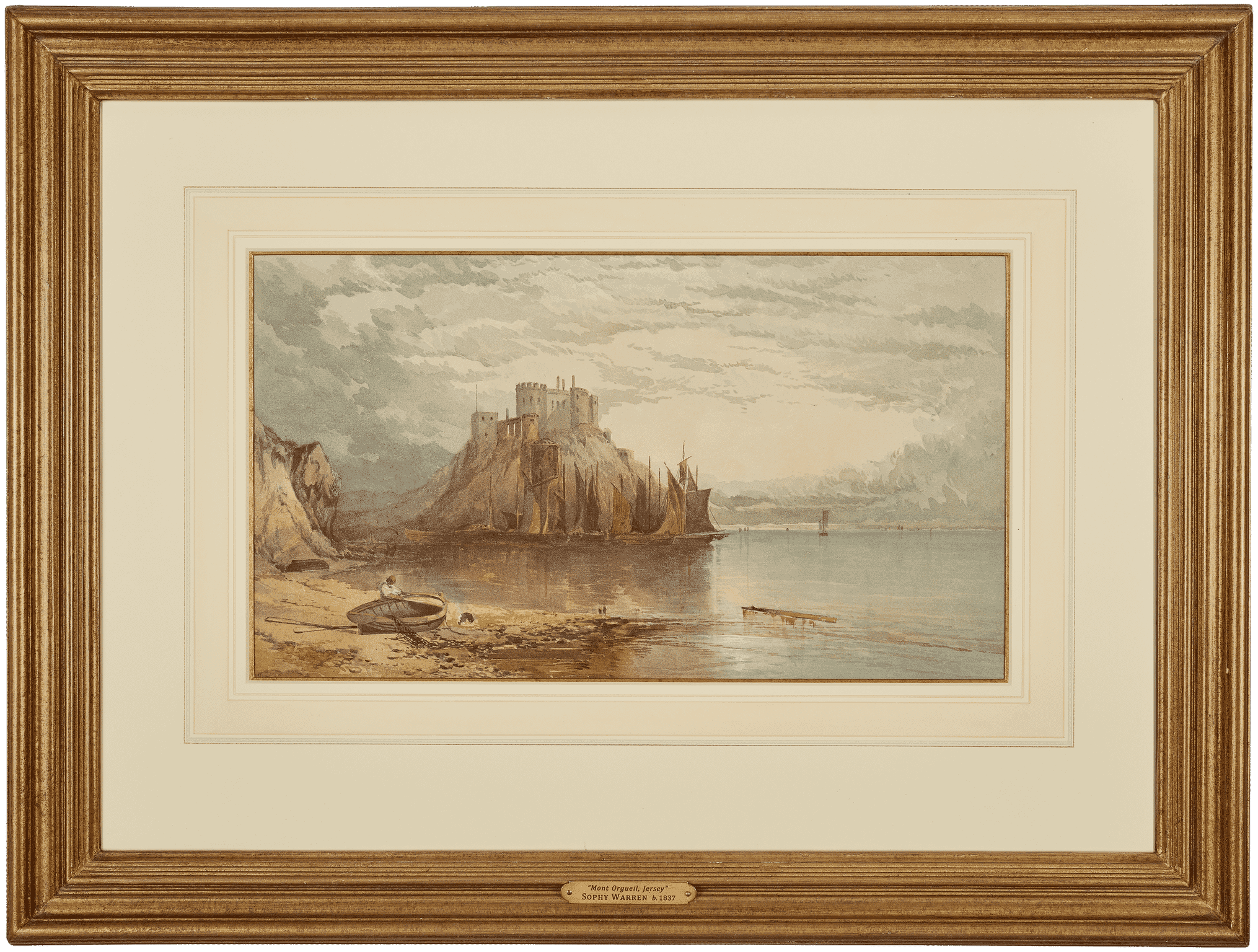 SOPHY S. WARREN
Born 1837
"Mont Orgeuil, Jersey"
The daughter of a doctor, Sophy Warren was born in 1837.
A member of the Society of Women Artists (S.W.A.), she is recorded in the biographical dictionary Five Centuries of Artists in Sutton by Maureen Beasley as having lived in London and Sutton in Surrey, residing at several addresses there between the years 1870 and 1879.
Sophy Warren appears to have been a woman of some mystery.
Throughout her exhibiting life, which started in the year 1864 when a little watercolour entitled On the Thames was exhibited at the Society of Women Artists, she was known as 'Sophy Warren' . But evidence has emerged that makes it almost certain that her real name was Sophia Elizabeth Slayter and that, for some inexplicable reason, she chose to live out her later life as Sophy Warren.
She appears as 'Sophy Warren' in the 1871 census return for Sutton, her address at that time being Millwood Lodge, Woodside Road. The only other occupant residing at that address was Charles H.Warren, aged forty-five, who is described as a  'landscape painter working in oil'.
From Sophy's entry, we can see that she was unmarried and aged thirty-three, also described as 'a landscape painter in watercolours' and the sister of Charles Warren. Both their birthplaces are listed as 'Hackney in Middlesex'.
In 1876 Sophy and Charles moved to Medmore Cottage on Sutton Common, where they lived for just one year before moving to Ivy Bank on the Carshalton Road. They had been there a few short months when, on 30th September 1877, Charles Warren died of heart disease. In his will he left his entire estate to 'Sophia Elizabeth Slayter', without mentioning her relationship to him. 
Two years later, on 19 July 1879, the same Sophia Slayter died at Thornton Heath, and curiously her death was unregistered She left a will, confirming her then address as Ivy Bank in Sutton, although Church's Directory of Sutton for 1878 lists a 'Miss Warren' as the householder at that address. She left everything to "my friends Joseph Warren of Epping and Frederick Warren now residing with me at Ivy Bank", thereby implying that the Warrens were unrelated to her.
Ellen C.Clayton included Sophy S. Warren in her book Female Artists, where she mentioned that Sophy's family came from Fairford in Gloucestershire, and that she had 'no instructor in art, but constantly painted and studied with her brother'. It is indeed possible that Sophia Slayter and Charles Warren actually were sister and brother, she being perhaps his half-sister, hence the different surnames.
The watercolourist Sophy S.Warren  appears listed in several different art dictionaries. As a member of the Society of Women Artists, she exhibited with them virtually every year from 1864 up until 1878, a year before her death. She also exhibited 39 paintings at the Royal Society of British Artists at Suffolk Street, and 6 works at the Royal Academy in London. Painting almost always in pure watercolour, she would on occasion add some touches of bodycolour to her work.
The National Collection at the Victoria and Albert Museum holds 4 of her watercolours, including the enchantingly nostalgic Near Benhill Wood, Sutton, Surrey, showing a driver with horse-drawn cart in a wooded landscape. She is also represented in the National Gallery of Dublin, as well as in collections in Europe, America, Australia and New Zealand. The Museum of New Zealand, Te Papa Tongarewa,  holds a painting by her entitled The Millhouse.
The majority of her paintings were exhibited whilst she was resident in Sutton. These exhibits included four views of the area, three of Benhill Wood and one entitled A Cottage Near Carshalton, all of which were exhibited at the Royal Society of British Artists.
Watercolour and Gouache
8.25 x 14 inches
21 x 35.5 cms.
Framed Size
17.75 x 23.75 inches; 45 x 60.5 cms.
Provenance
Private Collection