MARINE PAINTINGS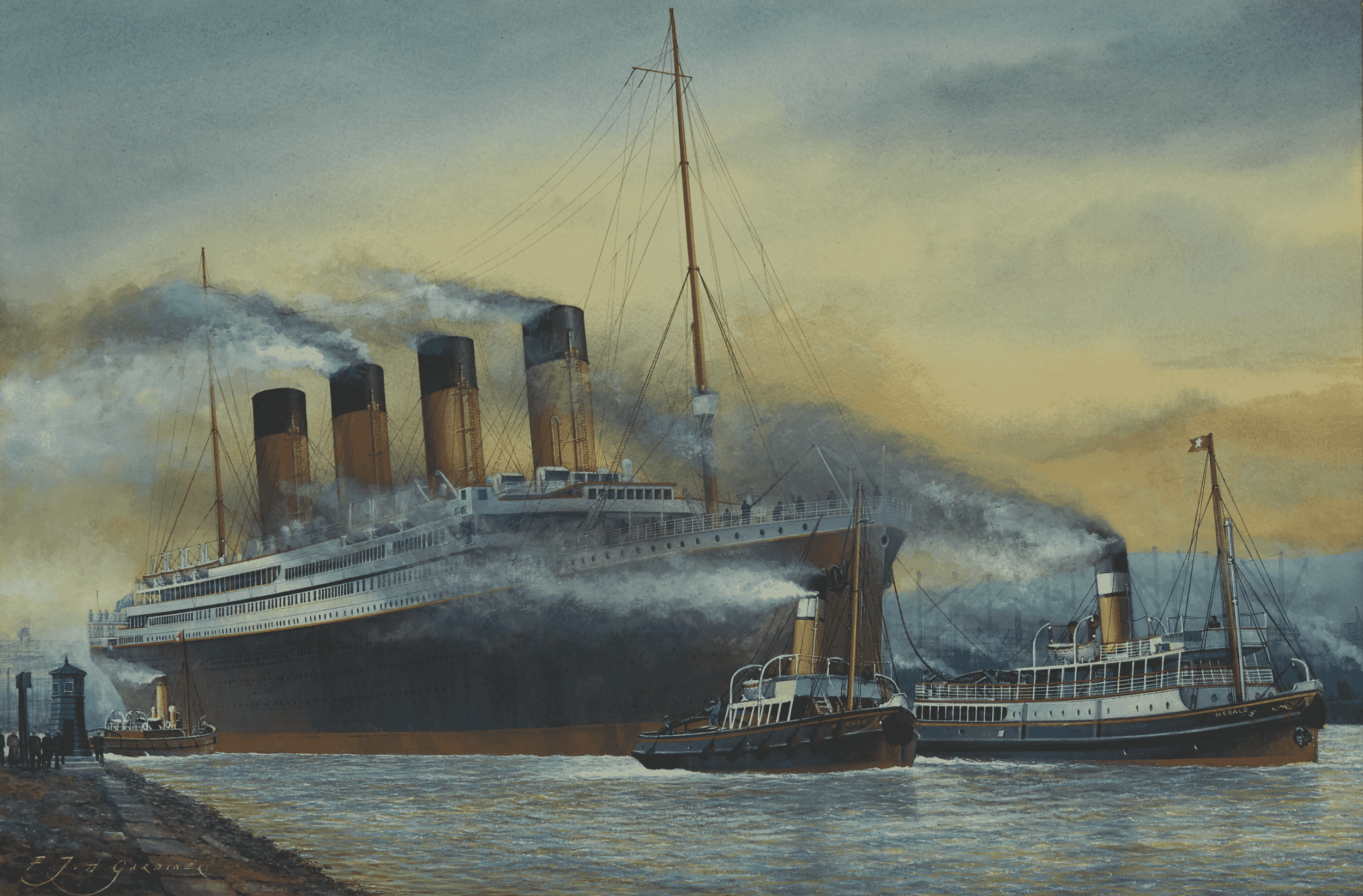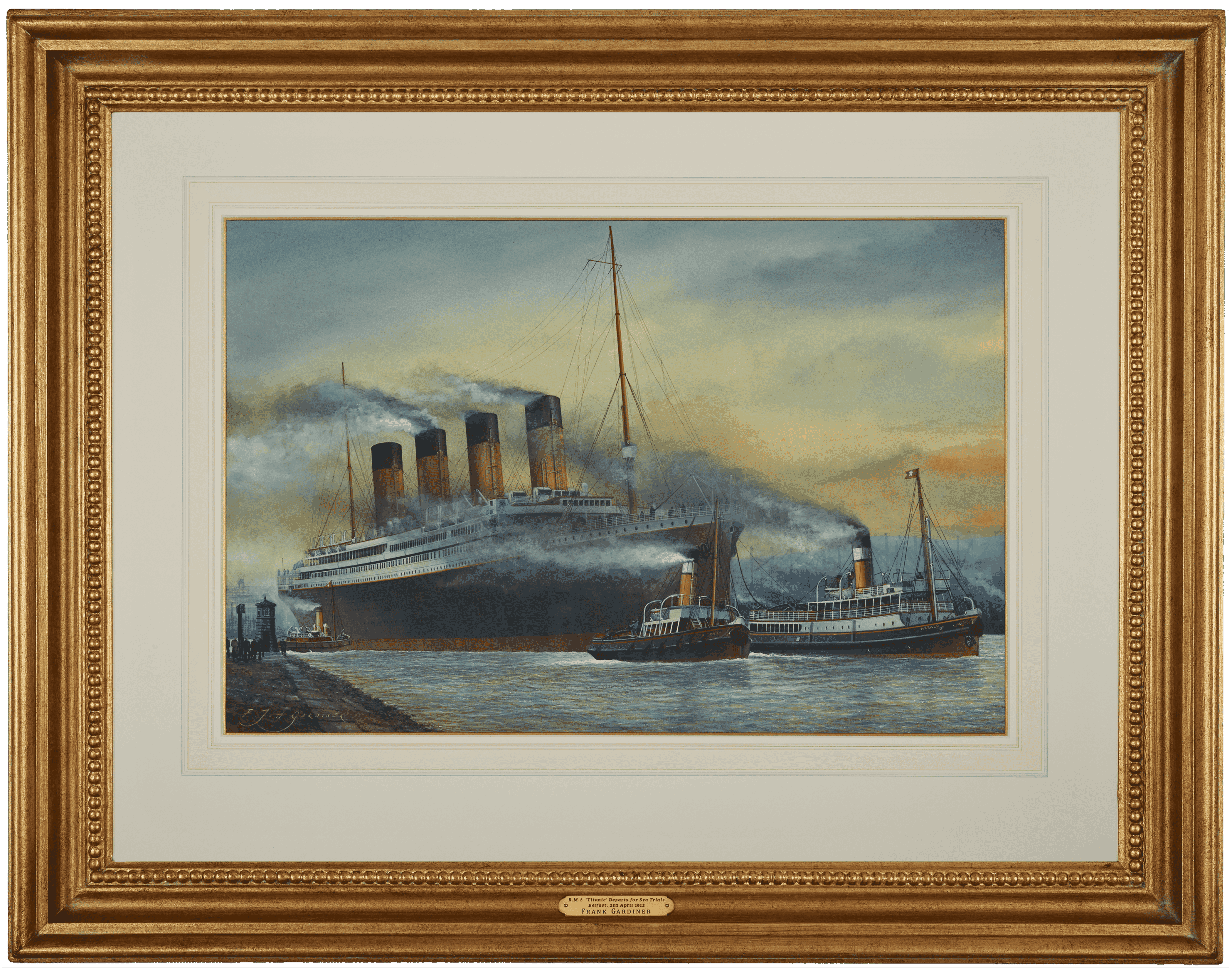 FRANK GARDINER
Born 1942
"R.M.S.Titanic Departs for Sea Trials, Belfast, 2nd April 1912"
The Royal Mail steamer Titanic, pride of the White Star Line and the largest vessel in the world, sank in the North Atlantic at twenty minutes past two o'clock on the morning of 15th April 1912.
Within hours, as reports of the tragedy began to fill the front pages of newspapers across the globe, the ship herself had assumed that mantle of immortality which, having already lasted more than a century, today shows no signs of abating.
Furthermore, the sequence of events culminating in her loss is better known than those surrounding any other comparable disaster in maritime history.
Despite all this familiarity however, the sinking of Titanic still exerts an endless fascination, and even now the public at large remains as obsessed with her fate as those who were alive when it occurred.
Inevitably, many of the facts have become confused or distorted with the passing of the years and certain myths have grown up for which there is no basis of truth. Likewise, some aspects of the story will always remain controversial but, in essence, this poignant tale of man's frailty beside the forces of nature will probably endure for as long as there are ships upon the sea.
The idea for a pair of spectacularly luxurious express liners was conceived at a dinner in 1907 at the London home of Lord Pirie, Chairman of Harland & Wolff.  Pirie's guest was J. Bruce Ismay, Chairman of the by-then American owned White Star Line, and the two men mapped out their dream of regaining the North Atlantic prize in the knowledge that the huge financial resources of White Star's American parent company, controlled by the formidable J. Pierpont-Morgan, would bring the scheme to fruition.
With Morgan's agreement, plans were drawn up for two identical ships [the idea of a third sister came later] to be known as the "Olympic" class; each was to gross 45,000 tons, as opposed to the Cunarders' 31,000 tons, and internal appointments were to be of hitherto unimagined luxury.
The nameship Olympic was begun first and Titanic's keel was laid shortly afterwards on 31st March 1909. The sisters were built on adjoining slips and although it was always intended that Olympic should be completed first, Titanic was not far behind.
Olympic was launched on 20th October 1910 and, after fitting out, her departure from Belfast was scheduled for 31st May 1911, the same day as Titanic was to be launched and also, coincidentally, the birthday of both Lord Pirie and his wife.There was a gala atmosphere in Belfast that day; Olympic had fulfilled every expectation and Titanic slid down the ways without a hitch just after mid-day.
Grossing 46,329 tons and measuring 883 feet in length with a 92½ foot beam, Titanic's fitting out proceeded apace.  Her twenty-nine enormous coal-fired boilers and her triple expansion turbine-assisted engines capable of producing the 45,000 ihp. to drive her at 21 knots were carefully installed within her massive steel hull, itself divided into fifteen water-tight compartments.  At a fairly late stage, her First Class Promenade Deck was enclosed along half of its length after passengers on Olympic had complained that the area was too windy and whilst there were many other minor modifications, this change brought the only feature with which to distinguish one sister from the other.
Seemingly, everything possible to ensure passenger satisfaction had been done and only future events would draw attention to the total inadequacy of the twenty lifeboats which, whilst fulfilling the Board of Trade requirements, could not accommodate more than a fraction of those aboard in any emergency.
With the ship completed on schedule, Titanic's officers joined her on 27th March 1912 and she ran her trials in Belfast Lough on 2nd April; totally satisfactory in every respect, it was bitterly ironic that the technical report on those trials noted that, when the wheel was put hard over while the ship was travelling a straight course at 20½ knots, she covered "about 2,100 feet" before responding to the turn. It was inconceivable to anyone on the bridge that day how vital this measurement would become only two weeks later.
The short trip from Belfast was filled with optimism; once at Southampton she coaled, took on most of her crew, loaded her stores and provisions and, on Wednesday 10th April, greeted her passengers.  Second and Third Class boarded first and, at 11.30 am., the First Class boat train from Waterloo arrived on the dockside.
The many wealthy British passengers, reinforced by the cream of American society, boarded rapidly, excited by the imminent departure, and at noon precisely the great ship slowly got under way.  After brief calls at Cherbourg and Queenstown for mail and additional passengers, Titanic's last sight of land was on Thursday evening; receding astern of her was the coast of Ireland whilst ahead lay the North Atlantic and her appointment with destiny.
Titanic's maiden voyage was enjoyable but uneventful; the weather cold but fine. Just after 11.40 pm. on the night of Sunday 14th April, the ship's lookout sighted an iceberg dead ahead and although the deck officer altered course immediately, the berg scraped along the starboard bow and tore a 300 foot gash in her side.
The engines were stopped, Captain Smith was summoned to the bridge and Thomas Andrews, Titanic's designer, was sent below to inspect the damage.  His report came all too quickly; Titanic was doomed and wireless calls for aid were sent out at once. 
The nearest ship to respond was the Cunard steamer Carpathia, 58 miles away and outward bound from New York with 725 passengers of her own.  Captain Arthur Rostron, her Master, drove her through the night as fast as he dared but by the time she arrived on the scene about 3.30 am. the next morning, Titanic had already sunk and taken over fifteen hundred lives with her. 
The evacuation of the stricken ship had been orderly enough, but there was no denying that her pitifully few boats could only carry one third of those aboard, and there was little hope for the others who had been cast into the freezing sea when she sank at 2.20 am.
Having recovered Titanic's boats and their occupants, Rostron then remained on the scene for a further five hours until he was satisfied that no-one remained to be saved.  At 8.50 am. he put his ship about and headed back to New York with just over seven hundred survivors aboard, and only when Carpathia docked on Thursday evening was the full horror of the tragedy finally revealed to an uncomprehending world.
 We should like to thank the eminent maritime historian Michael Naxton for his very kind help in providing the above for us.
Signed
Mixed Media
14 x 22 inches
35.5 x 56 cms.
Framed Size
26.5 x 33.5 inches; 67.5 x 85 cms.