FINE ART FOR SALE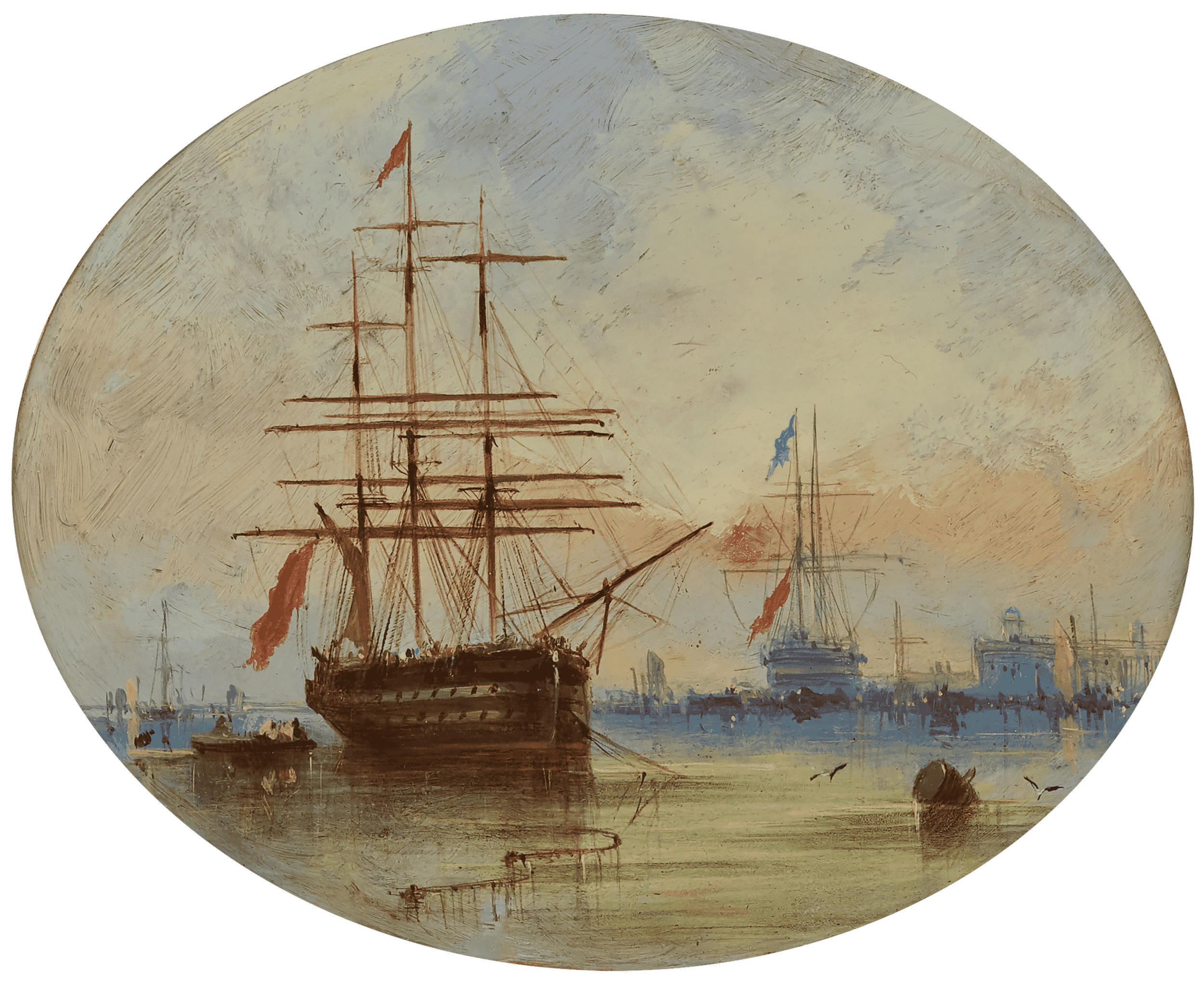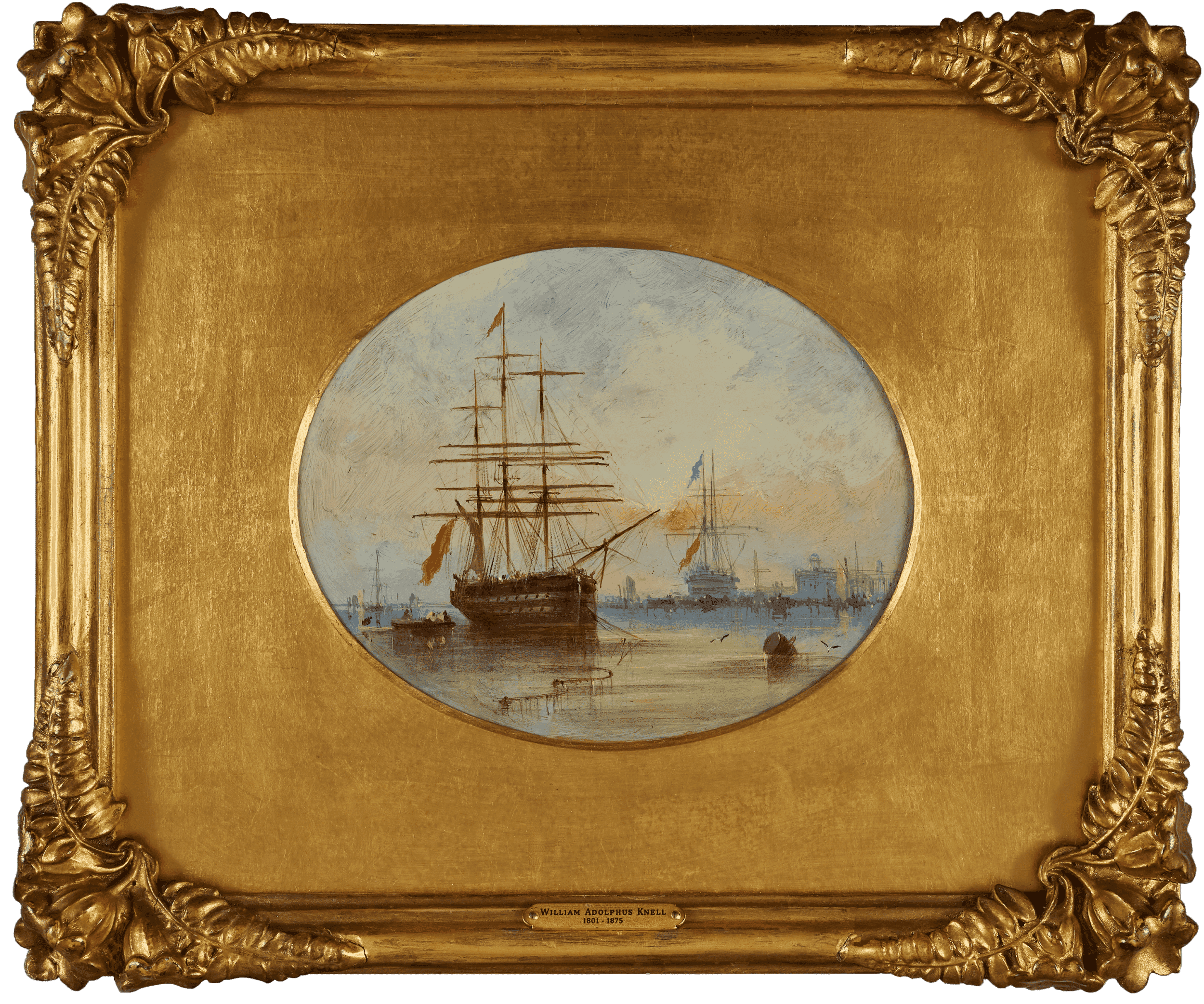 WILLIAM ADOLPHUS KNELL
1802-1875
"Shipping off Portsmouth"
William Adolphus Knell was born at Cowes on the Isle of Wight in 1802.
He came from a well-known artistic family comprising four marine painters, the others being William Callcott, John Henry and Adolphus Knell.
William Adolphus was rated the best and by far the most accomplished of the four.  Strongly influenced by Augustus Wall Callcott R.A. (1779-1844), after whom he named his first son, he proved a very versatile marine artist.
Equally at home creating fine panoramas of Portsmouth Harbour with all its naval shipping, he also painted a superb series of ships' portraits depicting East Indiamen, as well as famous battle scenes such as Trafalgar and Camperdown.
Knell travelled extensively all over Northern Europe, visiting Ostend, Boulogne and Nieuport, as well as numerous Dutch coastal towns, where he vividly sketched and painted bustling everyday scenes of coastal life.
His first exhibited painting at the Royal Academy was in 1825, where he showed a work entitled "The Royal Sovereign at Spithead", this was to be the first of twenty-nine paintings he exhibited there until 1866.
Knell also exhibited 44 works at the British Institution, 19 at the Royal Society of British Artists at Suffolk Street, and 16 at the Liverpool Academy.
A number of his early paintings were engraved, and his increasing popularity culminated in two special commissions from Queen Victoria, these entitled: "The Landing of the Prince Regent at Dover", and "The Review of the Fleet at Spithead". He also illustrated a book on naval history.
In his youth Knell moved from the Isle of Wight to the mainland, spending most of his life at various London addresses including Leadenhall Street, Lambeth, Highgate and finally Kentish Town.
In 1840 he travelled to China as the official artist aboard the East India Company's Iron steamship Nemesis. The Opium Trade was then at its peak, and this was to lead to several engagements with the Chinese.
Along with other Royal Naval vessels, Nemesis destroyed many Chinese war junks and attacked Fouchong Fort among others. Knell recorded several paintings of these incidents, two of which are in the Blue World Web Museum. In the 12th November 1842 edition of the "Illustrated London News" an example by Knell of this expedition was reproduced.
It is very likely that Knell visited Madeira, as two island views were shown at the Royal Academy in 1866, and the Royal Society of British Artists in 1867.
By 1864 he was living at 329 Kentish Town Road where he died on 9th July 1875 at the age of 73, following a highly successful and celebrated artistic career.
Ten of William Adolphus Knell's paintings are in the collection of the National Maritime Museum at Greenwich, and examples are also held at public galleries in York, Derby, Hull and Edinburgh.
Oil on Card
5 x 6.25 inches
12.5 x 16 cms.
Provenance
Private Collection
Framed size
9.75 x 11.75 inches; 24.75  x 29.75 cms.