MARINE PAINTINGS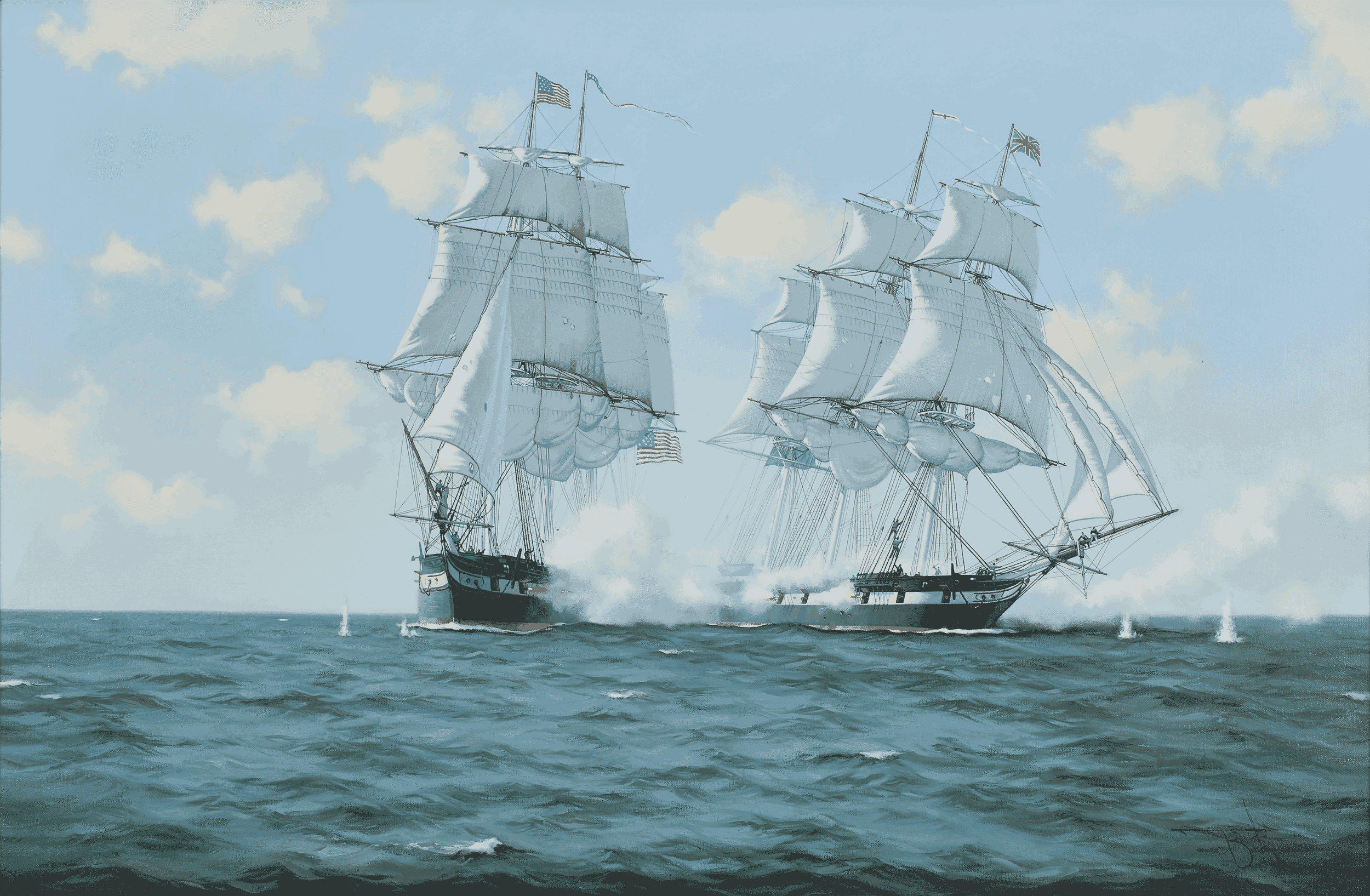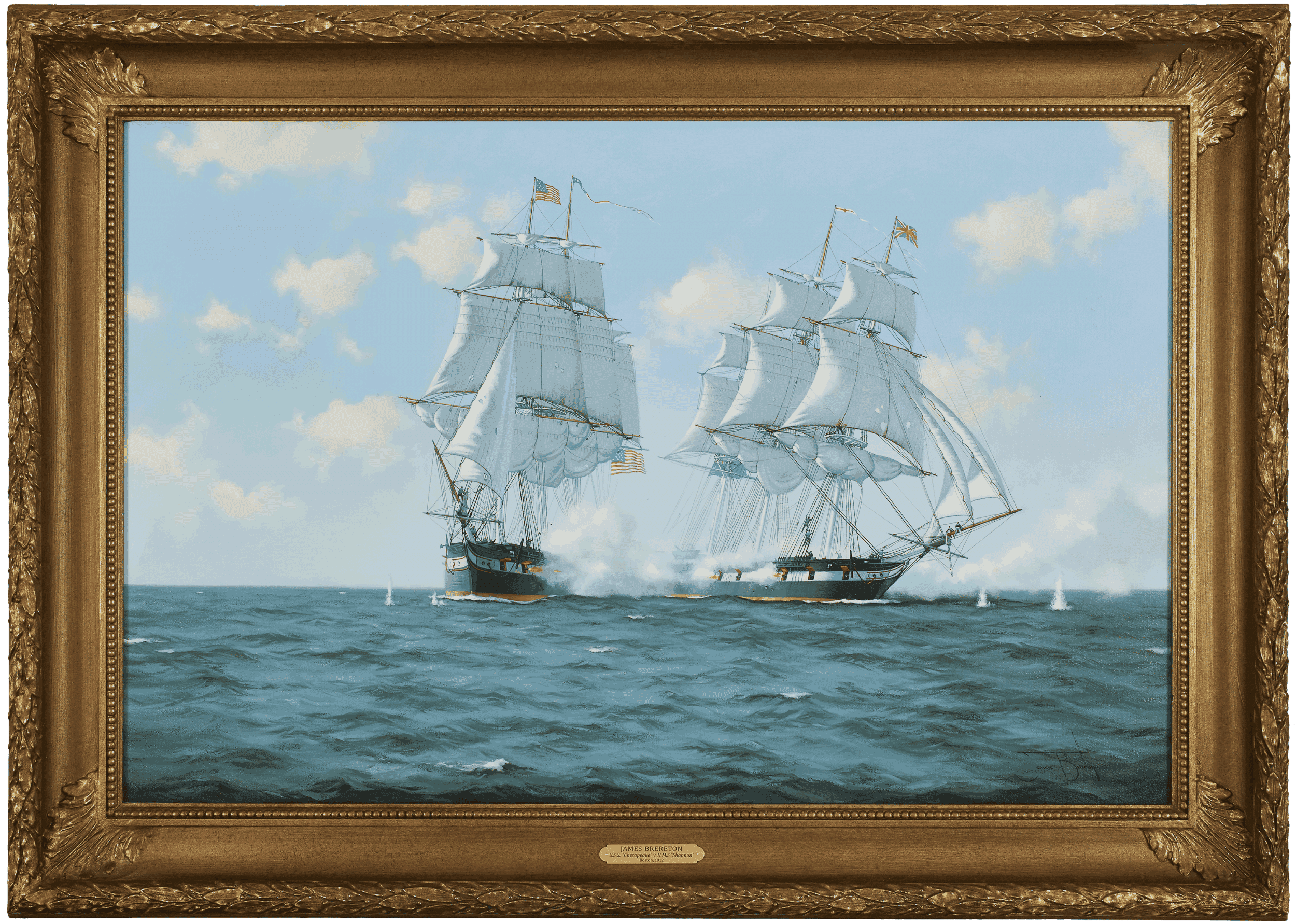 JAMES BRERETON
Born 1954
"The Action Between the frigates U.S.S. Chesapeake & H.M.S. Shannon, Boston, 1st June 1813.
During the balmy summer of 1813 the port of Boston was still blockaded by the British, following the decisive naval engagements between Great Britain and America.
Under the command of Captain James Lawrence, the U.S.S. Chesapeake had escaped the blockade under cover of night and had been patrolling the American coastline for several months afterwards, therefore presenting a serious danger to British merchant vessels.
The eyes and ears of British Naval Intelligence were only too aware of America's few ships which were not blockaded, and who were preparing to pounce on the English packet ship which was due to deliver its cargo of mail and soldier's pay to the fleet. Forewarned with this intelligence, on 1st June 1813 H.M.S. Shannon was therefore well prepared and in position to intercept the frigate Chesapeake, which after a suitable refit was sailing out of Boston harbour.
The topmasts of the English frigate were duly sighted at 5.30 p.m., and she was seen to be closing swiftly. Within sight of Boston, U.S.S. Chesapeake turned to engage her enemy. As a result of rather complicated manoeuvres, the contest endured for just fifteen minutes, during which time an English broadside hammered the Chesapeake, which coincidentally was flying under the flag of "Free Trade and Sailors' Rights". She was able to respond only with her stern chasers.
The relentless rate of fire proved too much for the American crew, and their brave captain's dying words were "Don't give up the ship!", and this was to prove a lasting motto for the American Navy .On 6th June 1813, just five days after the action, the Chesapeake was towed into Halifax harbour in Nova Scotia, and her sailors were imprisoned.
James Brereton specialises today in fine maritime paintings, his favourite subject being the great sailing ships of the nineteenth century, citing as his artistic influences and heroes such painters as Thomas Somerscales and Montague Dawson.
His love of ships and the sea emanate from his having lived for many years near the English coastal city of Bournemouth in Dorset, and during the 1990's he was privileged to sail in the training ship Sir Winston Churchill , an experience which he says was unforgettable, and one which provided him with much artistic inspiration and encouragement.
James has been a regular exhibitor at the Royal Society of Marine Artists in past years, and his work is both recorded and illustrated in Denys Brook Hart's "Dictionary of 20th Century Marine Painters", as well as in E.H.H. "Teddy" Archibald's "Dictionary of Sea Painters of Europe and America".
His paintings are universally appreciated by art collectors for their realism and the quality of his draughtsmanship, and they are to be found in private collections throughout the United Kingdom, as well as in Eire, Belgium, Italy, Oman, Japan and the United States.
Signed
Oil on canvas
26 x 40 inches
66 x 102 cms.
Framed Size
34.5 x 48.5 inches; 88 x 123 cms.