MARINE PAINTINGS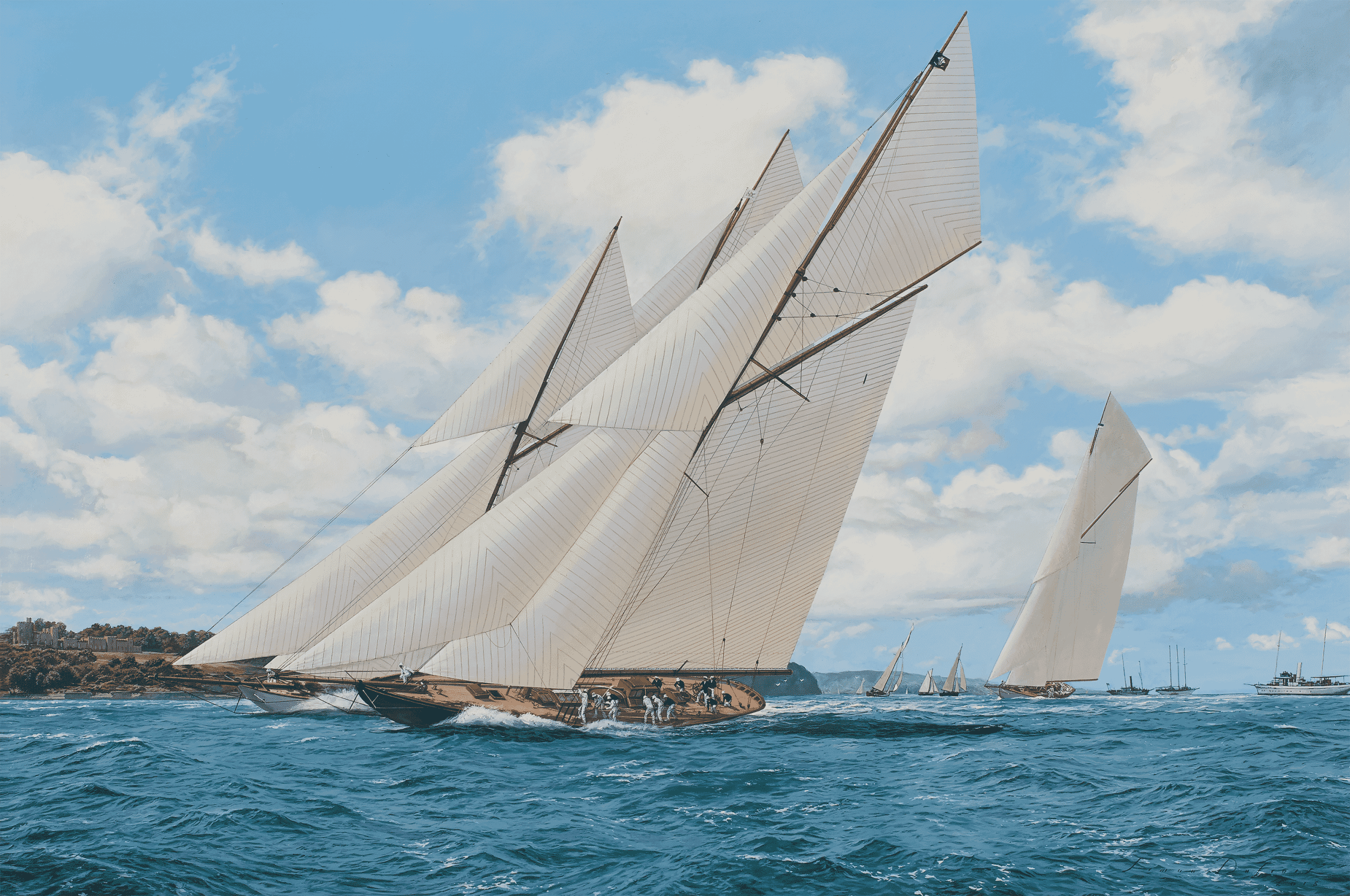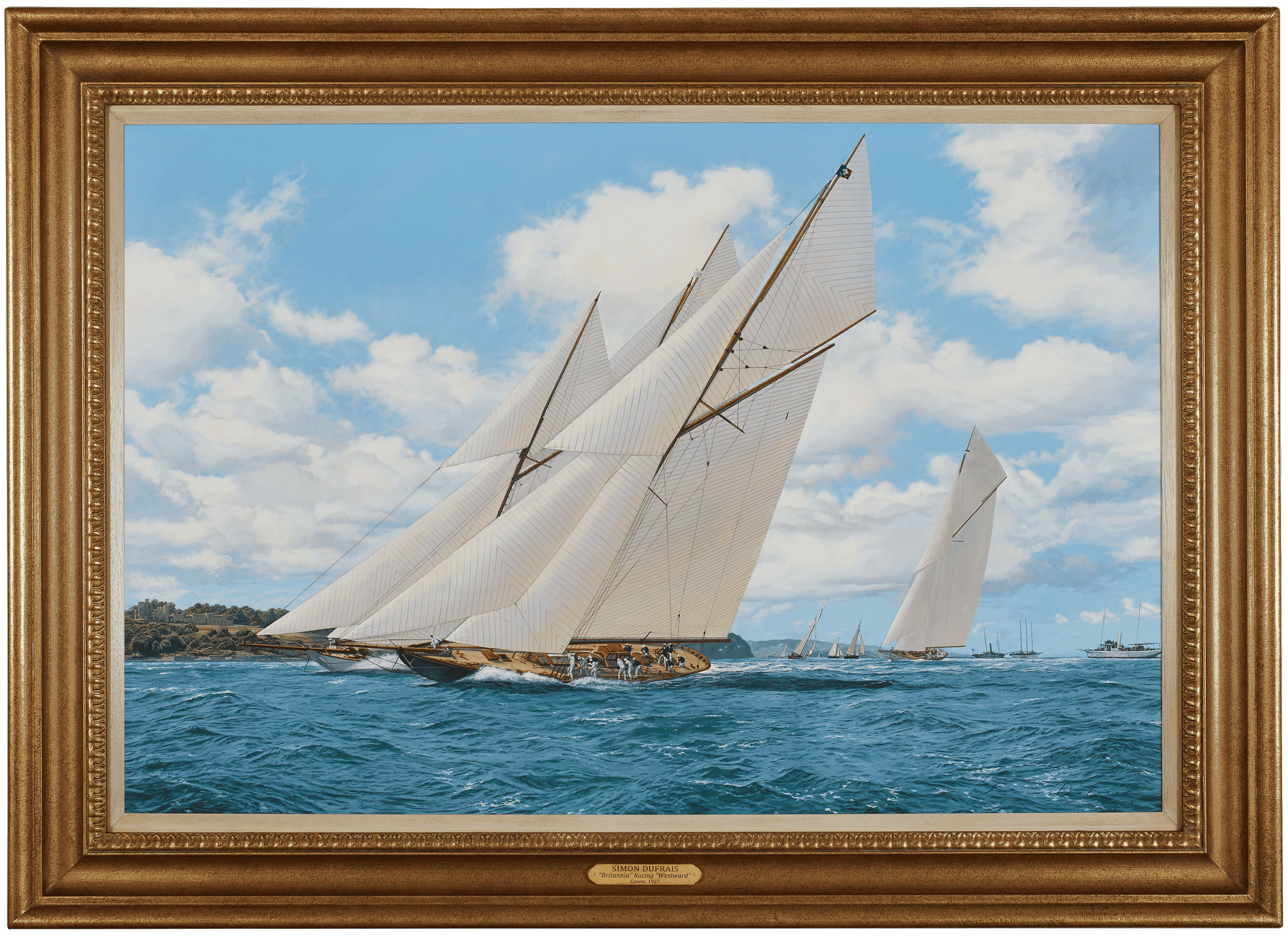 SIMON DUFRAIS
Born 1960
The King's Britannia just ahead of Westward as they power across Osborne Bay during Cowes Week, 1927, with Norris Castle in the Background.
Britannia, built for King Edward VII when Prince of Wales in 1893, was undoubtedly the most famous racing cutter of them all. Hugely successful throughout her long life, she won 33 firsts out of 39 starts in her maiden season and competed against all the fastest yachts of the day. Sold in 1897 - although bought back for cruising in 1901, by which time the Prince of Wales had succeeded to the throne - Britannia's second racing career really came into its own when King George V had her refitted for big class competitions in 1921. Under the King's enthusiastic ownership, Britannia went from success to success. Despite being re-rigged seven times in all, her hull shape was so efficient that she remained competitive almost to the end and was only finally outclassed by the big J-class boats introduced in the mid-1930's. King George V died in 1936 and under the terms of his will, Britannia was stripped of her salvageable gear and scuttled off the southern tip of the Isle of Wight.
Westward, 323 tons and built by the great Nat Herreshoff at Rhode Island in 1910, was one of the largest racing schooners of her era whose career also fell into two distinct phases. Like the King's legendary Britannia, she too had royal connections having been originally purchased - at the Kaiser's instigation - by a syndicate of German businessmen who renamed her Hamburg. In a brilliant start she won all eleven races in her first season and then enjoyed many other successes in the years preceding the Great War. Sold out of German ownership after the Armistice, Westward's new American owner Clarence Hatry restored her original name and his first season in 1920 almost equalled the triumphs of 1910. It was after her sale to T.B.F. Davis in 1924 however, that she really came into her own when she became a regular challenger to Britannia. Over the years Davis and the King developed a spirited though friendly rivalry and Westward became such a prized possession of Davis that he, like King George before him, stipulated that his boat too was to be sunk after his death.
In this splendid image, Britannia is shown sporting yet another new rig, installed that spring, which proved – once again – that she was a true thoroughbred. Indeed, during that memorable season of 1927, she won no less than eight 1st, six 2nd and two 3rd prizes out of twenty-four starts, and returned to her winter moorings "with her string of prize flags stretching from truck to rail."
Also of interest in this work is the view of Sir Thomas Lipton's distinctive steam yacht Erin lying at anchor on the extreme right. Lipton used Erin as a floating base during his numerous challenges for the America's Cup and she was an extremely familiar sight at Cowes for three decades.
Simon Dufrais was born in 1960, and from a very early age he showed a prodigious interest in the sea. This exceptionally talented artist studied at the West Surrey College of Art and Design and also at Reigate College of Art, and after graduating he worked as a freelance illustrator of historical themes.
Although he has painted a series of both historical and military subjects, he is today best appreciated by collectors for his superbly detailed maritime scenes. His house and studio are situated in an area of outstanding natural beauty, alongside the Dorsetshire coastline, and it is this idyllic environment which has enabled him to concentrate on depicting the ever changing, restless nature of the sea.
Simon has exhibited at the Royal Society of Marine Artists in London, as well as prestigious venues in the United States, and his work today is to be found in private art collections all over the world.
Signed
Oil on canvas
24 x 36 inches
61 x 91.5 cms.
Framed Size
31.5 x 43 inches; 80 x 110 cms.