MARINE PAINTINGS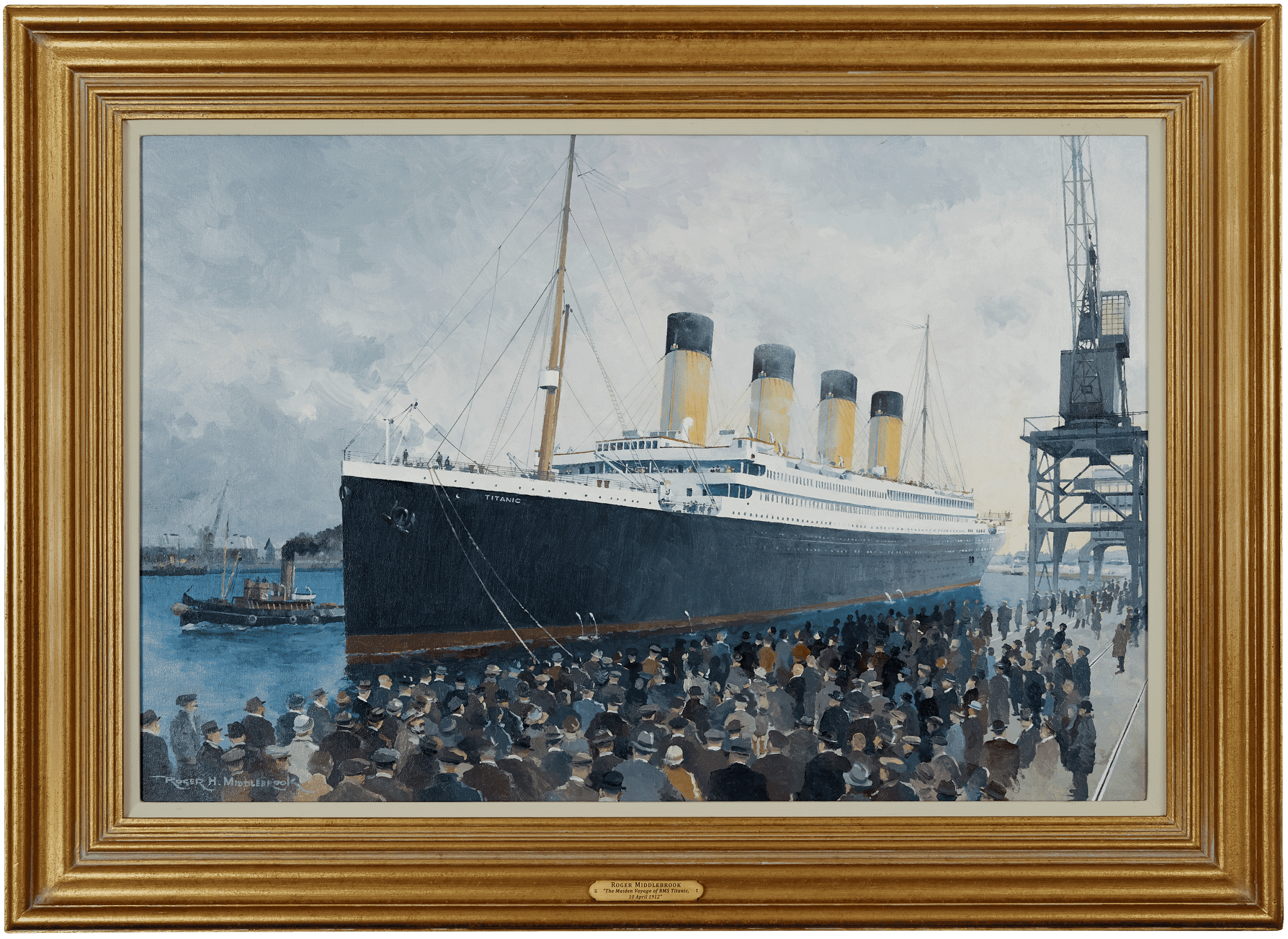 ROGER MIDDLEBROOK
Born 1929
""The Maiden Voyage of R.M.S.Titanic at Southampton, 10th April 1912"
The most famous liner in history, Titanic was built by Harland and Wolff of Belfast for the White Star Line. She and her sister ship Olympic were built in response to White Star's arch rival Cunard's Lusitania and Mauretania.
The latter were the first two of a new generation of luxury liners, far surpassing anything that had gone before, but White Star were determined that Titanic and Olympic would be the largest and most lavishly fitted afloat. Registering 46,329 tons and measuring 882 feet in length with a 92 foot beam she was launched from her Belfast yard amid great fanfare on 31st May 1911.
Previously laid down in March 1909, she was advertised by White Star as the "world's first unsinkable ship". She was fitted with four funnels, the fourth being a dummy to give her an even greater sense of power and speed.
Her ill-fated maiden voyage departed Southampton for New York on 10th April 1912, under the command of Edward Smith and carrying 2,228 passengers and 885 crew.
The ocean liner carried some of the wealthiest people in the world, as well as hundreds of emigrants from Great Britain, Ireland, Scandinavia and elsewhere throughout Europe, who were seeking a new life in the United States. The first-class accommodation was designed to be the pinnacle of comfort and luxury, with an on-board gymnasium, swimming pool, libraries, superb restaurants and opulent cabins. A high-powered radio-telegraph transmitter was available for sending passenger "marconigrams" as well as for the ship's operational use.
Although Titanic had advanced safety features such as watertight compartments and remotely activated watertight doors, there were not enough lifeboats to accommodate all of those aboard, due to outdated maritime safety regulations. Titanic only carried enough lifeboats for 1,178 people—slightly more than half of the number on board, and one third of her total capacity. The ship carried lifeboat davits which could lower three lifeboats each, for a total of 48 boats. However, Titanic carried only a total of 20 lifeboats, four of which were collapsible and proved to be hard to launch during the sinking.
After leaving Southampton, Titanic called at Cherbourg in France and Queenstown in Ireland before heading west to New York. After nearly four days of clear sailing she approached the Grand Banks of Newfoundland.
Titanic was on the standard steamship route in the south of the North Atlantic, which was internationally agreed to avoid danger from fog and ice. At 9.00 a.m. on 14th April she had her first ice warning from Cunard's Caronia. Over the next thirteen hours she received ice warnings from four other liners, but she continued to sail on at her full speed of 21 knots. At 11.00 p.m. she received her final direct warning from the Leyland Line steamer Californian, which was lying about 25 miles to the south of Titanic in drifting ice. Before the call was finished the latter's radio operator told the Californian to keep off the wavelength so as not to disturb the wireless traffic.
Forty minutes later one of Titanic's lookouts, Frederick Fleet, reported an iceberg 1,600 feet ahead. The order was given "Rudder hard to port", followed by "All engines full astern". But it was too late. She hit the iceberg at 18 knots. The collision caused the ship's hull plates to buckle inwards along her starboard side and opened five of her sixteen watertight compartments to the sea, from the bow to the forward boiler room.; she could only survive four flooding.
Passengers were told there would only be a slight delay, but some had seen the iceberg as it passed their window, and those at strategic points knew the liner was sinking fast. The lifeboats were prepared and just after midnight the first distress call went out. Meanwhile, passengers and some crew members were evacuated in lifeboats, many of which were launched only partially loaded. A disproportionate number of men were left aboard because of a "women and children first" protocol for loading lifeboats. At 2:20 a.m., she broke apart and foundered, with well over one thousand people still aboard.
Just under two hours afterwards theTitanic sank.  The Cunard Line's Carpathia was nearest to Titanic, 60 nautical miles away, but despite sailing at full speed she took four hours to reach the disaster.
There were just 705 survivors in the 20 lifeboats launched, and 1,522 souls perished in the world's worst peacetime maritime disaster; these included Titanic's chief architect, Thomas "Tommie" Andrews, who is credited with saving many lives while the ship was sinking, as well as her heroic Captain, Edward Smith.
The disaster was met with worldwide shock and outrage at the huge loss of life and the regulatory and operational failures that had led to it. Public inquiries in Britain and the United States led to major improvements in maritime safety.
One of their most important legacies was the establishment in 1914 of the International Convention for the Safety of Life at Sea (SOLAS), which still governs maritime safety today. Additionally, several new wireless regulations were passed around the world in an effort to learn from the many missteps in wireless communications - which could have saved many more passengers.
The wreck of Titanic was first discovered in 1985 - more than 70 years after the disaster - and the vessel remains on the seabed. The ship was split in two and is gradually disintegrating at a depth of 12,415 feet (3,784 m). Since her discovery in 1985, thousands of artefacts have been recovered and put on display at museums around the world.
Titanic is the second largest ocean liner wreck in the world, only beaten by her sister H.M.H.S. Britannic, the largest ever sunk.
Signed
Oil on canvasboard
20 x 30 inches
51 x 76 cms.
Framed Size
27 x 37 inches; 69 x 94 cms.