MARINE PAINTINGS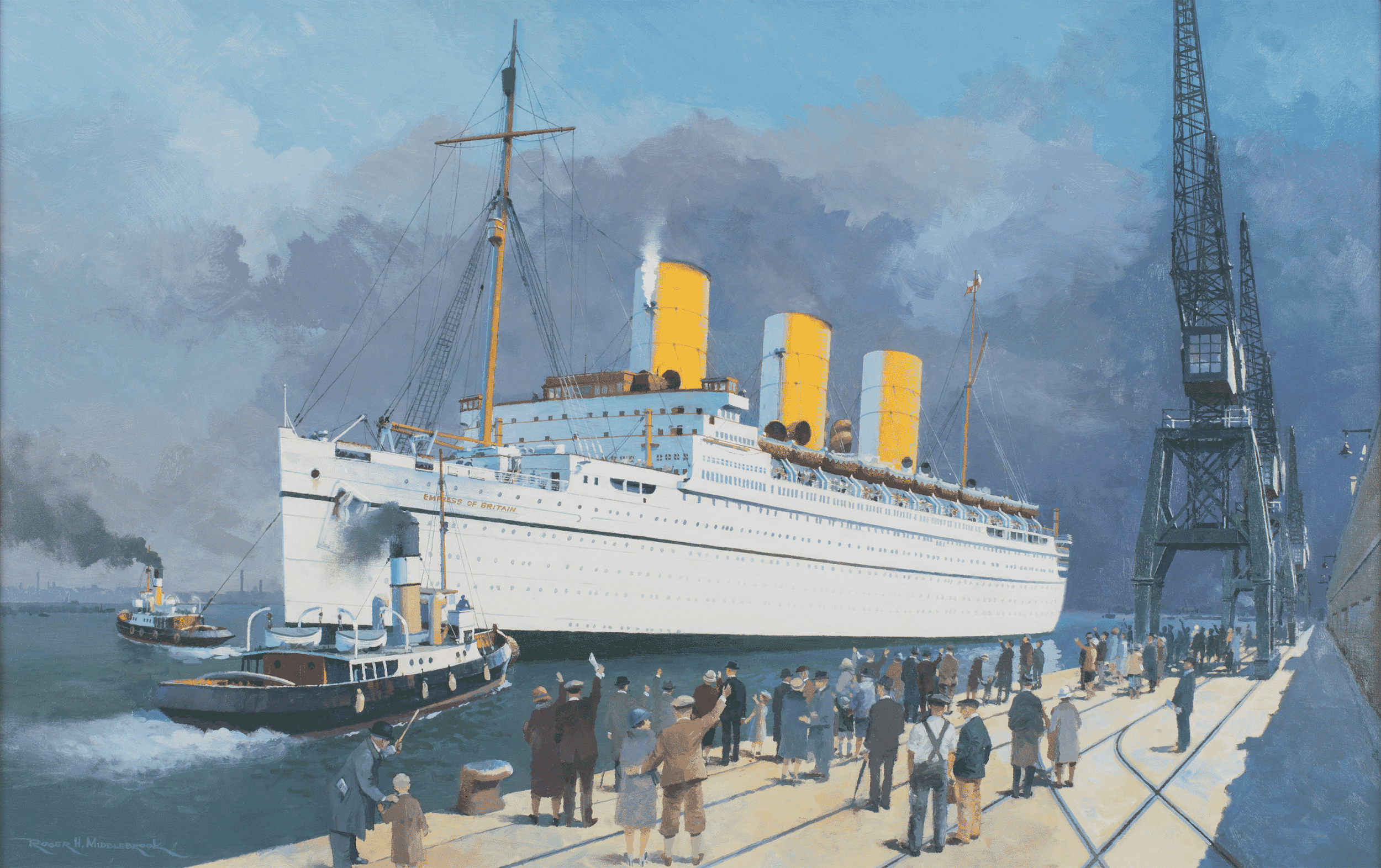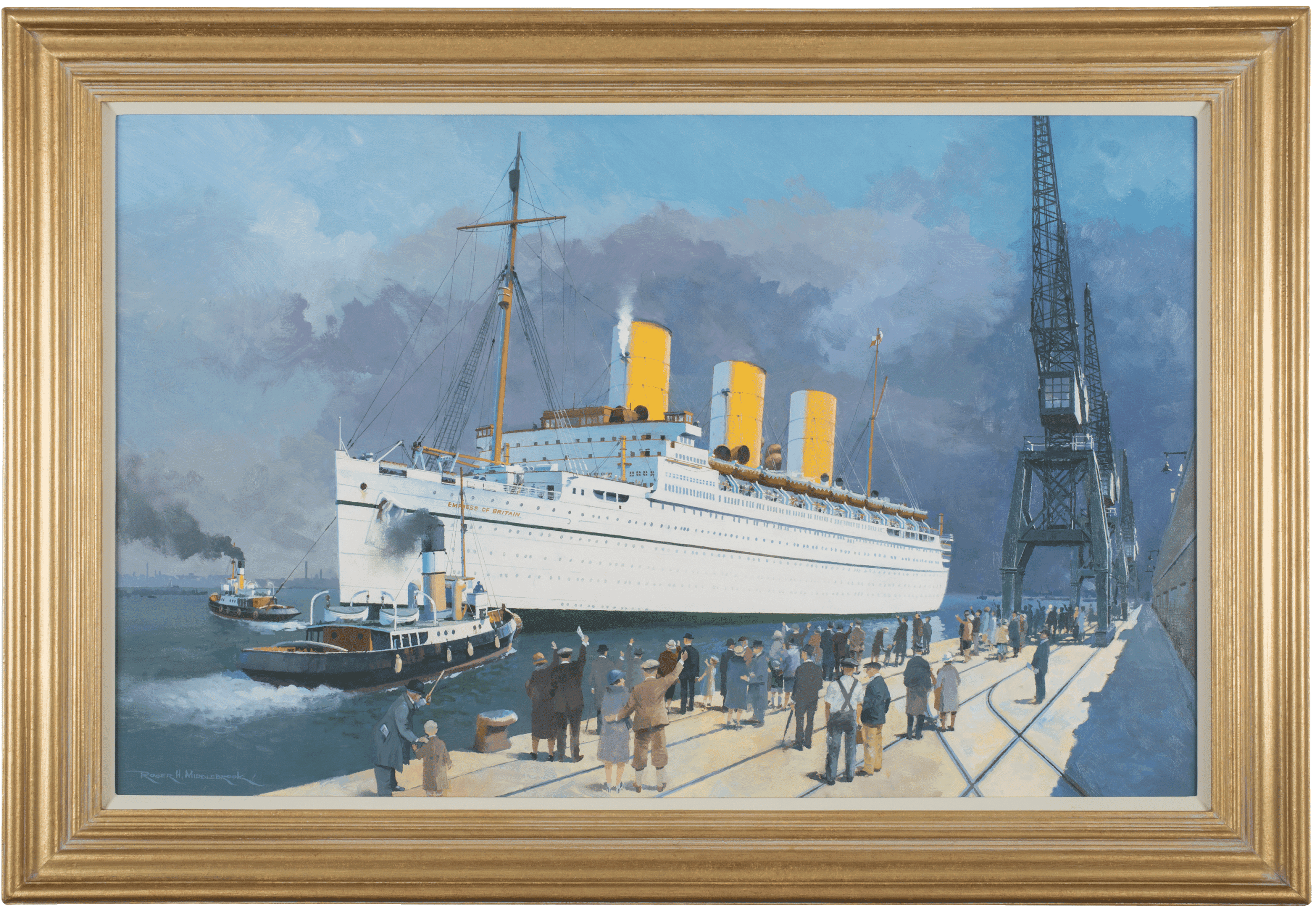 ROGER MIDDLEBROOK
Born 1927
"The Empress of Britain departing Southampton, 1937"
Work began on the Empress of Britain on 28 November 1928 at John Brown's shipyard on Clydebank. Owned by the Canadian Pacific Steamship Company, who heralded her proudly on posters as "The World's Wondership", she was launched on 11 June 1930 by His Royal Highness, the Prince of Wales. With a length of 760.6 feet and gross tonnage of 42,348 the Empress of Britain left Southampton on her maiden voyage to Quebec on 27 May 1931.
Until 1939 the Empress of Britain provided scheduled trans-Atlantic passenger service from spring to autumn between Canada and Europe, and she boasted the last word in comfort and luxury, with even a full-size tennis court! In her time she was the largest and fastest ship between England and Canada, and with four propellers her speed during trials was just over 25 knots. Her primary role was to lure passengers to voyage between England and Quebec instead of the more established Southampton–New York run. The ship was designed to carry 1,195 passengers (465 first, 260 tourist and 470 third class).
The Empress of Britain was the first passenger liner designed specifically to become a cruise ship in winter when the St. Lawrence River was frozen over. Every year she was converted into an exclusively first class luxury cruise ship to pamper up to seven hundred passengers. For this second role her size was cleverly designed to accommodate the Panama and Suez canals, though when passing through Panama, there was just 7.5 inches clearance between the ship and the canal lock wall. To serve as an emergency beacon at night the three funnels on the Empress of Britain were dramatically lit by powerful flood lights, and these funnels could be spotted from the air up to fifty miles away, and by shipping at a distance of thirty miles.
On 3 December 1931, Empress of Britain embarked on a formidable 128-day world cruise, encompassing the Mediterranean, North Africa and the Holy Land, through the Suez Canal and into the Red Sea, then on to India, Ceylon, Southeast Asia and the Dutch East Indies, on to China, Hong Kong and Japan, across the Pacific to Hawaii and California before traversing the Panama Canal back to New York. Empress of Britain then made a one-way Atlantic crossing from New York to Southampton, where she entered dry dock for maintenance and reinstallation of her outer propellers.
From 1934 to 1937 her captain was the World War I veteran Ronald Niel Stuart V.C., D.S.O., a legendary and charismatic figure who was entitled to fly the Blue Ensign.
On 2 September 1939, just a week before Canada entered the war the Empress of Britain sailed on her last voyage for Canadian Pacific, and with her largest ever passenger list. Filled beyond capacity, and with temporary berths even in the squash court, the Empress of Britain crossed the Atlantic, arriving in Quebec on 8 September 1939.
Upon arrival, she was re-painted grey and laid up awaiting orders; her orders came on 25 November 1939, when she was requisitioned as a troop transport. First, she did four transatlantic trips bringing troops from Canada to England. Then she was sent to Wellington, New Zealand, returning to Scotland in June, 1940 as part of the "million dollar convoy" of seven luxury liners — Empress of Britain, Empress of Canada, Empress of Japan, Andes, Aquitania, Mauretania and Queen Mary. In August, 1940 she transported troops via Cape Town to Suez, returning with 224 military personnel and civilians and a crew of 419.
At 9.20am on the 26th October, 1940 a German Focke Wulf 200 Condor suddenly appeared overhead releasing two bombs. After the bombing the Empress of Britain endured a punishing series of machine gun attacks from the Condor. Her crew fought back valiantly with the deck-mounted machine guns and there were mercifully few casualties at this stage. But the bombs had started huge fires which had a disastrous effect on Empress of Britain. Many crew members were trapped below decks, with some unfortunates resorting to escape through the portholes.
Almost all of the crew and passengers were rescued and the liner was taken in tow by Royal Navy destroyers. Her slow progress proved an obvious target for U-Boat U-32 who tracked her for an entire day, before torpedoing her on 28th October. The Empress of Britain began to fill with water and list heavily. The tugs slipped their tow lines and on 28 October at 2.05 p.m. Empress of Britain sank northwest of County Donegal in Ireland. U-32 was on ninth and final patrol, and ironically she was herself sunk just two days later by the destroyers HMS Highlander and HMS Harvester.
Signed
Oil on canvasboard
24 x 38 inches
61 x 97 cms.