RECENT SALES & ARCHIVE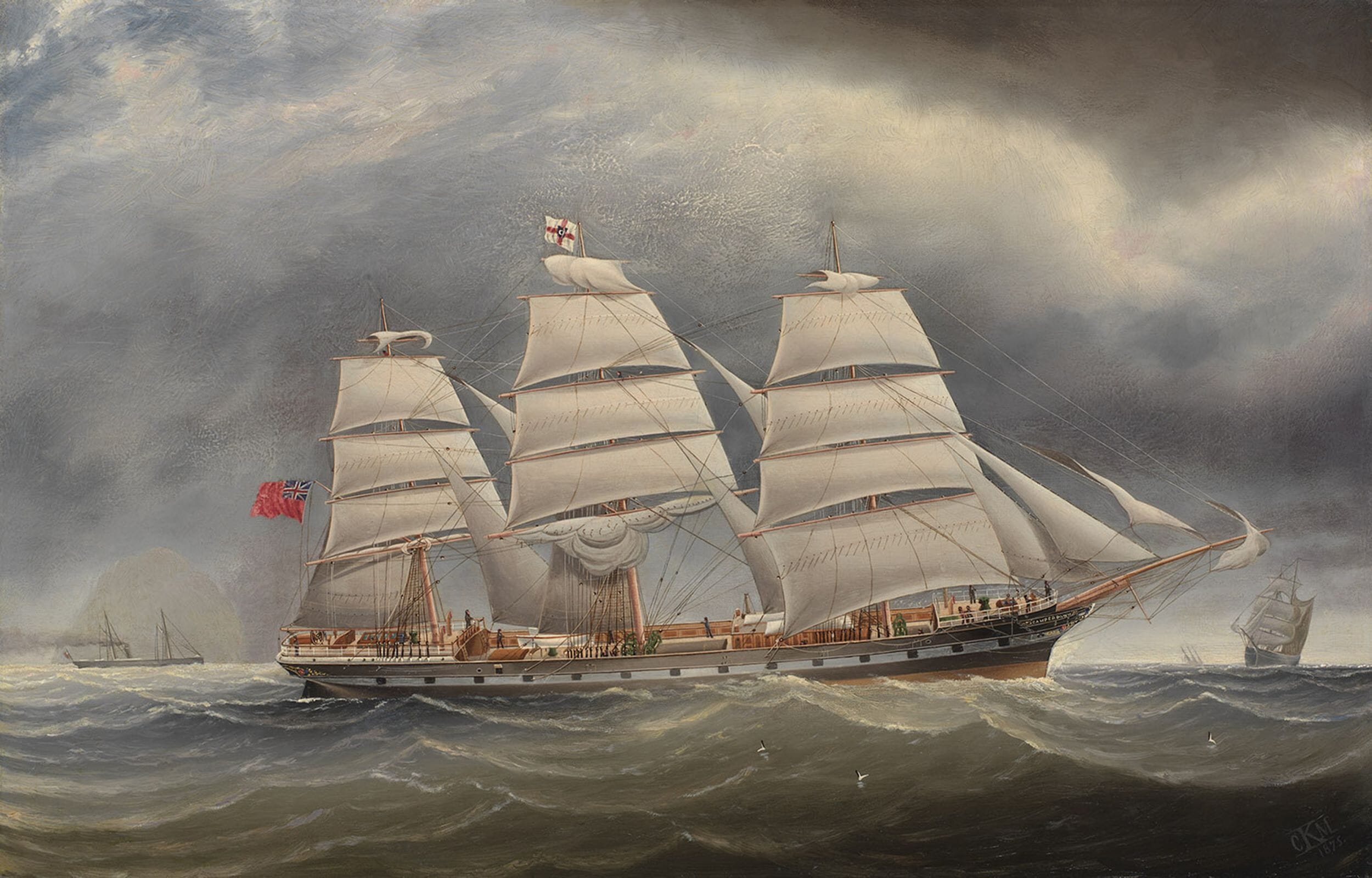 CHARLES KEITH MILLER
1836-1907
"Calcutta Bound - The Maiden Voyage of the Dundee Clipper Line's Iron Ship Camperdown"
Captain Charles Keith Miller was born in Dundee in June 1836. He went to sea in 1851 at the tender age of fifteen aboard the steamer Correo, and in 1861 after ten years he was awarded his master's certificate. He spent three years as Captain of various barques sailing to the Far East before opting to captain steamships, with the advantage of their inevitably shorter passages. After marrying in 1866 he eventually settled down in Glasgow.
His first recorded marine painting is dated 1872, a period when he was focusing on becoming more established as a ship's portrait painter. He was to concentrate his energies for the next six years on nautical painting, putting his former career of captaincy on hold for that period, and this also saw the sad death of his wife in 1877, with by now the added burden of five offspring to support.
The artist briefly returned to sea in 1878 for two voyages as master of the steamship Sandringham before finally retiring in 1888 to concentrate on his marine painting. That same year he exhibited a painting called "After the Squall" at the Royal Scottish Academy, He died in 1907. Captain Miller is represented in the collections of the Glasgow Art Gallery, the Merseyside Maritime Museum, the Rijksmuseum in Amsterdam, and in America the Kendall Whaling Museum in Sharon, Massachusetts.
The second of in a series of five substantial clipper ships, the Camperdown was built under Special Survey in early 1875 by Alexander Stephen and Sons of Dundee for David Bruce's Dundee Clipper Line. Classified 100A1, she registered 1,487 tons and she measured 246 feet in length. She was celebrated as a rapid carrier of cargo, as well as being equipped to carry almost five hundred passengers. Her maiden voyage to Calcutta in summer 1875 belied the fact that she was built chiefly in response to the ever growing emigrant trade to New Zealand and Queensland, Australia during the 1870's and 1880's.
In 1876 Camperdown made her first passage to Wellington, New Zealand, before returning home via San Francisco. An average run to Brisbane was recorded as around ninety days, and with the arrival of steamships in the 1880's forcing prices down, those lucky passengers in steerage were able to travel to Brisbane for a mere five pounds.
The Camperdown was to make numerous successful passages to both Australia and New Zealand, but in 1890 upon leaving the South African port of Simonstown and bound for the New South Wales port of Newcastle, she disappeared and was never heard of again, according to an entry in the Lloyds register of August 11 that year.
Signed and dated 1875
Oil on canvas
18 x 28 inches
45.7 x 71.1 cms
Framed Size
24 x 34 inches;  61 x 86.5 cms.