RECENT SALES & ARCHIVE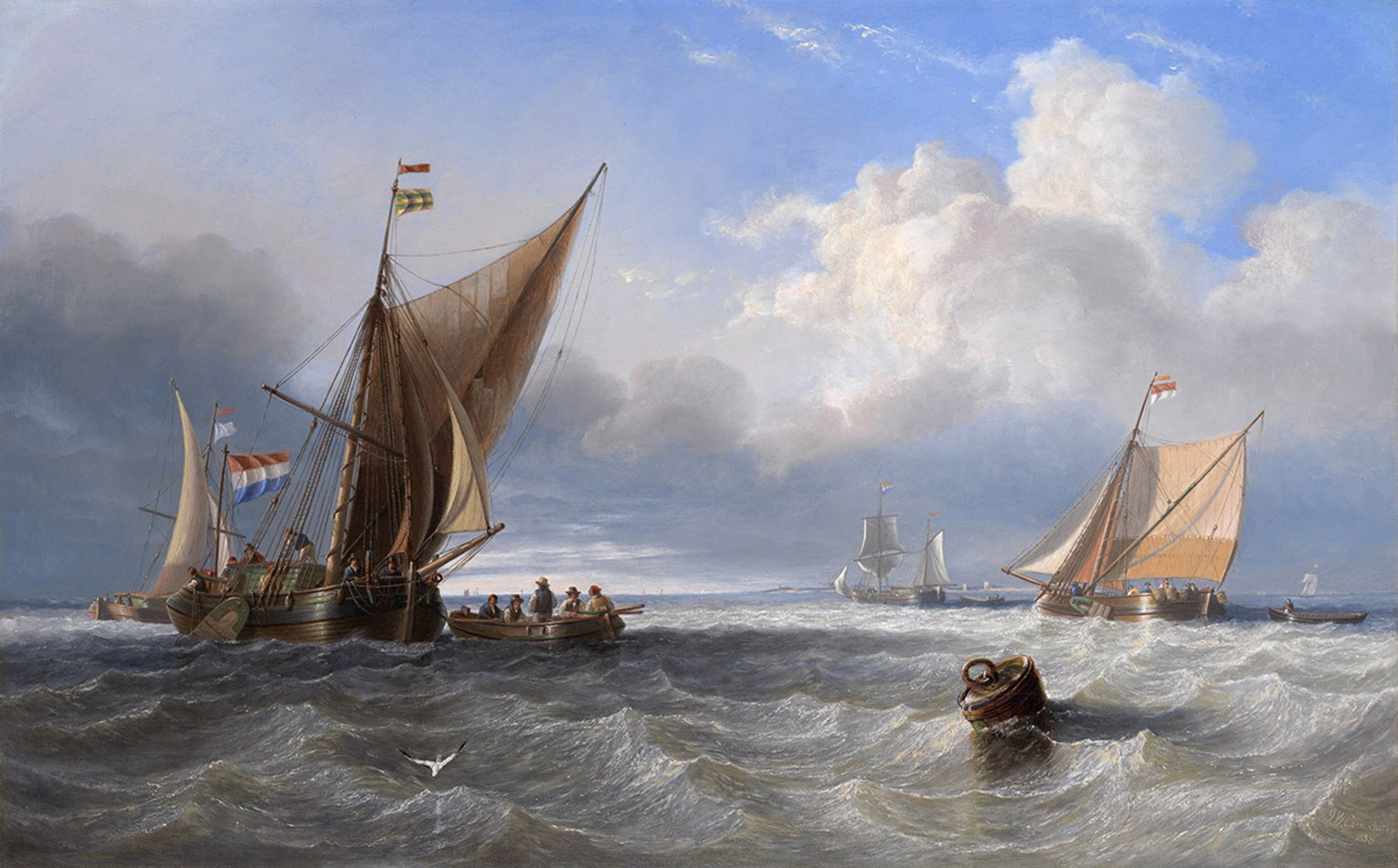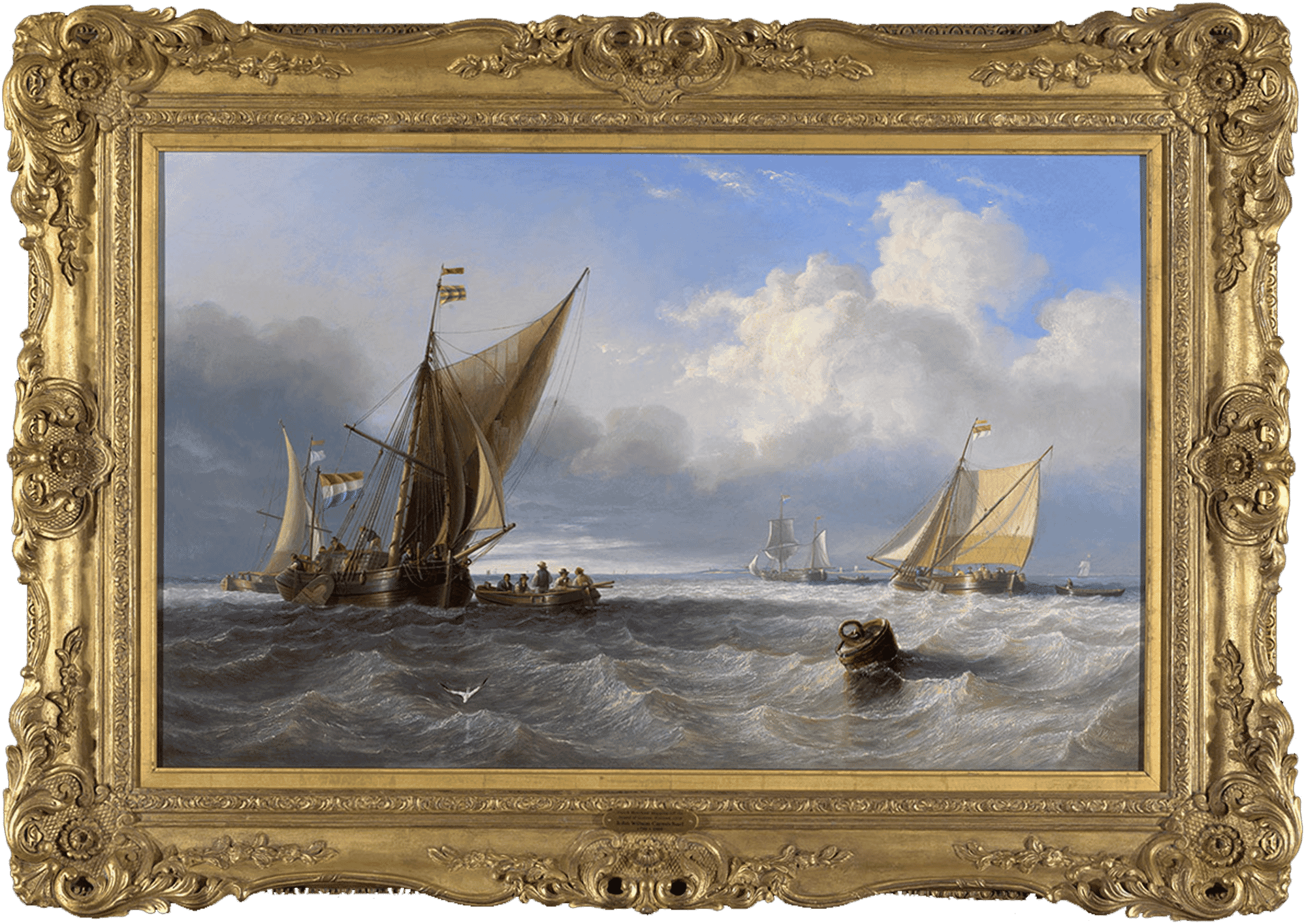 JOHN WILSON CARMICHAEL
1799-1868
"Dutch Shipping off the Isle of Goeree in Holland"
John Wilson Carmichael was born in Newcastle on Tyne on 9 June l799, the son of a local shipwright named William Carmichael. It is thought that as a boy John was probably press-ganged into the Navy to continue the fight against Napoleon Bonaparte, Returning to Newcastle he was apprenticed as shipwright to local shipbuilders Richard Farrington and Brothers. Carmichael was later to befriend and study under the leading artist in the area, namely Thomas Miles Richardson Senior (1784-1848). In 1827 he was elected to join T.M. Richardson on the committee of the Northumberland Institution for the Promotion of Fine Arts. By now he was working from his own studio in Newcastle, with increasing support and patronage gained through showing his work both at local exhibitions and also in print form.
He proved to be a most versatile painter, and during the 1820's and 1830's his landscape subjects equalled his maritime paintings in output. The 1834 Liverpool Academy Exhibition saw his first works exhibited outside his native Newcastle, and he was to show at this institution with regularity for the next twenty five years. In 1835 he exhibited his first maritime picture at the Royal Academy in London, this a life-saving scene set in the Bay of Scarborough. This was to be the first of twenty-one works exhibited by him at the Royal Academy. Three years later in 1838 he showed his first painting in Suffolk Street at the Royal Society of British Artists.
The artist was to have two paintings in the Royal Collection by the mid 1840's, and the Duke of Devonshire commissioned some twenty panels for the oak room at Chatsworth House. He also received numerous commissions from the leading industrial companies of the day. In 1846 he decided to leave Newcastle and headed for London, the same year his first exhibited paintings at the British Institution appeared.
John Carmichael enjoyed great success in London, where he painted a wide variety of scenes set on the River Thames as well as the South coast, and much further afield with scenes of both New Zealand and the Antarctic. Following his official appointment as a war artist sent to cover the Crimean War, he left London on 26 May 1855 bound for the Baltic. He joined the gunboat H.M.S. Starling a fortnight later. He recorded numerous sketches of his experiences in the region, and some were published in the "Illustrated London News". His return to London after little more than three months gave him plenty of fresh material and subjects with which to work, as he is recorded as having visited Danzig, Potsdam, Berlin and Cologne on his way home.
In 1857 he voyaged to Switzerland and Italy. But tragedy was to strike in 1862 when Carmichael's beloved eldest son Jack died, resulting in he and his wife moving back to Scarborough the following year.. He continued to portray local scenes right up to his death in Scarborough on 2 May 1868 at the age of sixty eight.. His paintings today may be seen in the collections of the National Maritime Museum in Greenwich, and American museums in Newport News, Virginia and the Mystic Seaport Museum in Connecticut.
Signed and dated 1858, and inscribed verso with title
Oil on canvas
20 x 32 inches
50.8 x 81.2 cms
Framed Size
28 x 40 inches; 71x 102 cms.