RECENT SALES & ARCHIVE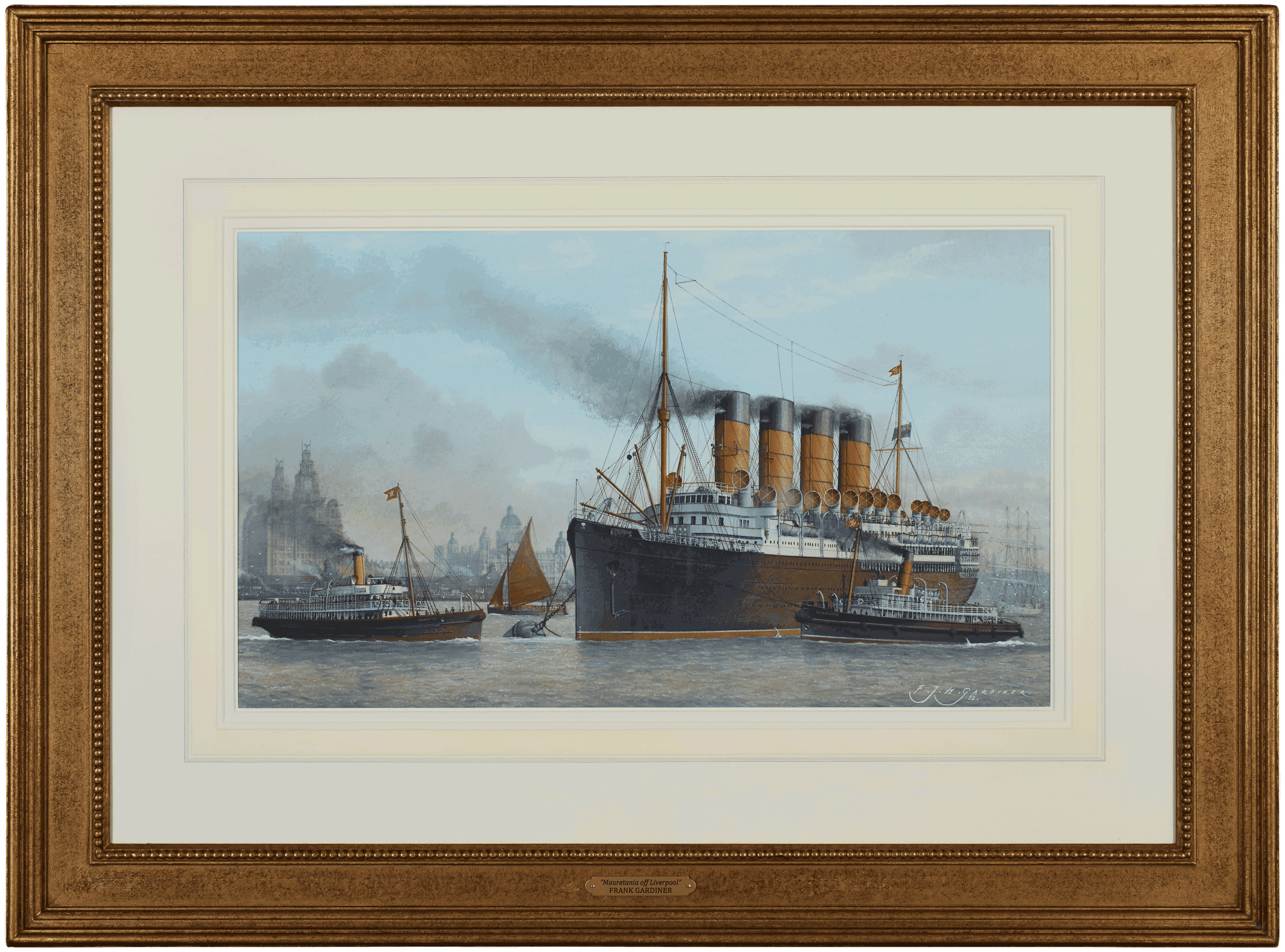 FRANK GARDINER
Born 1942
"R.M.S. Mauretania off Liverpool"
Originally a White Star liner, the Mauretania was sister ship to the ill-fated Lusitania, but unlike the Lusitania, she enjoyed a long and successful life becoming one of the most popular ships on the Atlantic run.
Launched in 1906 from the yards of Swan Hunter and Wigham Richardson at Newcastle, she was 790 foot long with a displacement of 31,958 tons, and she carried more than 2,000 passengers, with a crew of 850. In November 1907 she took the Atlantic Blue Riband for her sister ship with a speed of 23.69 knots; this was on the East bound run. In 1908 she took the Riband on the West bound run with a speed of 24.86 knots, and held the coveted trophy until 1929 when the German liner Bremen took the Riband.
During the First World war Mauretania served briefly as an armed cruiser. This was a secondary role that she and the Lusitania were originally designed to fulfil, but the Mauretania proved to be totally unsuitable for the task. For the remainder of the War, she served firstly as a hospital ship and then a troopship. Released from military service in 1919 she returned to the Atlantic run, but she was thirteen years old and a decision about her future became increasingly urgent.
In 1921 she suffered a serious fire at Southampton. In conjunction with repairs, it was decided to give her a major overhaul and convert her engines to oil burning. These changes gave her a new lease of life. She was better than new now, and continued to serve until 1935, when she was finally broken up. She held the Blue Riband for a record 22 years, a record that will now never be broken.
Frank Joseph Henry Gardiner was raised in the London Docklands within sight of the River Thames, and so it was natural that as a boy his vivid imagination should have been fired by the majestic and ever varying panorama and daily bustle on this mighty river, with the masts of ocean vessels towering over rooftops and gliding silently between chimney pots.
He became fascinated by the historic vessels of yesteryear, with the famous London clipper ships and Blackwall frigates sparking a particular passion and devotion. The artist showed an early and precocious talent for watercolour painting, but it was to be decades before he would turn to maritime art as a full-time career.
After studying at Lister Technical College for three years, where his strong architectural principles were fostered, he later became well known as an illustrator of manuscripts, stamps and banknotes, before deciding upon a career in the Civil Service, as an illustrator in the Department of Ancient Monuments and Historic Buildings. In just two years he rose to head a group of twelve artists who were responsible for public illustration work all over England. This department is better known today as English Heritage, and his work can still be seen on postcards throughout the country.
Frank Gardiner first began to exhibit at the Royal Society of Marine Artists in 1971, and rapidly gained numerous commissions from his association with the renowned and long established Parker Gallery in London. With an ever increasing popularity and his work then booked up to two years in advance, he was able to retire at the age of 50 to concentrate fully on his first love – marine art.
The style of his work has remained remarkably consistent over the decades, with the architectural principle a recurring guide throughout. His bustling scenes of boats in company or scenes involving human history show all the spirit and evocation of a vanished and bygone age, and they have achieved wide acclaim.
He works today primarily in watercolours, with a perfectionist's attention to scale, detail and perspective. His personal library of both books and archive material is truly astonishing, his studio awash with hundreds of antique photos, maps, shipwright's plans, sketches and nautical ephemera, as well as ships' models, which he also loves to build, and it is this overriding passion that he has for his work which is so evident in his finished paintings.
Signed
Watercolour & gouache
12.75 x 21.75 inches
32.5 x 55.25 cms.
 Framed Size
25 x 33.5 inches; 63.5 x 85 cms.
SOLD