LANDSCAPE PAINTINGS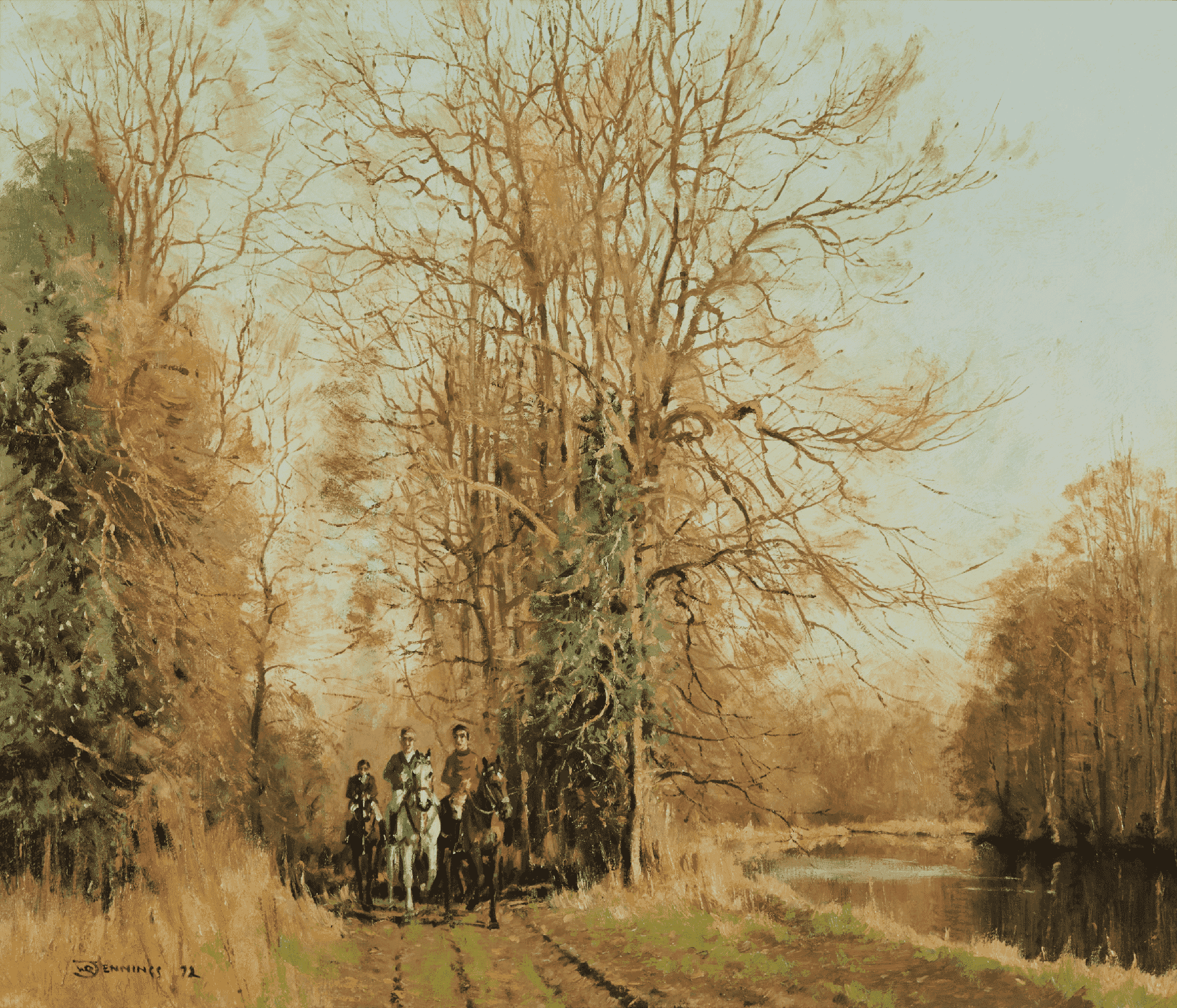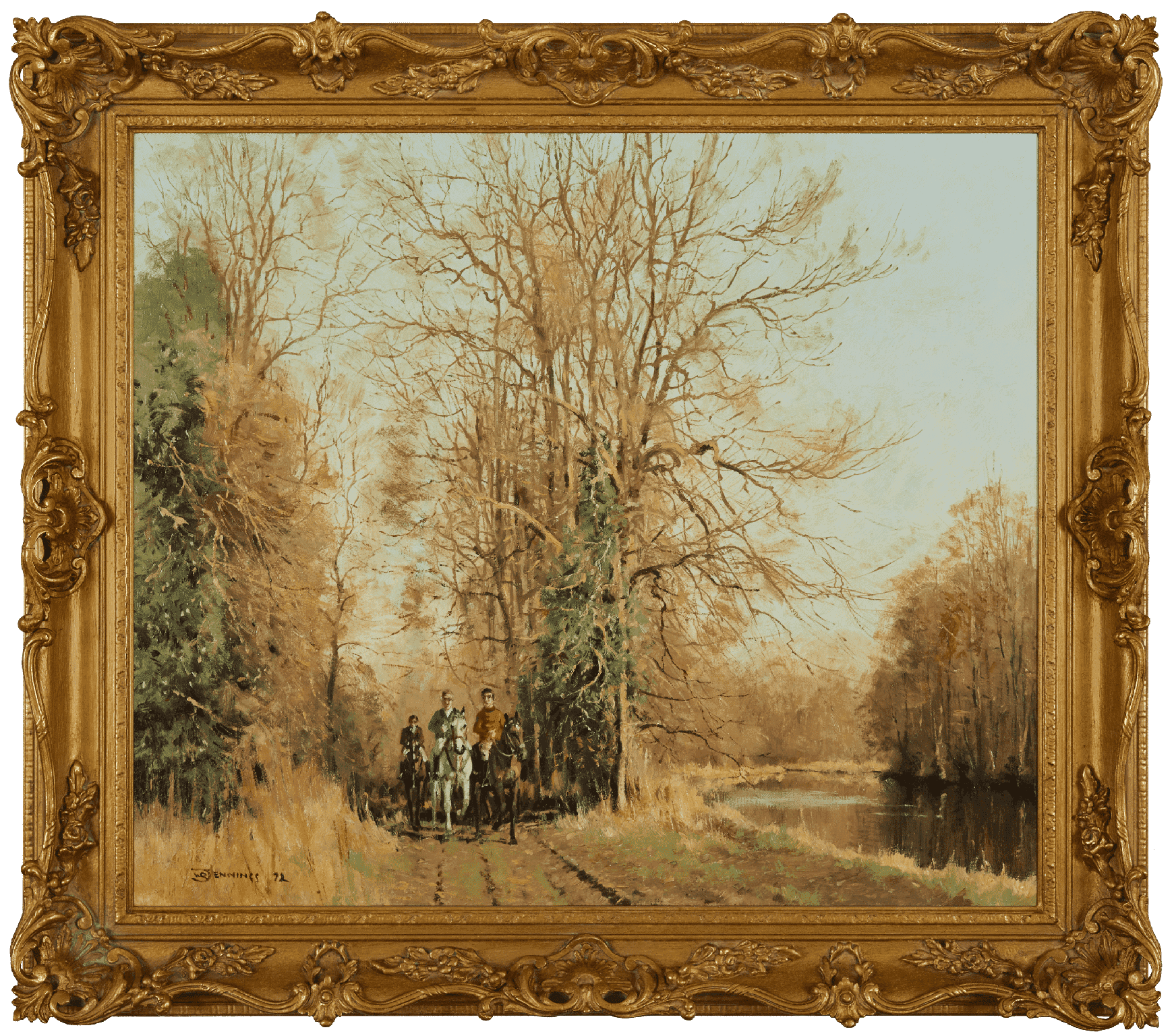 WALTER ROBIN JENNINGS
1927-2005
"A Canal Ride, Caunsall, Worcestershire"
Walter Robin Jennings was born in Old Hill, Staffordshire in 1927.
Despite showing an early aptitude for painting and drawing, upon leaving school he joined the staff of a museum. However, the urge to paint full time eventually became just too strong, and in 1960 he took the courageous decision to become a full time painter.
His early years were challenging, to say the least, and he fulfilled the oft cited cliché of a" starving painter". To quote him verbatim : "Often, after painting all day, I would barely have enough in my pocket to buy myself a fish and chip supper".
However, his fortunes were set to improve dramatically when he became better known, and as he mastered his craft in both oil and watercolour, healthy commissions would start to come his way. From that moment in his career Robin never looked back. He began to travel the length and breadth of Great Britain, painting country landscapes and country houses, portraits and animals.
Robin exhibited widely during his lifetime, with one-man sell-out shows in London, Birmingham, Liverpool, Cardiff and Somerset, as well as at game fairs throughout the land. He also exhibited in New York, Paris and Germany.
His works were also published in print form by Royals, Solomon and Whitehead, the Medici Society and Sharpe's Classic publications.
Her Majesty Queen Elizabeth, the Queen Mother so admired his work, that she selected one of his pictures as her private Christmas card, which was published by Valentine's of Dundee.
More unusual commissions involved the restoration of 14th and 15th century stained glass windows, including those in the House of Commons, and he was commissioned for work by the British Gas Board as well as the giant construction conglomerate John Laing.
An avid conservator and naturalist, he made radio and television appearances, when he would talk animatedly about both his love of painting and the English countryside, as well as his firm commitment to conservation.
Walter Robin Jennings died in 2005 at the age of seventy-eight, and today his works are to be found in public and private art collections worldwide.
 Literature:
 "Artists in Britain since 1945", Volume 1, by David Buckman, Page 829
During his lifetime, it was said of his work:
 County Quest
"Most of his work reflects the moods and atmosphere of the British climate and the British countryside. They appeal to shooting men, anglers and naturalists, who like them because they know that our country can actually look like this. They are pictures of the sort of thing all country lovers hold in their memories; so much so, that many of them have been purchased by emigrants. There are homes of British exiles in New Zealand, Australia, Holland and America, where a W. R. Jennings hangs to bring a nostalgic whiff of home".
 Somerset County Gazette
"An artist following in the great tradition of the English landscape…one senses the obvious sincerity of the painter. No subject is made to look artificially pretty…the effect of light on water, the coldness of a winter's morning, these are the subjects of which Robin Jenning's paintings are made".
 Liverpool Weekly Post
"Mr. Jennings is a painter of English country life, and his canvases breathe the very air of the hills and valleys of England".
 Birmingham Post
"..…he still paints – and does so very skilfully – landscapes which are recognisably such. He has looked for peace and found it, and here it is, caught and held, and very, very pleasant to look at – and very English".
 The Field
"His landscapes convey the essential tranquillity of the countryside and hum with gentle activity".
Signed, dated & inscribed with title verso
Oil on canvas
24 x 28 inches
61 x 71cms.
Provenance
Private Collection
Framed Size
30 x 34 inches; 76 x 86.5 cms.