RAILWAY PAINTINGS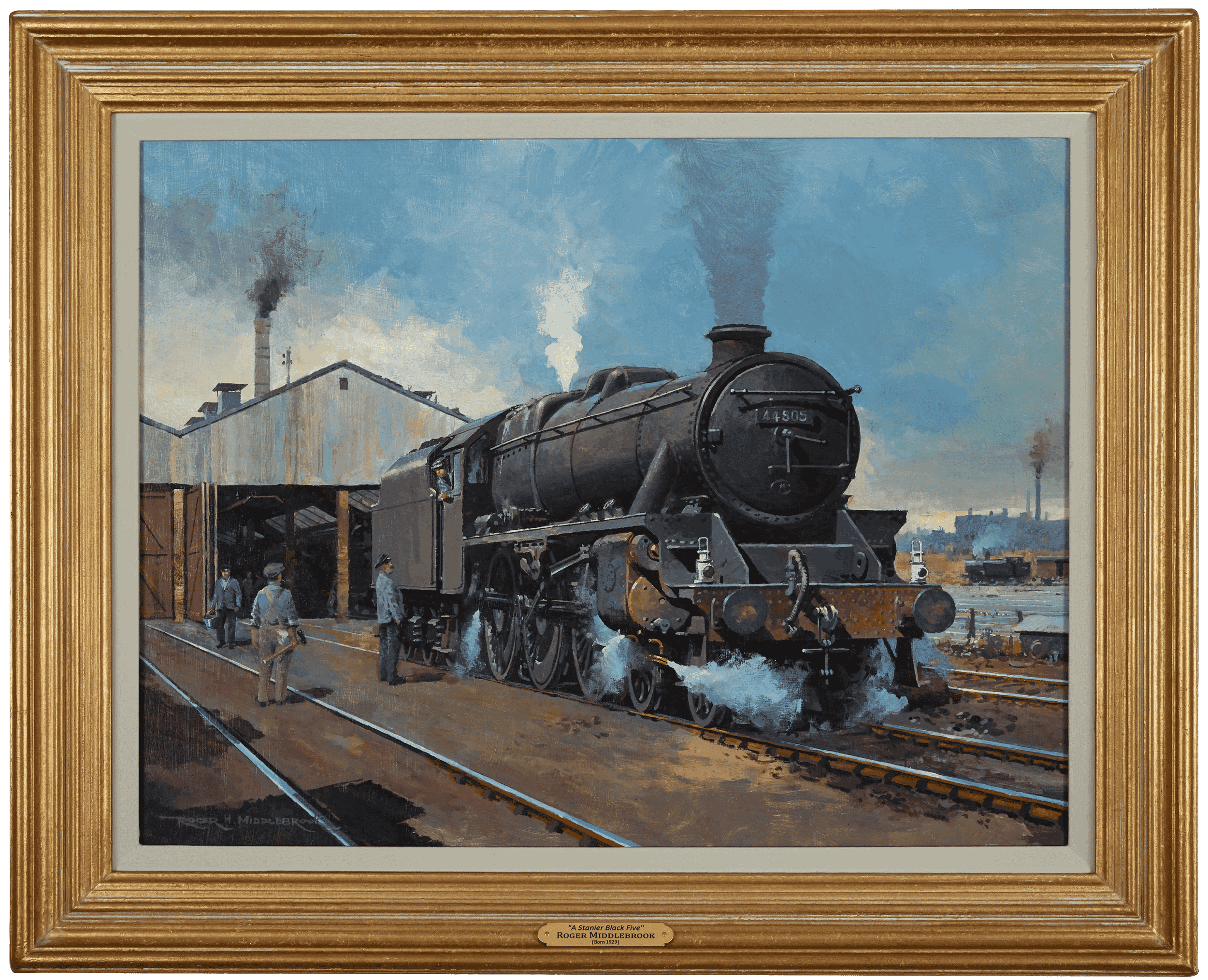 ROGER MIDDLEBROOK
Born 1929
"A Staniar Black 5 Locomotive"
The London Midland and Scottish Railway's Class 5 4-6-0, almost universally known as the Black Five, was one of the most successful steam locomotives ever produced in Britain.
It was introduced by the outstanding William Stanier in 1934. He created a big powerful engine, excellent for hauling passenger express trains and just as good at hauling freight trains.
842 Black Fives were built between then and 1951. Members of the class survived to the last day of steam on British Railways in 1968, and eighteen are preserved to this day. This class of locomotive was often a favourite amongst drivers and railway fans.
The Black Fives were a mixed traffic locomotive, a "do-anything go-anywhere" type, designed by Stanier, who had previously been with the Great Western Railway (GWR.). In his early LMS days, he designed his Stanier Mogul 2-6-0 in which he experimented with the GWR school of thought on locomotive design.
A number of details in this design he would never use again, realising the superiority of details not used on the GWR.
Stanier realised that there was a need for larger locomotives. These were to be the LMS's version of the GWR Halls but not a copy, as the Hall was too wide to run most places in Britain. They shared similar cylinder arrangement (two outside), internal boiler design and size and 6 foot driving wheel diameters.
In their early days the locomotives were known as the "Black Staniers" from their black livery, in contrast to Stanier's other class of 4-6-0, the LMS Stanier Jubilee Class, which were painted crimson (and known until April 1935 as the "Red Staniers").
Later on, the nickname of the former became "Black Five", the number referring to the power classification. This was originally 5P5F, but from 1940 was shown on cab-sides as the simple figure 5.
Signed
Oil on canvasboard
16 x 21 inches
40.5 x 53.5 cms.
Framed Size
21.25 x 26.25 inches; 54 x 66.5 cms.