RAILWAY PAINTINGS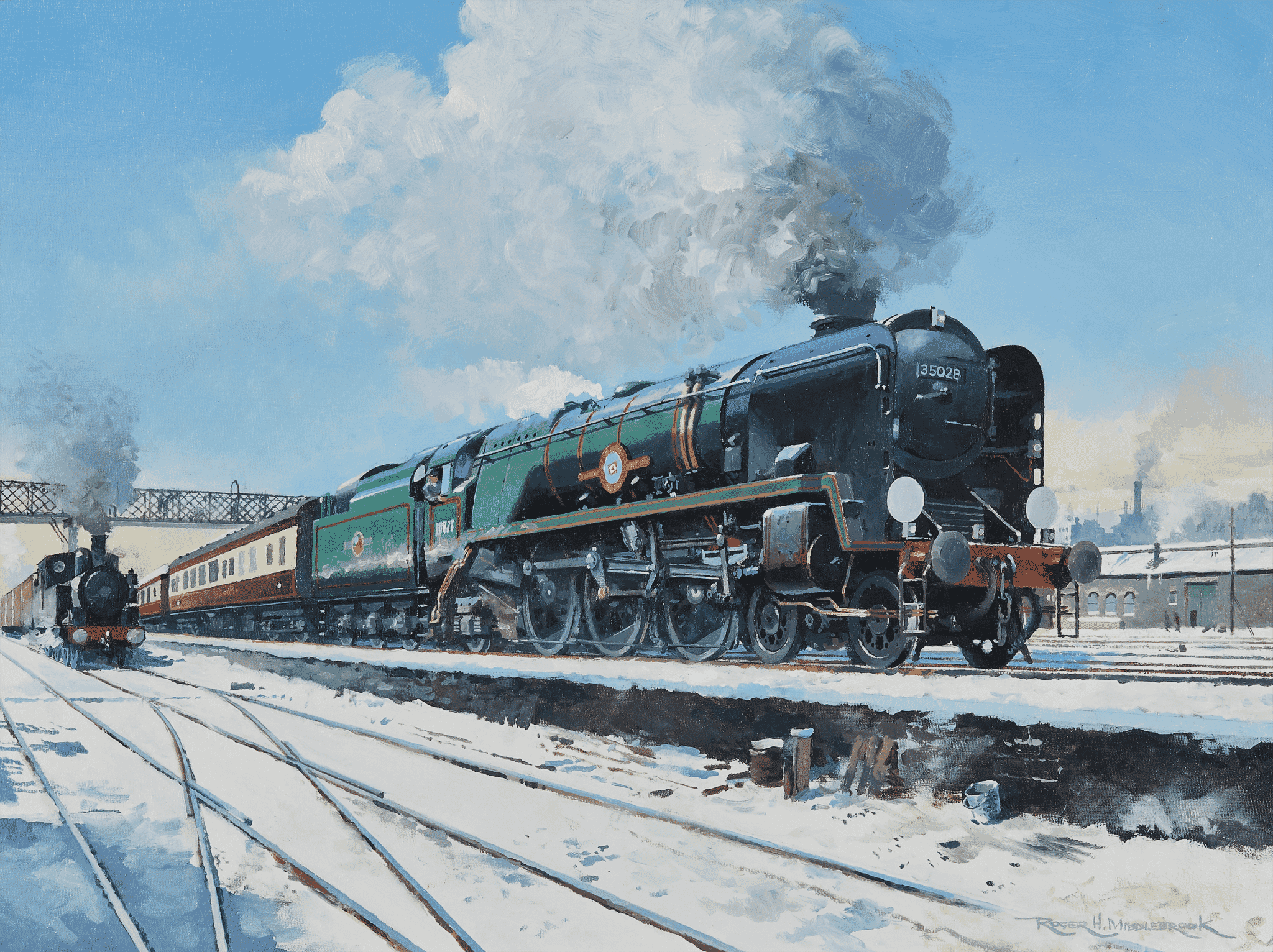 ROGER MIDDLEBROOK
Born 1929
"Winter on Southern Railways, A Clan-Line 35028"
The 35028 locomotive was built at Eastleigh Works in Hampshire in 1948.
After a few weeks running in and whilst based at Bournemouth, it was allocated first to Dover in October 1949 and then to Stewarts Lane shed in March 1950, where it worked heavy trains on the trunk routes to the South East Channel ports, often working the prestige expresses, The Night Ferry and The Golden Arrow.
The 35028 was out shopped in a rich malachite green livery; she carried this colour until January 1951 when the early British Rail express passenger Blue livery was applied.
It was whilst in this colour that in 1951 35028 was named Clan Line  by the then chairman of the famous shipping line, whose name it continues to carry to this day.
Another livery change took place in June 1953, this time to its final colour and  what is known commonly as brunswick green.
Having run 401,005 miles it was now rebuilt at Eastleigh Works to a more conventional design, and was the last of the Merchant Navy class to be restructured in this way.
After rebuilding, it was initially allocated to the Nine Elm shed in South London, where it headed such trains as the Bournemouth Belle and the Atlantic Coast Express.
In 1961 while working the Atlantic Coast Express it was unofficially timed at 104 mph passing Axminster in Devon.
In August 1964 35028 moved to Weymouth, later returning to Nine Elms in March 1967.
On 2 July 1967 Clan Line hauled a farewell special from Waterloo to Bournemouth and back, so ending its British Rail career.
Having run a total of 794,391 miles, Clan Line was formally withdrawn from service on 9 July, along with all remaining steam locomotives working the Southern Region.
Signed
Oil on canvasboard
18 x 24 inches
45.5 x 61 cms.
Framed Size
23 x 29 inches; 58.5 x 73.5 cms.