RECENT SALES & ARCHIVE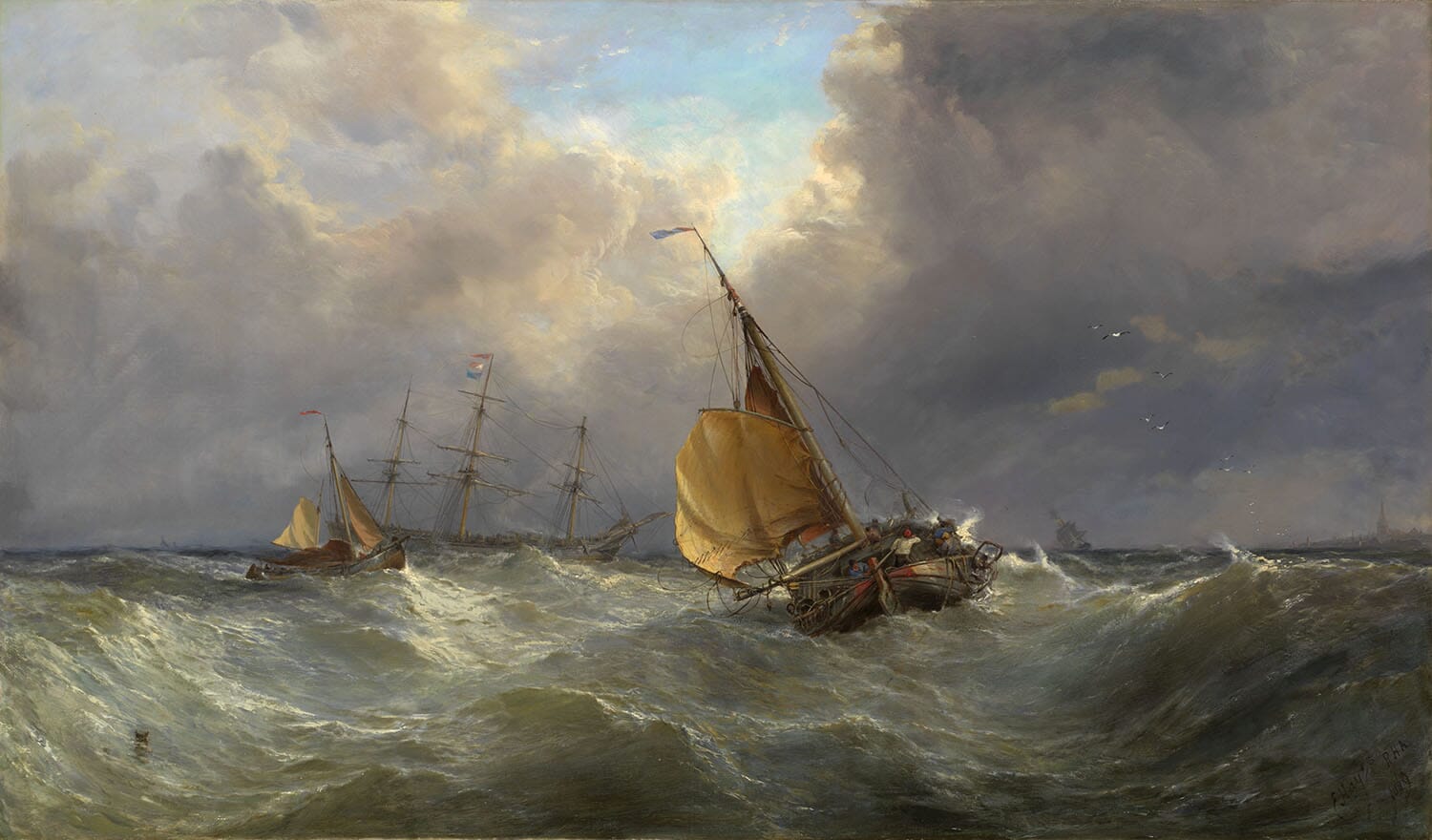 EDWIN HAYES
1819-1904
"Dutch Merchant Shipping in a Heavy Swell Near Amsterdam"
Edwin Hayes was born in Bristol on 7th June 1819 to Irish parents. As a youngster he and his family moved to Dublin where his father set up as an hotelier. Edwin studied at the Dublin Society Schools, and living close to the docks gave him his initial interest in the sea. He sailed his own yacht around Dublin Bay and also went to America and back as an assistant steward to further his knowledge of the sea. His first exhibited painting was at the 1842 Royal Hibernian Academy in Dublin, an institution in which he developed a long association which led to his becoming a member in 1871. Throughout his lifetime he exhibited a total of 255 paintings with the R.H.A.
Hayes was a keen sailor and travelled all around the coasts of Britain and the Continent. He had a passionate interest in the sea and all its moods, and was highly adept at putting his varied subject matter to canvas. French and Dutch views figure regularly in his exhibited work, as do a number of Spanish and Italian locations.
Hayes first British exhibit was in 1849 in Liverpool and three years later he moved from Dublin to London, initially setting up his studio in Parliament Street, Westminster, before moving to Claylands Road, Kennington in 1856 where he remained for the next four years. He went on to reside in London at a variety of addresses for the rest of his life. A total of 230 pictures were accepted at three main London Galleries, 82 at the Royal Academy, 35 at the British Institution, and 113 at the Royal Society of British Artists. Hayes was also highly skilled in marine watercolours and became a member of the Royal Institute of Painters in Watercolours in 1863.
He exhibited 338 pictures at the New Watercolour Society, and also supported the Grosvenor Gallery and the New Gallery. Throughout his London period he continued to send a large number of works to various exhibitions in Dublin and Cork. After a very productive and successful career, Hayes died in London on 7th November 1904.
As well as many Irish private and public collections, Hayes' paintings are represented in the Tate Gallery, and in museums in Boston, Chicago, Cape Town, Sydney and Melbourne.
Signed and dated 1869
Oil on canvas
28 x 48 inches
71 x 122 cms.
Provenance
Private Collection, Switzerland
SOLD