RECENT SALES & ARCHIVE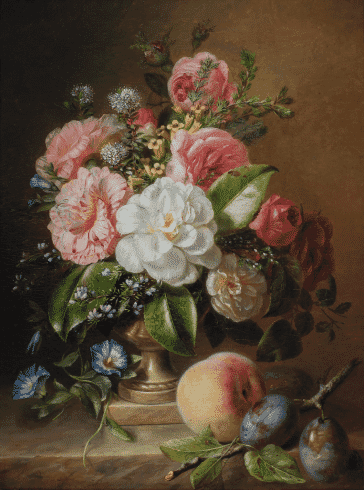 ADRIANA JOHANNA HAANEN
1814-1895
"Still-Life With Flowers & Fruit on a Marble Ledge"
Adriana Johanna Haanen was born on the 15 June 1814 in the city of Oosterhout in Southern Holland.
Famous for her paintings of fruit and flowers, Adriana Haanen is considered one of the three most important female still life painters of the 19th century, along with Geraldine van de Sande Bakhuyzen (1826-1895) and Margaretha Roosenboom (1843-1896).
Adriana came from a dynastic family of artists, numbering no less than eight recorded professional painters within the Haanen family.
Like her brothers George Gillis (1807-1879) and Remigius Adrianus (1812-1894), and her sister Elisabeth Alida (1809-1845), Adriana Haanen received her first painting lessons from her father Casparis Haanen (1778-1849).
Casparis Haanen was an art dealer, restorer and painter who specialised in finely detailed and atmospheric interiors of churches, cathedrals and old buildings.
The family lived for some years in Adriana's birthplace of Oosterhout and then in 1816 the family left for Utrecht, finally setlling in Amsterdam in 1830.
In Amsterdam Adriana developed into a successful and productive flower and still life painter, whose style was aptly described by a contemporary art critic as 'of a graceful, detailed and tender treatment'.
Between 1841 and 1892 her work was on display and on sale at the many exhibitions of Living Masters that were organized in Amsterdam, and later on in The Hague as well as other Dutch cities.
Adriana also participated successfully at exhibitions in Paris, Bremen, Antwerp and Brussels. In 1855 she became a member of the artists' association Arti et Amicitiae in Amsterdam.
Adriana Haanen resided for many years in Amsterdam, with a break between the years 1846-1848, when she lived in Ouderkerk aan de Amstel (this according to various catalogues of the Living Masters).
In 1862 she finally left the capital and settled in the rural village of Oosterbeek, which lies very close to the city of Arnhem in Eastern Holland, where an artists' colony had been formed some twenty years previously.
Here she met and was instantly attracted to fellow still-life painter Maria Vos (1824-1906), with whom Adriana would share a comfortable house on the Weverstraat. 
Adriana's reputation grew ever greater as she continued to supply national and international exhibitions with her finest work.
Additionally, Adriana and Maria Vos grew a network of buyers and clients, such as the rich art patron and writer Johannes Kneppelhout and Christian Pieter van Eeghen, a renowned collector and philanthropist who owned a substantial country estate in the environs of Oosterbeek.
Adriana also gave drawing and painting lessons in Oosterbeek, one of her pupils being the still-life painter Anna Abrahams (1849-1930) who attended a boarding school in the village.
By 1870, Adriana and Maria had apparently earned so much from their collective artistic endeavours, that they were able to have a house specially constructed for them in Oosterbeek – the Villa Grada. Here they worked and lived in blissful contentment, by all accounts, until Adriana's death in 1895 at the venerable age of 81. 
The work of Adriana Johanna Haanen was greatly appreciated by her contemporaries. This is evident not only from the considerable prices she could ask for her paintings at the exhibitions of Living Masters, sometimes up to fifteen hundred guilders, but also from the various awards she received for her work.
She became an honorary member of the Royal Academy in Amsterdam in 1845 and received the gold medal in 1862 for her painting 'Julij Rozen' (July Roses) at the Amsterdam exhibition of Living Masters. 
During her life her work was included in many important collections, such as those of King William II as well as the collections of the Dutch Empire.
Today Adriana Johanna Haanen's paintings are located in the following major museums, among others:
The Rijksmuseum, Amsterdam
The Municipal Museum, Amsterdam
Rijksprentenkabinett, Amsterdam
Amsterdam Historical Museum
Willet-Holthuysen Museum
Netherlands Institute for Cultural Heritage
Paul Tetar van Elven, Delft
Municipal Museum, The Hague
Den Bosch Museum
Van Bilderbeek-Lamaison Museum, Dordrecht
Signed & dated 1850
Oil on canvas
16 x 12 inches
40.5 x 30.5 cms.
Provenance
Richard Joslin Galleries, 1986
Private Collection,Yorkshire
Framed Size
22 x 18 inches; 56 x 46 cms.