RECENT SALES & ARCHIVE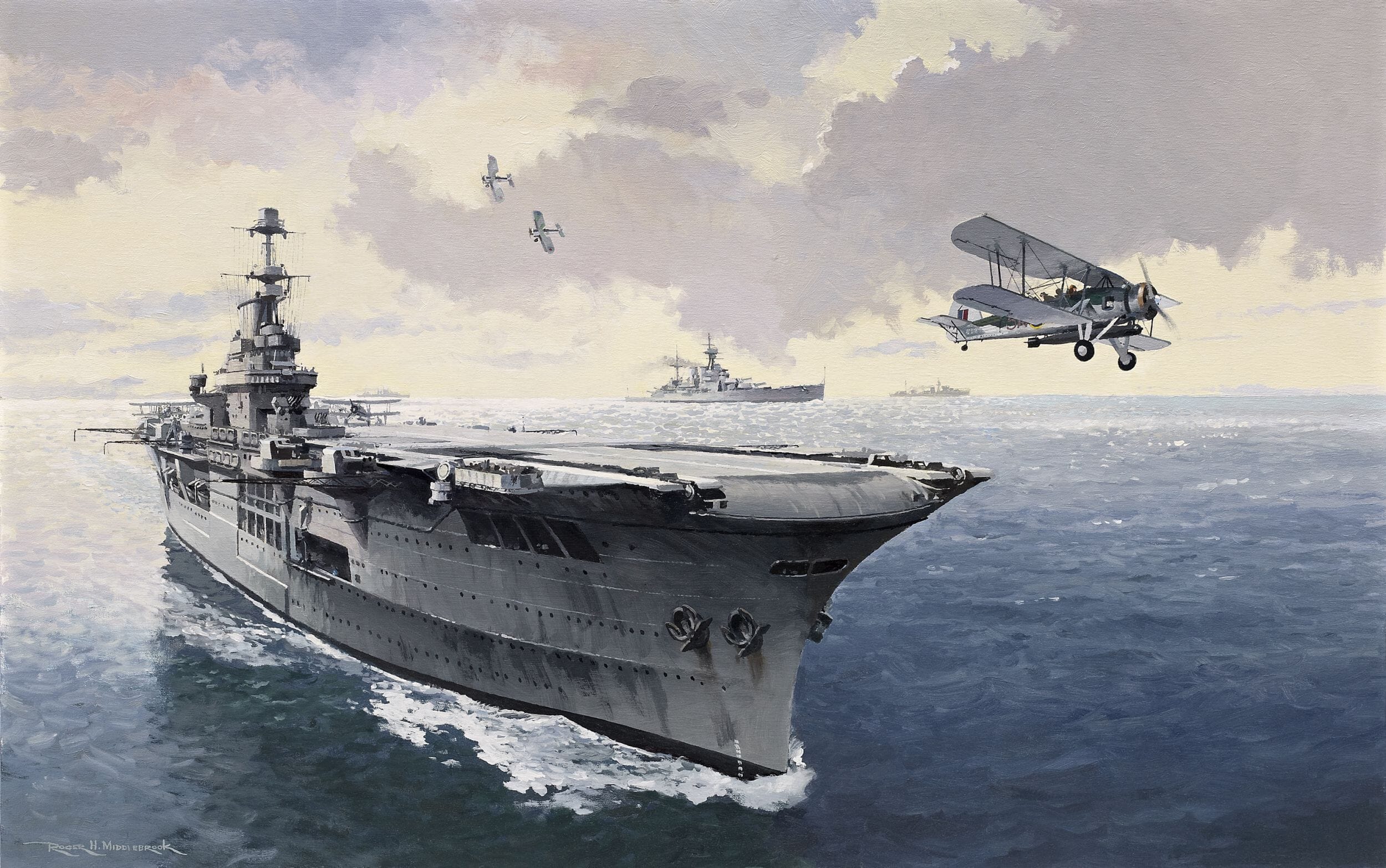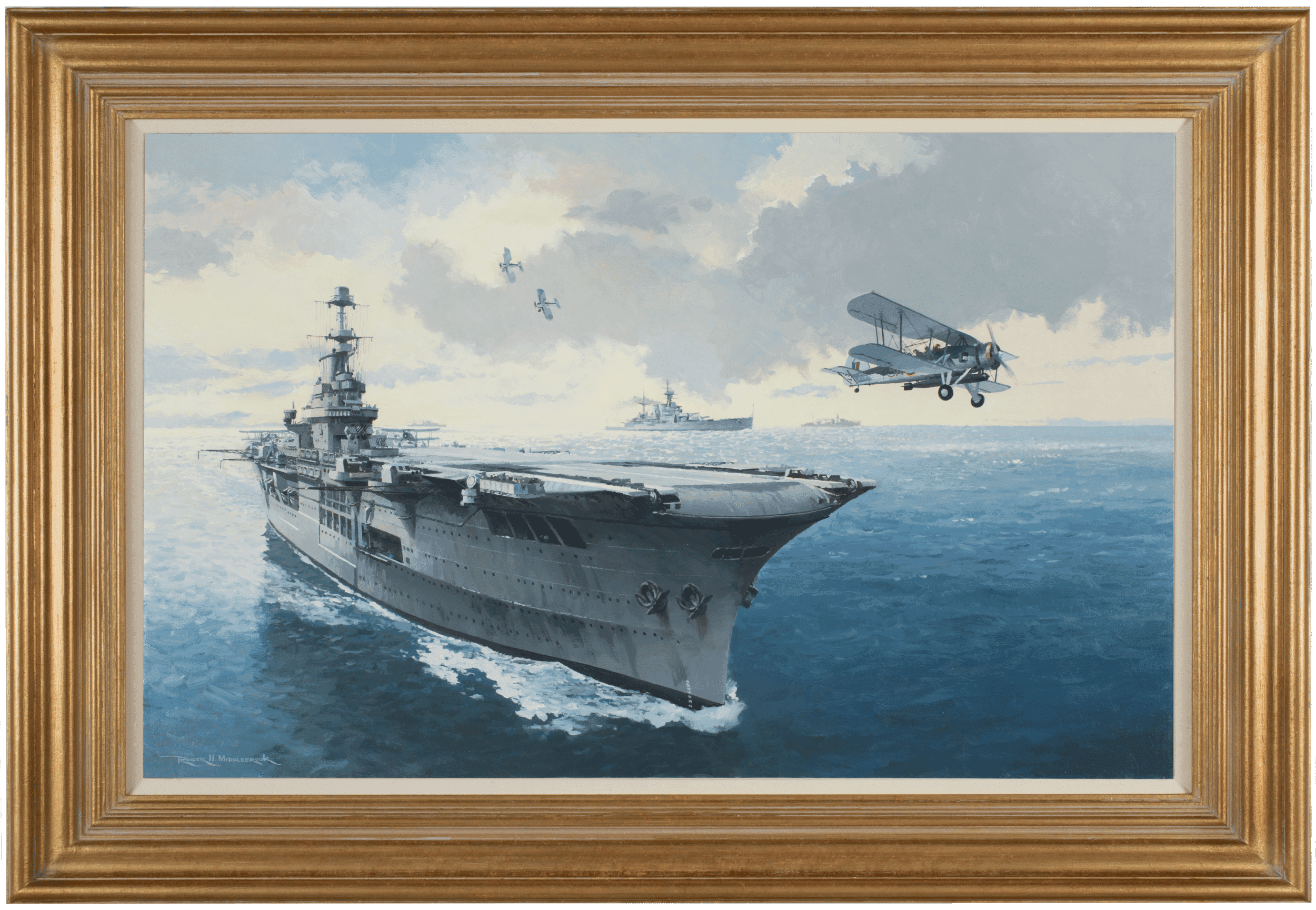 ROGER MIDDLEBROOK
Born 1929
"Force 'H' at Gibraltar, With H.M.S. Ark Royal & H.M.S. Hood"
Roger Middlebrook was born at Huddersfield, Yorkshire in 1929. He studied at the prestigious Slade School of Fine Art from 1946-1949. Following National Service in the army, and a subsequent year of further study at the Slade, he moved to Sweden in the early 1950's, where he worked as a freelance artist concentrating his efforts on landscape and portrait painting. Marriage required that he find regular employment, and this resulted in a job as technical illustrator with Volvo. After thirteen years in Sweden, he decided to return to England in 1965. By 1970 he was no longer involved with technical illustration, and by 1980 he was fully employed as an artist. In 1990 his career as aviation painter began, which by chance rekindled his Swedish connections.
The year 1995 saw Roger honoured with a one man exhibition at the Swedish Airforce Museum. He has since exhibited his work regularly in England, Scotland and Sweden, as well as Norway and the United States. He has been a full Member of the Guild of Aviation Artists since 1993 and a Fellow of the Society of Architectural Illustrators, and has received countless awards for his outstanding work, including The Society of British Aerospace Companies Trophy, Aviation Painting of the Year Award, the Wilkinson Sword Trophy, Roy Nockolds Trophy, E. J. Riding Memorial Award, Alex Henshaw Trophy, Westland Helicopter Trophy, and the Winsor & Newton Award.
The year is 1940, with France having already capitulated and Italy now on the Nazi side. The Allies foresaw the calamitous possibility of the Italian Fleet running riot in the Mediterranean, and so 'H' Force was formed by the Royal Navy at Gibraltar to combat such an eventuality. It was an extremely powerful group comprising three aircraft carriers, H.M.S. Ark Royal, H.M.S. Illustrious and H.M.S. Eagle, the battle cruiser H.M.S. Hood, as well as 6 battleships, including H.M.S. Valiant and H.M.S. Resolution, and 11 cruisers. The Mediterranean was now controlled.
Designed in 1934 to fit the restrictions of the Washington Naval Treaty, H.M.S. Ark Royal (pennant number 91) was built by Cammel Laird and Company of Birkenhead and completed in November 1938. Her design differed from previous aircraft carriers and Ark Royal was the first ship on which the flight deck and hangars formed an integral part of the hull, instead of an add-on or part of the superstructure. With two hangar levels, she was designed to carry a large number of aircraft, and she saw service during a period which heralded the first extensive use of naval air power.
Ark Royal saw action in some of the most important naval theatres of the Second World War. She was involved in the first aerial and U-boat kills of the war, as well as participating in the Malta convoys, the hunt for the Bismarck, and operations in Norwegian waters. She gained the reputation of being a lucky ship, as she managed to survive several near misses, and more than once she was mistakenly reported as sunk by the Nazis. But her luck was finally to run out, and on 13 November 1941 she was torpedoed by the German submarine U-81 and sunk the following day.
The battlecruiser H.M.S. Hood was laid down in September 1916 as part of the Emergency War Program. She was built by John Brown's shipyard on Clydebank and launched on 29 March, 1920. She displaced 42,100 tons, and her main armament comprised eight 15 inch guns and twelve 5.5 inch guns. With a top speed of 31 knots, she was the largest and finest capital ship of her day, but she was tragically lost on 24 May, 1941. Steaming to intercept the mighty new German battleship Bismarck, after the latter had been spotted trying to break out into the Atlantic, she was struck by a shell from Bismarck's fifth salvo, which hit of her magazines and caused her to explode. H.M.S. Hood sank very quickly, resulting in an appalling loss of life. There were just three survivors from a complement of 1,341 officers and men.
Signed
Oil on canvasboard
24 x 38 inches
61 x 97 cms
Framed Size
31 x 45 inches; 79 x 114.5 cms.