RECENT SALES & ARCHIVE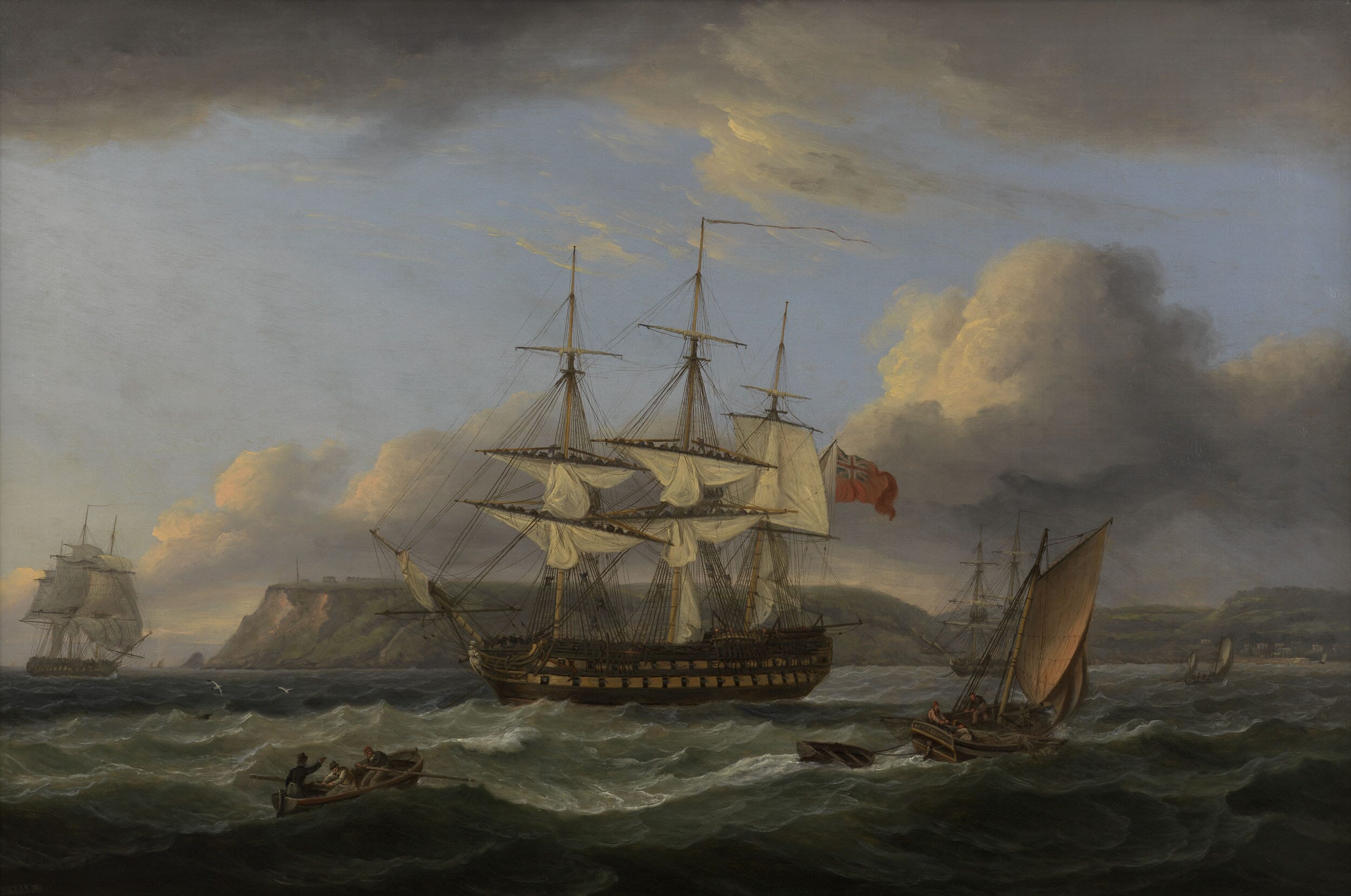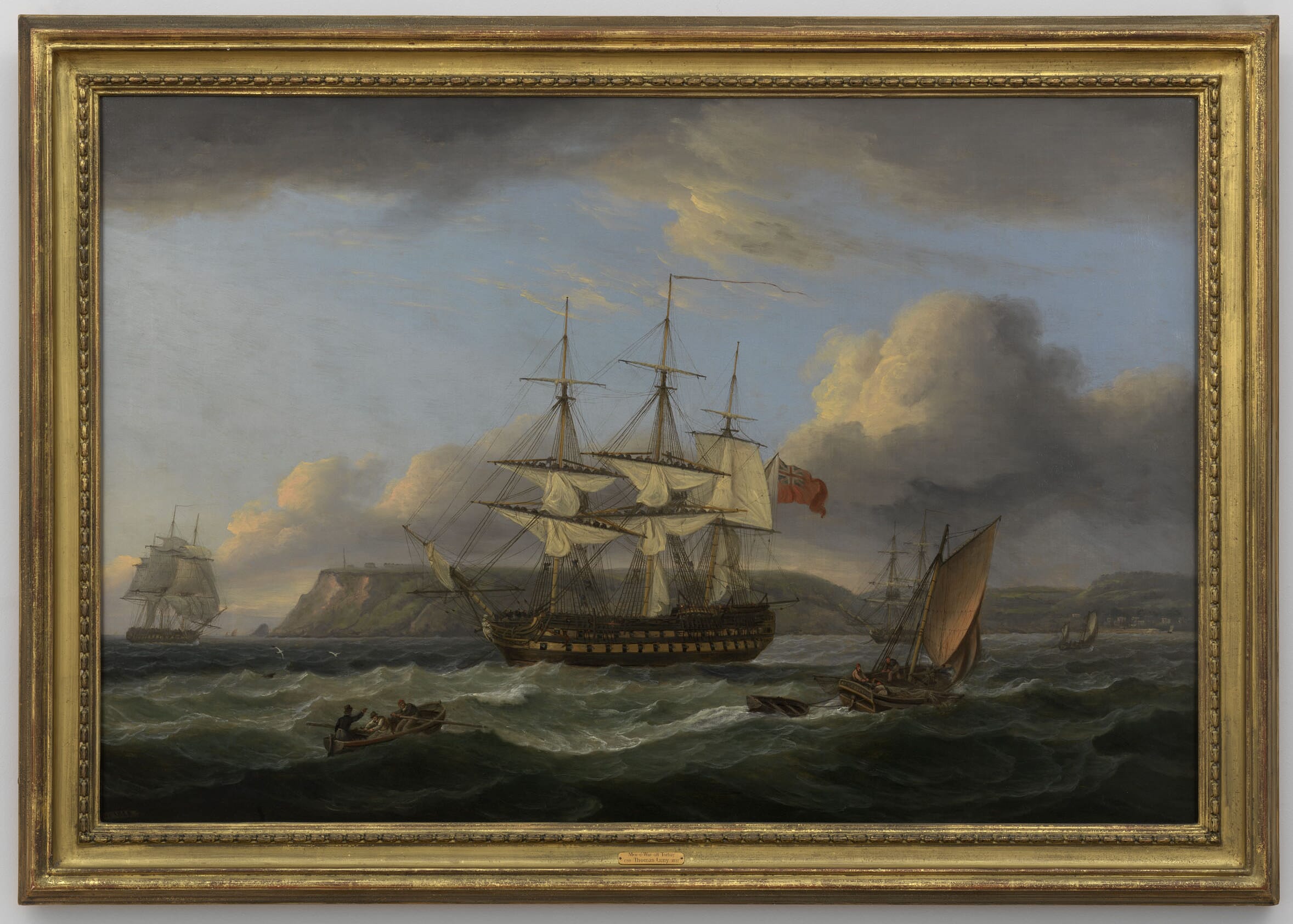 THOMAS LUNY
1759-1837
"H.M.S. Bellerophon Making Sail Out of Torbay and Conveying the Defeated Emperor Napoleon, 26 July 1815"
Thomas Luny was born in Cornwall in 1759, and christened in St.Ewe, near Mevagissey. Shortly after his birth, his parents, Thomas and Elizabeth, moved to London, where the young Thomas was brought up. Aged eleven, Thomas became apprenticed to the renowned London marine artist Francis Holman, working at his studio in Broad Street, St. George's. Strongly influenced by Holman, Luny's first sketchbook dates to around 1770, and he was to remain in his master's studio for the next ten years, by which time it had moved to nearby Old Gravel Lane, St. George's.
In September 1777, Luny left London and travelled to France. It is almost certain that this particular journey also took him further afield, because his first exhibited marine picture that year in at the Society of Artists in London was called: "A Distant View of the Island of Madeira and Porto Santo". Four years later in 1784 one of his Royal Academy exhibits that year was titled "A View in Paris". He exhibited regularly at the Royal Academy, showing a total of 29 works between 1780 and 1802, with a long break until 1837, when he exhibited three more maritime paintings.
By 1780 Luny had left Holman's studio and was living in nearby Anchor and Hope Street, where he lived for a short while before moving to Long Acre in 1781, Stepney in 1782 and Leadenhall Street in 1783. Here he met a certain Mr. Merle, a local dealer who promoted Luny's nautical pictures with great success for more than twenty years. The artist also received numerous commissions from the nearby East India Company, who were based in Leadenhall Street. It is highly likely that he was invited as guest aboard the East India Company's ships on special occasions. He is known to have sketched locations in Gibraltar, Naples and Charleston in South Carolina, and these were very likely painted on location.
Thomas Luny eventually moved to Teignmouth in Devon, a popular destination for many ex-mariners, and he received large numbers of commissions from them as well as the local Devon gentry. Sadly by this time he had developed crippling arthritis in his hands, though this still did not stop him painting.
He died at Teignmouth in 1837. Thomas Luny's work is today represented in the Royal Albert Museum in Exeter as well as the National Maritime Museum at Greenwich, which also houses his sketchbooks in their collection.
The Bellerophon is primarily remembered as the ship to whose captain the Emperor Napoleon surrendered after the Battle of Waterloo, and which then carried him via Torbay to Plymouth on his journey into exile. Bellerophon was built in Edward Greaves' yard on the Medway at Frindsbury, near Rochester, where her keel was laid in 1782. Designed by Surveyor Slade in 1758, she was one of fourteen "Arrogant" class 74-gun Third Rates. She was launched on 17 October 1786, and measured 1,613 tons, with a length of 168 feet and a beam of 47 feet. Completed in Chatham in March 1787, she was laid up for the next 3 years until fitted for sea in August 1790 and commissioned under Captain Thomas Pasley.
By 1794 Pasley had reached the rank of Rear-Admiral, and Bellerophon acted as his flagship at the "Glorious First of June", where single-handedly she engaged the mighty 110-gun Revolutionnaire for ninety minutes before the Marlborough and the Russell came to her assistance. Bellerophon sustained heavy damage aloft and was forced to withdraw, but her valiant conduct at this opening fleet action of the War heralded what was to follow.
On 1 August 1798 Nelson located the French fleet at Aboukir Bay. Bellerophon was commanded by Captain Henry Derby, who took his ship to engage the enemy, namely Admiral Bruey's 120-gun flagship L'Orient. The result was a fierce action almost identical to that of the "Glorious First of June". Bellerophon put up a tremendous fight, pounding away at her greatly superior foe, but was unfortunately dismasted in the process. Despite suffering heavy casualties, including Captain Derby, Bellerophon remained steady at her station close to L'Orient, which finally exploded during the night.
Undergoing repairs and a refit, she was constantly active until Trafalgar when, under Captain John Cooke, she fought firstly against the combined fire of four enemy ships, then in a spectacular duel with L'Aigle, and lastly with the Spanish vessel Monarca which surrendered to her. Such a gallant fight cost Bellerophon dear.  She underwent extensive repairs at Plymouth before returning to service at sea, and it was said that she had seen more action during the War than any other ship afloat.
But her most famous involvement occurred on 15 July 1815, when her master, Captain Maitland accepted the surrender of the Emperor Napoleon at Rochefort. Acting upon naval intelligence, which had unmasked Napoleon's plan to flee to America, Maitland had been sent to Rochefort to intercept Napoleon who, in the event, surrendered to Captain Maitland to be placed under the aegis of British law, and Maitland sailed for England on 23 July. Early the following morning they anchored in Torbay, where Maitland awaited orders.
The arrival of the defeated Napoleon coincided with large numbers of small craft and their curious passengers coming out to survey the Bellerophon and her hapless guest. On 26 July Bellerophon weighed anchor and made for Plymouth, arriving there within hours. Napoleon remained on board for the next twelve days, whilst the government decided his fate; until 7 August when he was transferred to H.M.S. Northumberland, which then carried him to St. Helena and his inevitable exile.
The War finished and there was now a marked decrease in the need for warships, and so the illustrious service career of the brave Bellerophon was radically altered to her new designate of prison hulk, which purpose she served until the end of her career. In 1824 she was aptly renamed Captivity, and in 1836 she was finally broken up.
Signed and dated 1828
Oil on canvas
34 x 55 inches
86.4 x 139.8 cms.
Framed Size
40 x 61 inches; 102 x 155 cms.
Provenance
The Quester Gallery, Stonington, Connecticut
SOLD