STILL-LIFE PAINTINGS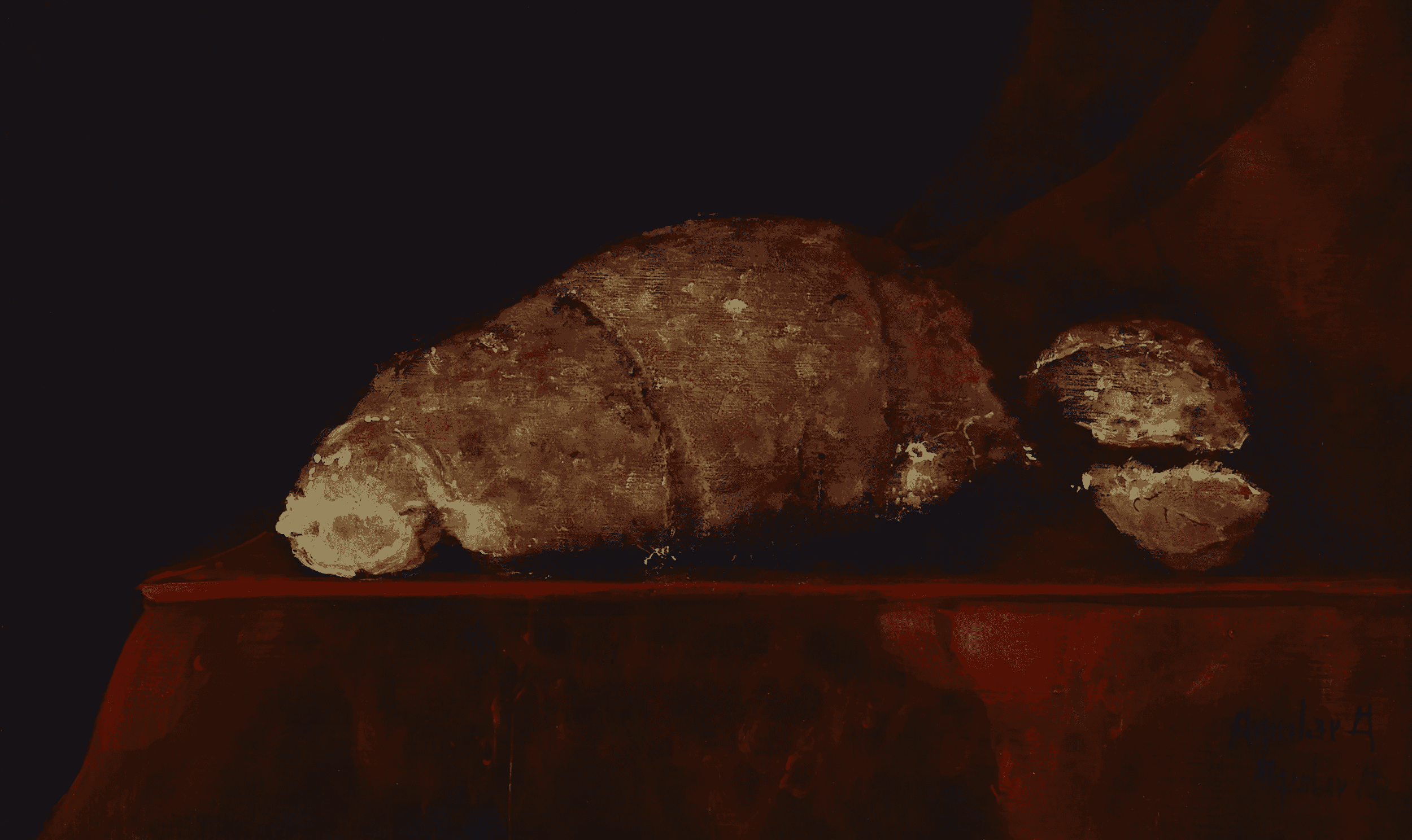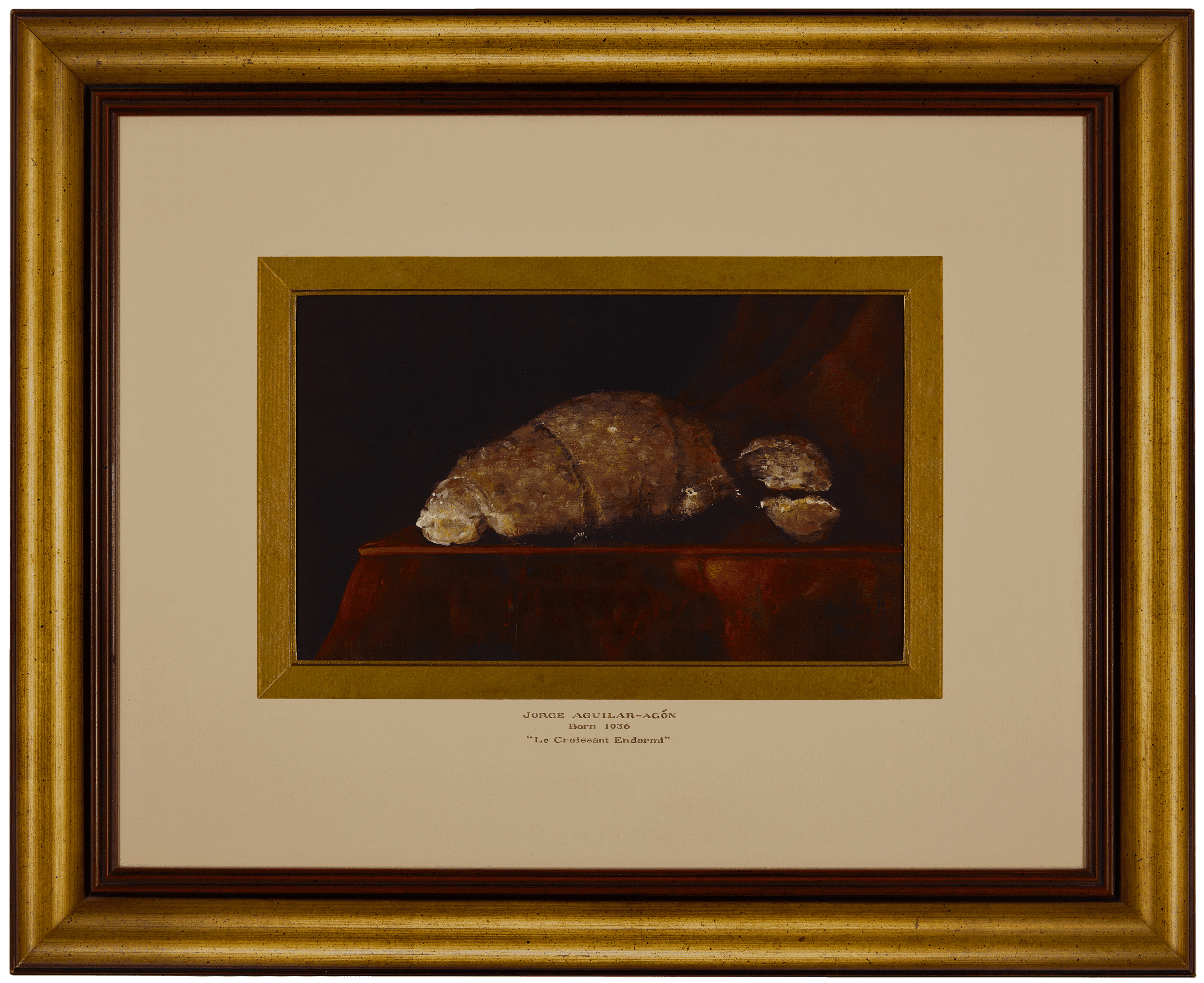 JORGE AGUILAR AGON
1936-2020
"Le Croissant Endormi"
An artist of global repute, Jorge Aguilar-Agon was born in Barcelona in 1936 at the outbreak of the Spanish Civil War.
Although he attained a university degree in agriculture, his abiding passion was always art, and so, with a natural inquisitiveness and a restless artistic nature he sought broader horizons and decided to leave Spain. 
He first travelled to Germany where he immersed himself in the Bohemian artistic circles of the Schwabinger Kunstkreis in Munich, before travelling to Paris and the seething artistic quarters of Montmartre and St Germain des Prés.
When London beckoned, Jorge approached the Medici Society, who gave him his first exhibition. This was an immediate success, and his reputation quickly grew.
His distinctive style of painting was influenced by the Catalan impressionist and European surrealist movements, reflecting a personal record of his travels which culminated in ten highly successful world tours and over one hundred and ninety individual exhibitions.

Jorge held an extensive list of award-winning fine art reproductions to his credit, too, receiving some of the highest ranking academic awards and distinctions for his art.
Working variously from studios in France, Spain and England this highly intellectual and utterly charming man spoke seven languages fluently and was also a regular contributor to numerous radio and television art programs.

A founder member of the European Academy of Arts, his paintings are represented today in many exclusive private collections and museums all over the world, with citations appearing in many notable reference journals.
Since 2012 his paintings have been on permanent display in the main hall of the new Parliament building in Muscat, Oman.
Jorge Aguilar-Agon died on 25 September 2020, aged 84.
During his lifetime, Jorge received the following:
Appointments:
Life Fellowship of the Royal Society of Arts in 1980
Elected to The Court of The Fine Art Trade Guild of Great Britain and co-opted onto the Executive Board of Directors
Chairman of the Fine Art Trade Guild & the Fine Art Committee
Chevalier Ancient Order of the Académie Européenne des Arts in Paris
Inducted into the Fine Art Trade Guild "Hall of Fame" in 2014 for his invaluable help and support for art and the art industry in Great Britain.
Accreditations:
Founder Member in Britain of the European Academy of Arts in Paris and Namur
Founder Member of "Group 63" and 'Artist 2000" in Great Britain
Founder in 2015 of the Annual International Jorge Aguilar-Agon Student Artist Award, in conjunction with the Fine Art Trade Guild
89 Art Reproductions (Including several "Top 10" Fine Art Trade Guild Best Sellers)
191 Individual Exhibitions
127 Group-Salon Exhibitions (Including Artist in Permanence at Muscat, Oman)
10 World Tours (Including the Anniversary Tour 2007-2011)
3 Commemorative Tours and 2 Museum Exhibitions
The Publication of "Amulettes" - a poetic triptych of poems and thoughts in three languages, illustrated by the artist's works.
The Publication of the "Book of Honours"- a compilation of 60 Years of an artist and poet's professional life.
Memberships:
European Academy of Arts
Royal Association of Belgian Artists
Society and Council of European Art and of Aesthetics
Spanish Association of Artists, Painters and Sculptors
New Zealand Academy of Fine Arts
Signed
Oil on Artist's Board
6.5 x 10.5 inches
16.5 x 26.5 cms.
Provenance
Private Collection
Framed size:
16.5 x 20.5 inches; 42 x 52 cms.