RECENT SALES & ARCHIVE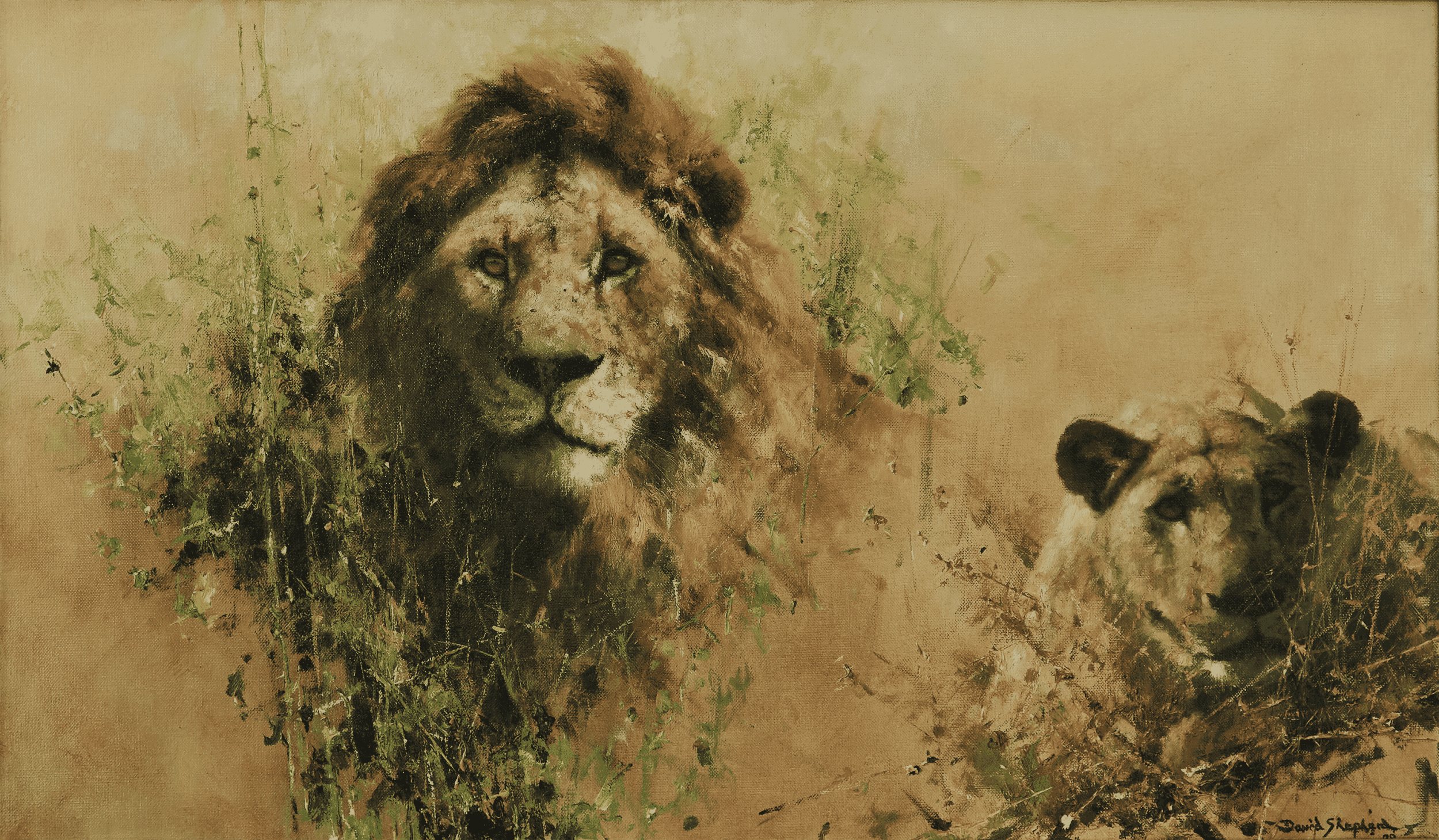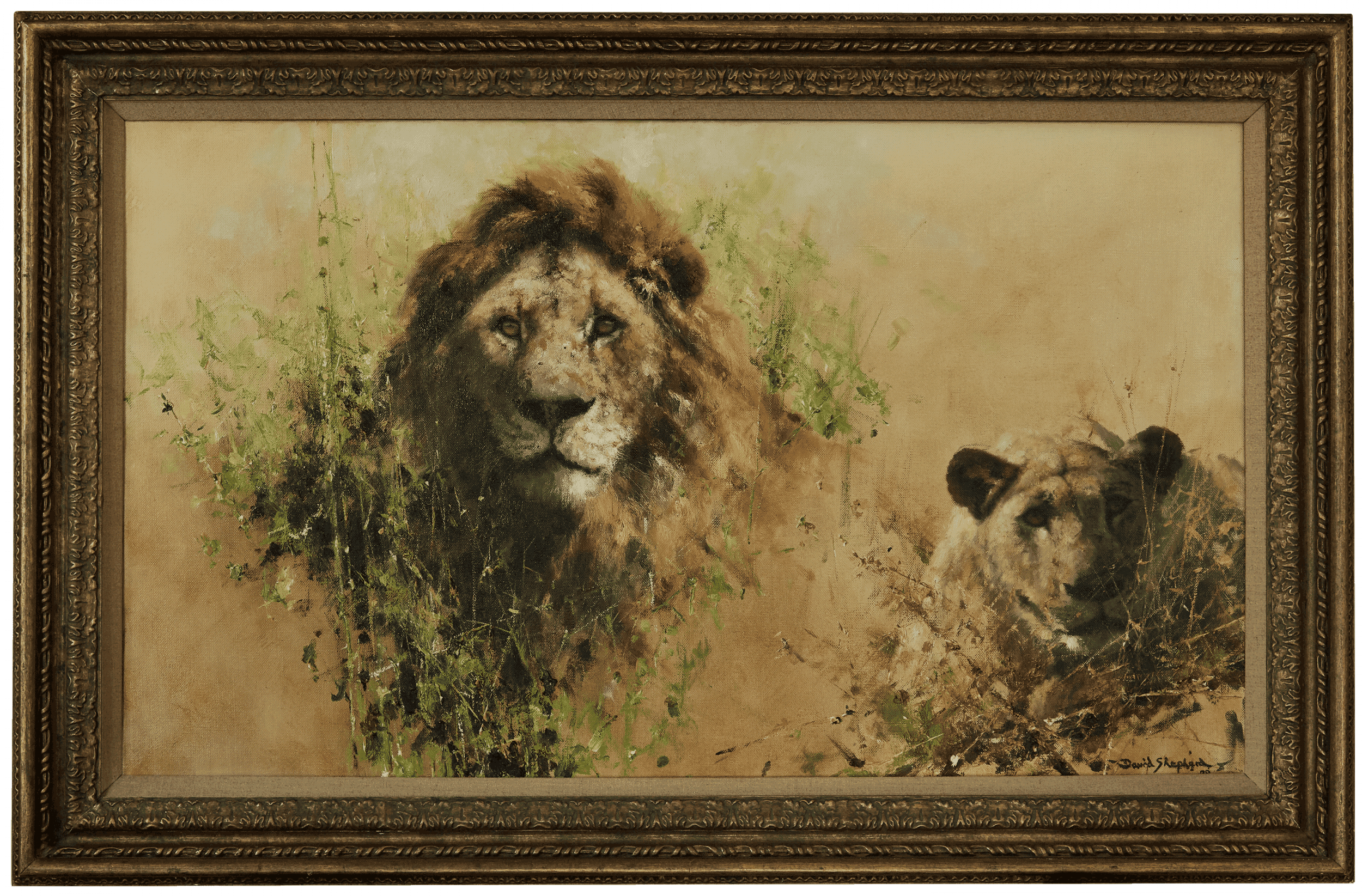 DAVID SHEPHERD
Born 1931
"Lions"
Richard David Shepherd CBE FRSA FGRA is a British artist and one of the world's most outspoken conservationists, as well as being one of the most recognised and accomplished wildlife and railway painters of all time.
Born in Hendon, North London on 25 April 1931, at the tender age of eight he won a children's painting competition in a magazine called 'Nursery World'.
As a small boy, David had only one ambition, to be a game warden. After leaving Stowe school in 1949, he went to Kenya to follow his dream, only to be told in no uncertain terms that he was not wanted!
Returning home with his boyhood dream in tatters, he now faced two choices: "To drive buses or to starve as an artist".
Rejected by the Slade School of Fine Art as having 'no talent whatsoever', it was by good fortune that he met Robin Goodwin, a professional marine artist, who took him under his wing and taught him for three years. A hard taskmaster, David says that undoubtedly he owed his success to the stern tutelage of Robin Goodwin, who was the only person to really encourage and believe in David's burgeoning potential.
David Shepherd started his career as an aviation artist and owes a great deal to the Services who commissioned paintings that took him all over the world. The RAF flew him from Mukulla in Aden to Kenya in 1960, which proved a turning point in his career when they commissioned his very first wildlife painting – and from that moment he has never looked back.
It was at this time that he became an overnight conservationist when to his horror he discovered 255 dead zebra at a poisoned waterhole in Tanzania.
Throughout his career he has focused determinedly to do all he can to repay the enormous debt he feels he owes to the elephants, tigers and other animals that have given him so much success. 'Tiger Fire' was one of his first major fund-raising successes, raising £127,000 for Operation Tiger in 1973.
In 1984 he established the David Shepherd Wildlife Foundation to channel his own conservation efforts into funding vital enforcement and community projects, and these continue to make a real difference to wildlife survival in their natural habitat. To date, through his tireless and passionate efforts and, thanks to the generosity of the Foundation's dedicated supporters, including artists from around the world who support DSWF's 'Art for Survival' programme, over £5 million has been given away directly in grants to keep key projects in Africa and Asia alive and operational.
In 2011, during his 80th birthday year, David launched a new campaign to save the tiger in the wild. "TigerTime" has attracted celebrity support from such luminaries as Sir Paul McCartney, Ricky Gervais, Stephen Fry and Joanna Lumley, among many others, and the campaign in squarely aimed at bringing an end to the tiger trade and tiger farms in China.
As well as his wildlife, landscape and of course railway paintings, David is lesser known for his portraits, which include Her Majesty Queen Elizabeth, the Queen Mother, HE Sheikh Zayed of Abu Dhabi and perhaps the most significant, his vast portrayal of 'Christ on the Battlefield' which hangs behind the alter in a military garrison church.
His life as both artist and conservationist have featured in several TV programmes, including the BBC's 'Man Who Loves Giants' (1972) and 'Last Train to Mulobezi' (1974), Harleck's 'Elephants and Engines' (1974), 'In Search of Wildlife' series for Thames (1988), 'Naturewatch' for Central TV (1990), and 'This is Your Life' (1990).
His books include 'An Artist in Africa' (1967), 'The Man Who Loves Giants' (1975), 'A Brush with Steam' (1983), 'David Shepherd, The Man and His Paintings' (1985), 'David Shepherd, An Artist in Conservation' (1992), 'David Shepherd, My Painting Life' and 'Only One World' (1995) and 'Painting with David Shepherd' (2004).
David Shepherd has received numerous awards and prizes, which include an Honorary Degree in Fine Arts from the Pratt Institute in New York (1971), the Order of the Golden Ark presented by HRH The Prince of The Netherlands (1973), Member of Honour of the WWF and OBE (1979), FRSA (1986), Order of Distinguished Service, Zambia (1988), and in June 2008 the CBE for services to conservation.
In 2012 David started the year with a retrospective of his work at the Royal Academy West of England in Bristol, and on April 23rd was the first artist to be presented with the 'True Englishman' award by the St George's Day Club. His Foundation was also recognised with the Best Conservation Award at the Burgess Wetnose Animal awards.
Artist and art critic Neal Brown opined in "Frieze" magazine: "David Shepherd is one of the most financially rewarded painters in the UK... Shepherd has brought pleasure to millions, as seen on the many table mats, posters and commemorative plates that bear his work."
The famous cricketer and friend David Gower has said of David: "There is a sense of the atmosphere of the African bush that emanates from all his work."[
In 2016, he received the Lifetime Achievement award at the Daily Mirror, Animal Hero Awards.
Eighty-five this year, David Shepherd has been called "an artist who seems to stride across continents". In today's scheme of things, he is a larger-than-life figure who is regarded by many people as being the world's leading wildlife painter. He lives life at a dizzying pace, enjoying it to the fullest.
"I want to live to be 150. It will take that long to do everything I want to do. Unlike some people who perhaps lead a humdrum existence, I run almost everywhere I go because I am so anxious to get on with the joy of what I am doing next. "
Signed and dated 1989
Oil on canvas
20 x 34 inches
51 x 87 cms.
 Framed Size
26 x 40 inches; 66 x 102 cms.
Provenance
Private Collection, property of a lady
SOLD