RECENT SALES & ARCHIVE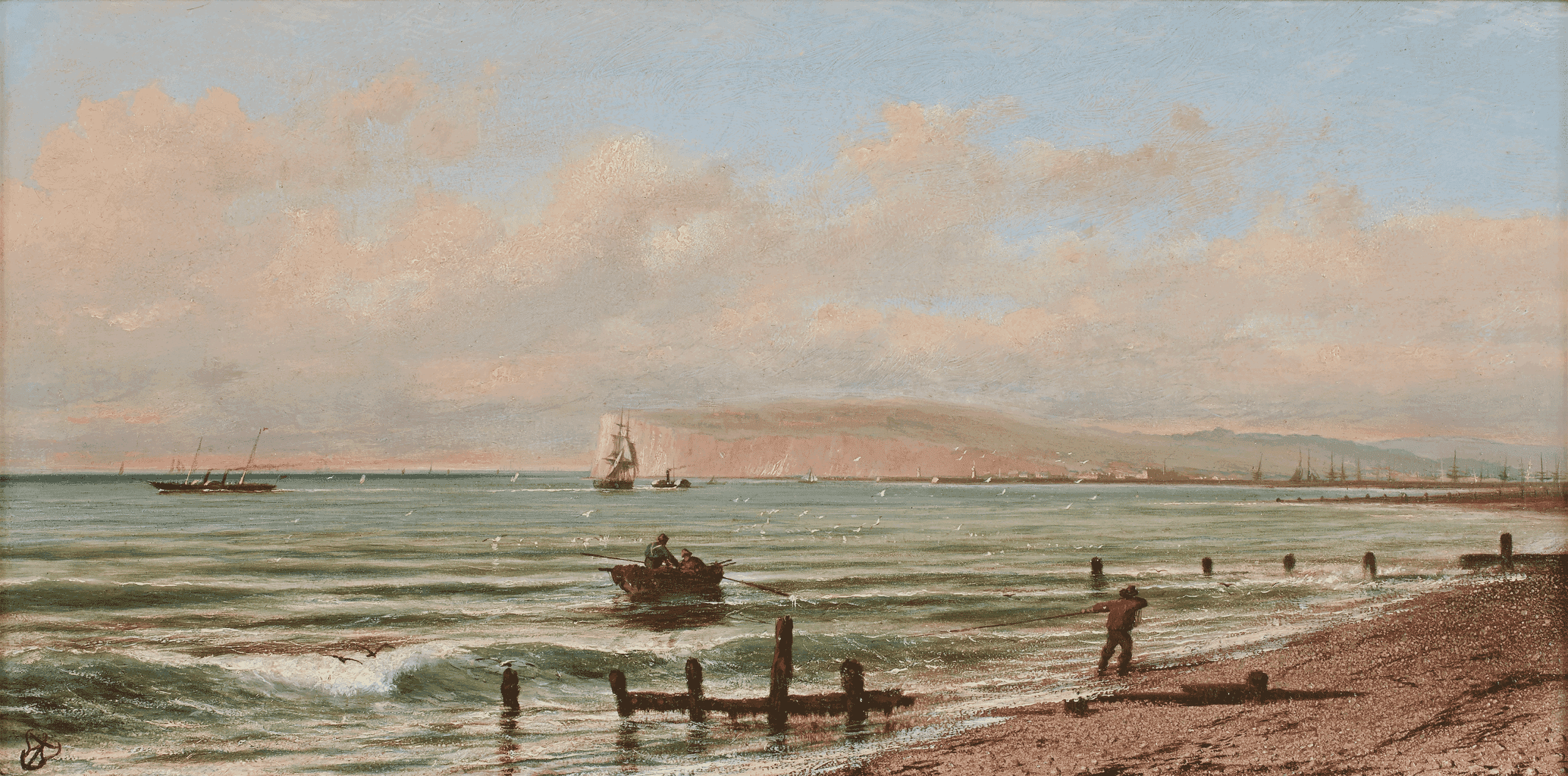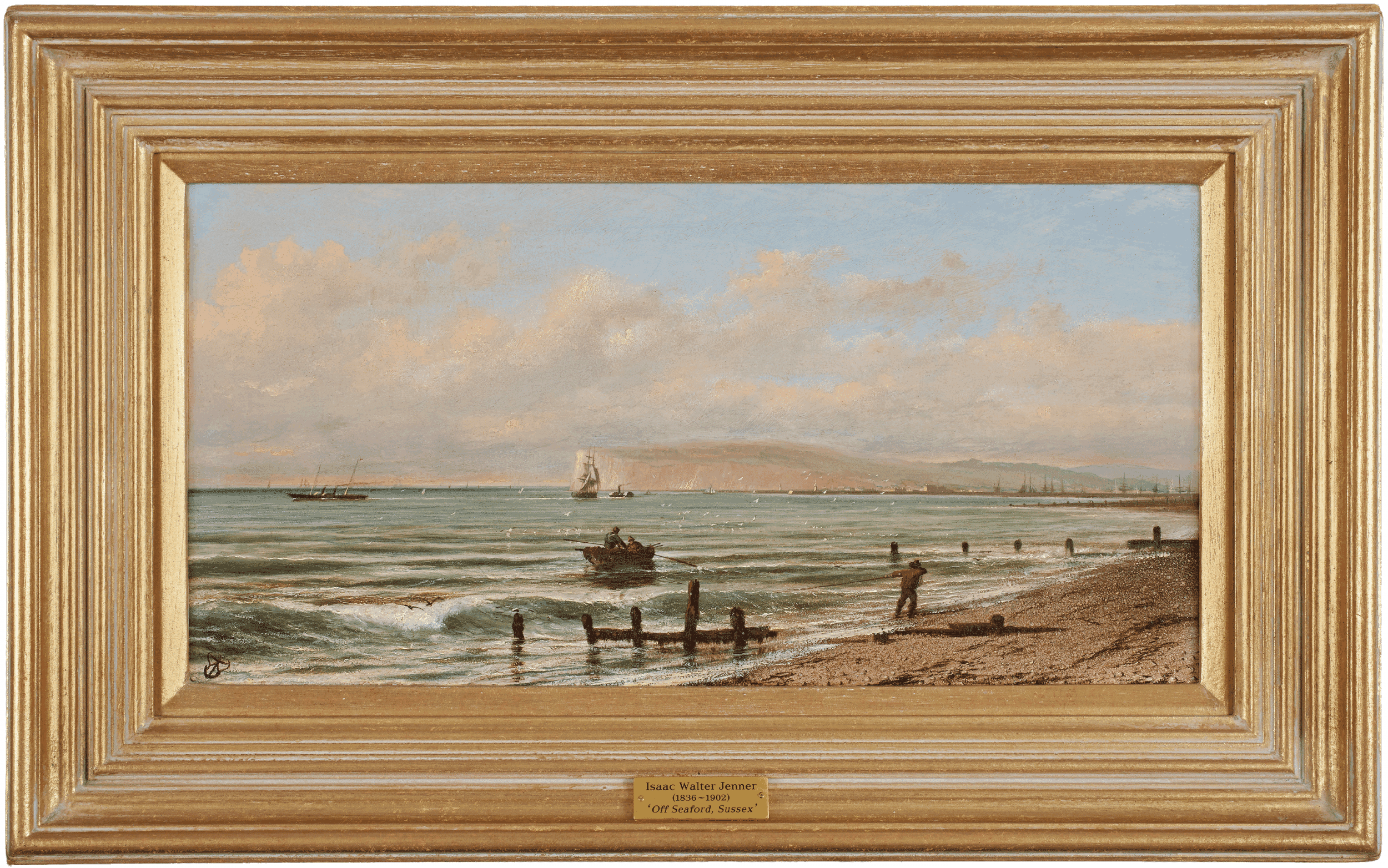 ISAAC WALTER JENNER
1836-1902
"Off Seaford, Sussex"
Isaac Walter Jenner was born on March 8th, l836 at Godalming in Surrey, the son of blacksmith Thomas Jenner and his wife Harriet, née Walter.
Informally educated, his boyhood saw him travel in crab and oyster smacks before signing on for a voyage in Arctic waters. He joined the Royal Navy in March 1855, serving throughout the Crimean War in the Black Sea and in H.M.S. Retribution at the Dardanelles. He was present at the bombardment of Shimonoseki, Japan in 1864 and the following year he left the Navy, settling in Brighton, Sussex.
His career as a marine painter now began in earnest. He recorded his experiences gained at sea, as well as portraying landscapes and coastal scenes. From 1873 to 1879 he lived in Brighton, before moving to Hove where he remained between 1880 and 1883. Whilst there, he exhibited at venues in Brighton and Lewes as well as the Royal Academy in London.
After falling out with unscrupulous picture dealers, he decided finally to emigrate to Australia, arriving at Brisbane on 19 September 1883 aboard R.M.S. Roma. Here he continued his artistic career, and became very active promoting the cultural development of Queensland. He was one of the founder members of the Queensland Art Society in 1887.
Whilst in Australia, Isaac Jenner continued to paint British scenes, either from memory or from sketches that he had carried with him from home. An exhibition of his paintings at the Queensland Art Society in l889 included many oil paintings and watercolours of well-known English coastal views. Jenner made a living by selling paintings, holding art unions and teaching at the Brisbane Technical College between 1887-89.
Although he travelled in New South Wales and New Zealand in 1889, he is only known to have exhibited in Brisbane and at the Centennial International Exhibition of 1888-89 in Melbourne. Jenner considered Brisbane to be singularly lacking in taste and culture, and so he decided to move his studio to Montrose Road, Taringa in 1890 where he lived and worked for the rest of his life.
A self-taught marine and landscape painter of considerable ability and technical skill, Jenner continued his entire life to paint evocative English scenes from memory. His most popular subjects proved to be the Sussex and Cornish coasts, as well as large and dramatic historical seascapes, such as his 'H.M.S. Agamemnon during the Great Gale in the Black Sea, October 14th 1854', shown at the Queensland International Exhibition of 1897. In 1895 he gave one of his large seascapes, 'Cape Chudleigh, Labrador', to the Queensland National Gallery.
Isaac Jenner remained in Australia until his death at Taringa on 1 March l902, and he was buried at the cemetery of Toowong. He was survived by his wife Mary, née Jenkins, whom he had married on 23 May 1860 at Anthony in Cornwall, and by three sons and three daughters. Examples of Jenner's work can be seen in Australian collections including the Queensland Art Gallery, Queensland University's Darnell Collection and in the Brighton Art Gallery, Sussex.
Signed With Monogram
Oil on Panel
8 x 16 inches
20 x 41 cms.
Framed Size
13 x 21 inches; 33 x 53.5 cms.