MARINE PAINTINGS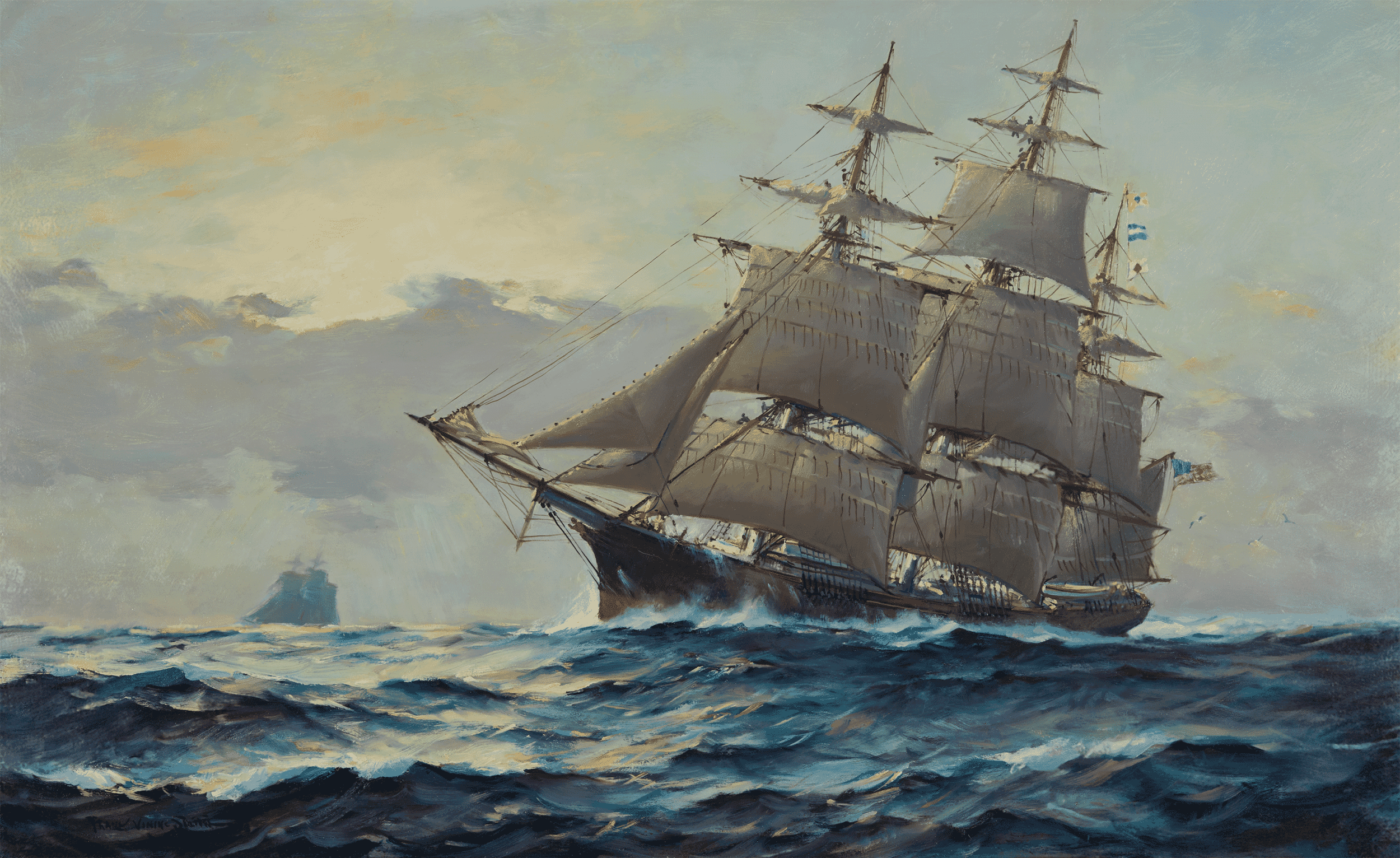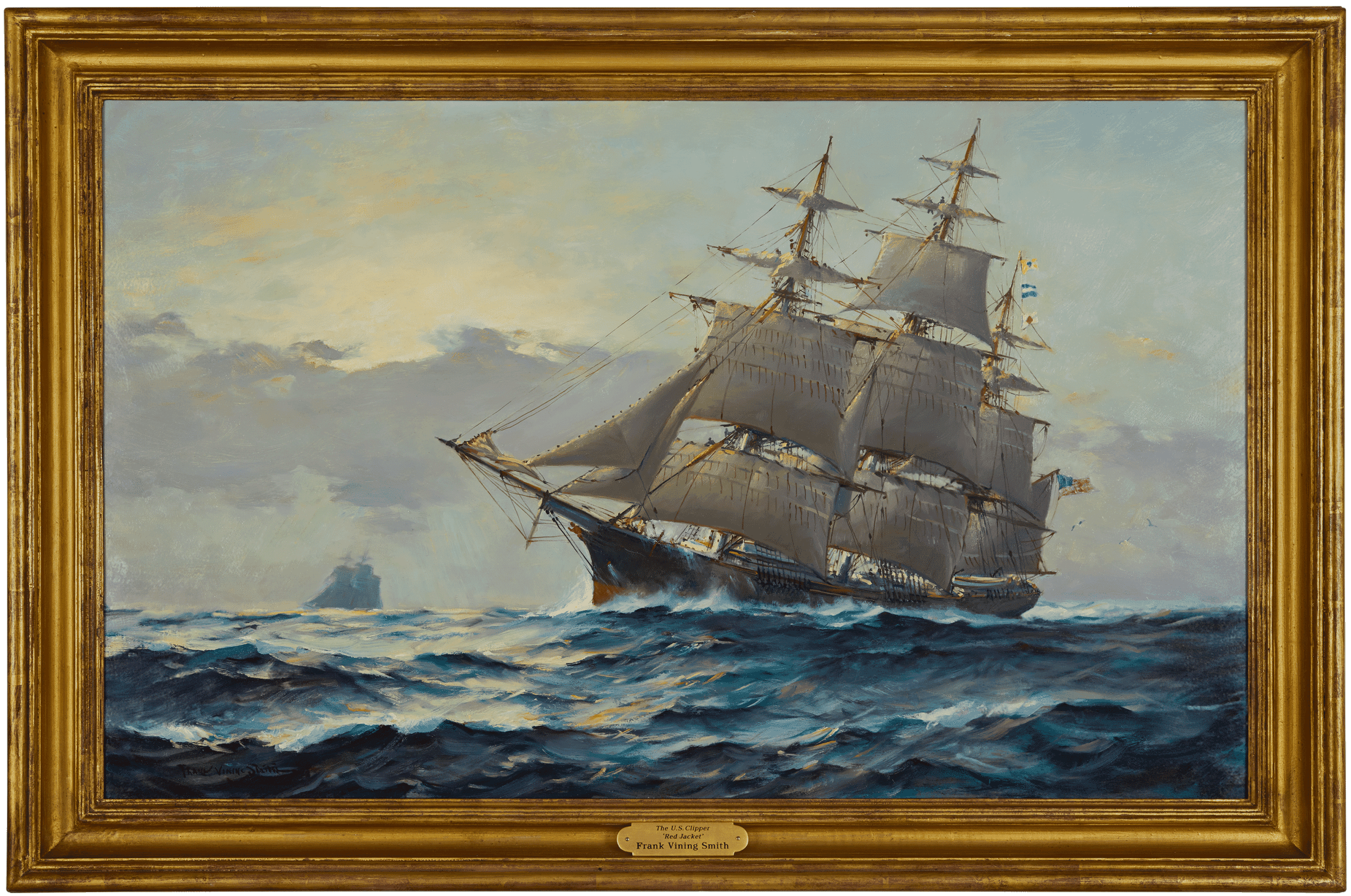 FRANK VINING SMITH
1879-1967
"The American Extreme Clipper Red Jacket"
The extreme clipper Red Jacket was considered by contemporaries to be the most handsome American clipper afloat.
Registering 2,305 tons and built by George Thomas at Rockland, Maine, she was launched on 2nd November 1853. She had three decks and her dimensions comprised 251.2 feet in length, 44 feet in breadth, and 31 feet in depth.
Owned by Seacombe and Taylor of Boston, Red Jacket's graceful bow was crowned by a magnificent full-length figurehead of the celebrated American Indian chief Sagoyewatha (1750-1830).
Sagoyewatha was known as "Red Jacket", and he became famous and highly esteemed for his skills as both orator and negotiator during the American War of Independence, as well as for the red coat donated to him by a British officer as a mark of respect and admiration.
On 11th January 1854 under Captain Asa Eldridge, Red Jacket sailed from New York bound for Liverpool for the standard coppering. She arrived on the 23rd after just 13 days, 1 hour and 25 minutes, a record time which still stands today for a full-rigged merchantman. Her best day was a stunning 413 miles and her poorest 106, the latter due to bad winter weather.
With her reputation made overnight, she was immediately chartered in Liverpool by the White Star Line for a round trip to Melbourne, Australia.
Her subsequent run from the Cape of Good Hope to the capital of Victoria was 19 days, another unbroken record. After 12 days in port loading passengers and £200,000 worth of gold dust, she returned home to Liverpool in a remarkably swift 73 days, her best speed being 18 knots.
Back in Liverpool she was purchased for £30,000 by the White Star Line, who continued to operate her on the Australia run until late 1859, when she was transferred to the Calcutta trade.
Sold by the White Star Line in 1868 to Wilson and Chambers of Liverpool when the former moved into steam, she now commenced the timber trade between Quebec and London.
Red Jacket continued in this profitable line of business until 1882, when she was retired to the Cape Verde Islands and employed there as a coal hulk.
The marine art of Frank Vining Smith (1879-1967) has become part of America's collective consciousness. Justly celebrated and best known for his dramatic depictions of clipper ships, Frank Vining Smith's work was prized for its rich symbolism, technical accuracy, and the vibrant execution of maritime themes. A keen observer of the sea and a researcher of naval architecture, he skilfully infused his canvases with a vast knowledge whilst capturing the attendant drama of the scene through vibrant, bold and impressionistic brushwork
He was born in Whitman, Massachusetts on 25th August, 1879.
A lifelong sailor, he spent idyllic childhood summers on the Cape Cod coast before enrolling as a student at the Boston Museum of Fine Arts, alongside Frank Benson, Philip L. Hale and Edmund Tarbell. He went on to study at the Central Ontario School of Design in Toronto.
After a short time as a shoe store manager in Pennsylvania, he was afforded the opportunity to work as an artist for the McClure Newspaper Syndicate. He then moved to New York City and attended the Art Students League in his spare time.
Around 1900, Smith moved to Boston, where he began his working career as an illustrator and cartoonist for the "Boston Journal" and the "Boston Herald".
He first exhibited at the Pennsylvania Academy of Fine Arts in 1918 and during the 1920's showed many of his paintings at the renowned Boston art gallery, Doll and Richards. During World War I, he was in charge of camouflage work in Philadelphia and New York and by 1925, now settled in Hingham, Massachusetts, Smith decided to quit his newspaper job to concentrate whole-heartedly on painting marine pictures. 
Despite his burgeoning success as a marine artist, he still found time to provide material for various magazines, including "Yachting", "Outdoors" and "Field and Stream". He also visited Bermuda where he was commissioned to create a number of murals for steamship companies.
So popular did his work become, that his marine paintings even carried him through the Great Depression. He sought out high-profile commissions and positioned his popular ship paintings in books and on the covers of national magazines such as "Literary Digest".
The onset of World War II fuelled patriotic sentiments which led to increased commissions from captains of industry. Seeking images of very American subjects, such as the iconic clipper ship, a valiant and elegant symbol of the nation's great seafaring heritage, his growing list of patrons included such luminaries as Josiah K. Lilly Jr. of the Eli Lilly Pharmaceuticals fortune, the museum founder, businessman and art collector, Julian de Cordova, and none other than President Franklin Delano Roosevelt himself.
The artist was made a life member of the Cruising Club of America in 1956. He also worked for galleries in New York, Chicago, San Francisco, Detroit and Pittsburgh, becoming one of the most successful American marine artists of the twentieth century.
Towards the end of his career, he mused about his almost five decades of success in depicting ships and the sea, summarizing thus: "In the final analysis, one must paint, or write, the thing which is most familiar, and most intriguing to the maker, hoping against hope that it might strike a responsive chord."
Frank Vining Smith died in Hingham, Massachusetts on 30th July, 1967.
Today, examples of his work can be found at Mystic Seaport in Connecticut, the Old Dartmouth Historical Society in New Bedford, and the Mariners' Museum in Newport News, Virginia.
For further reference, see the lavishly illustrated and scholarly biography:
"Frank Vining Smith, Marine Painting in the 20th Century", by James A. Craig, Published in the USA by Hard Press Editions, Inc., 2010.
Signed
Oil on Artist's Board
22 x 36 inches
56 x 91.5 cms.
Provenance
Private Collection
Framed Size:
27.5 x 41.5 inches; 70 x 105.5 cms.