RECENT SALES & ARCHIVE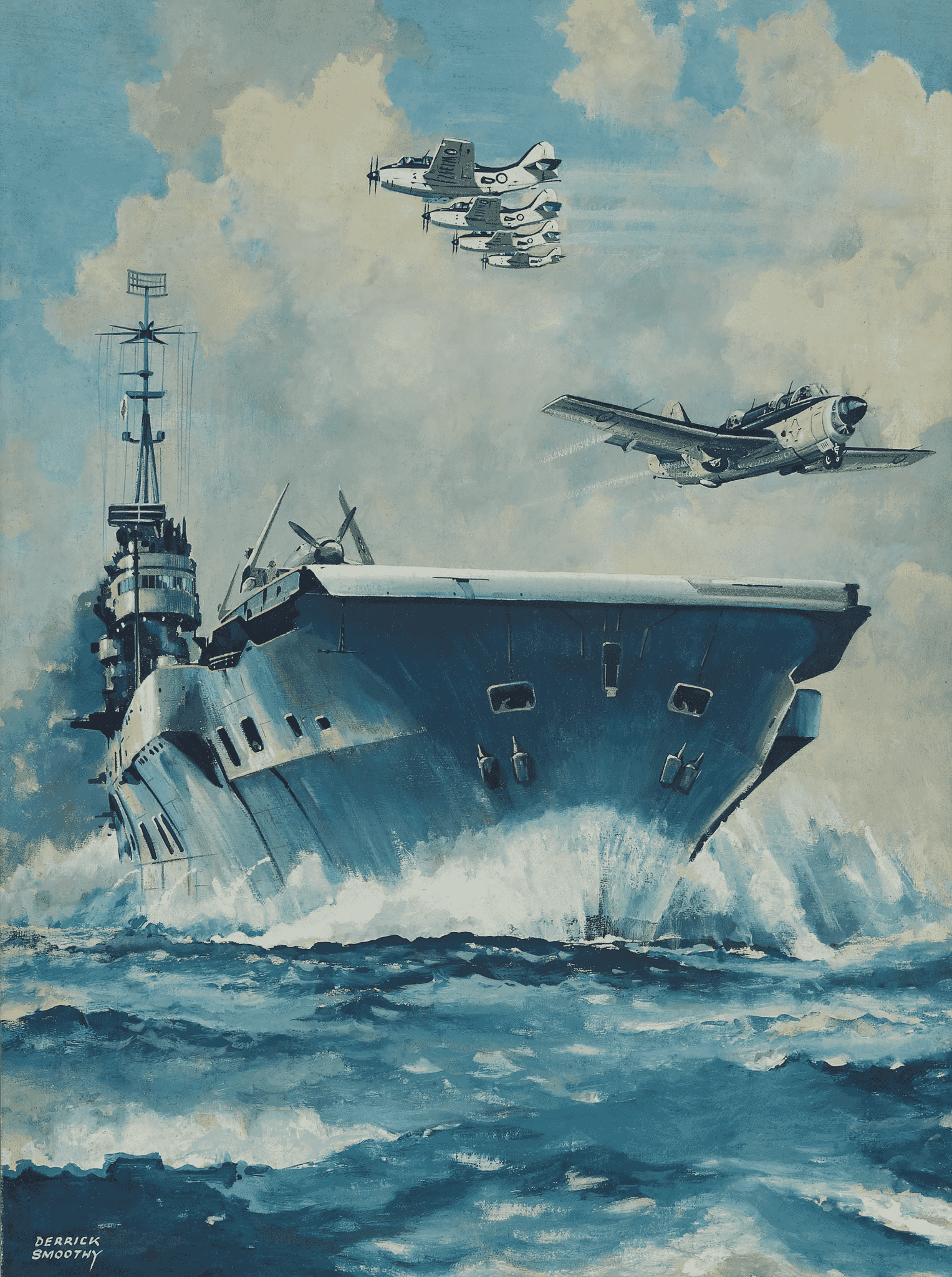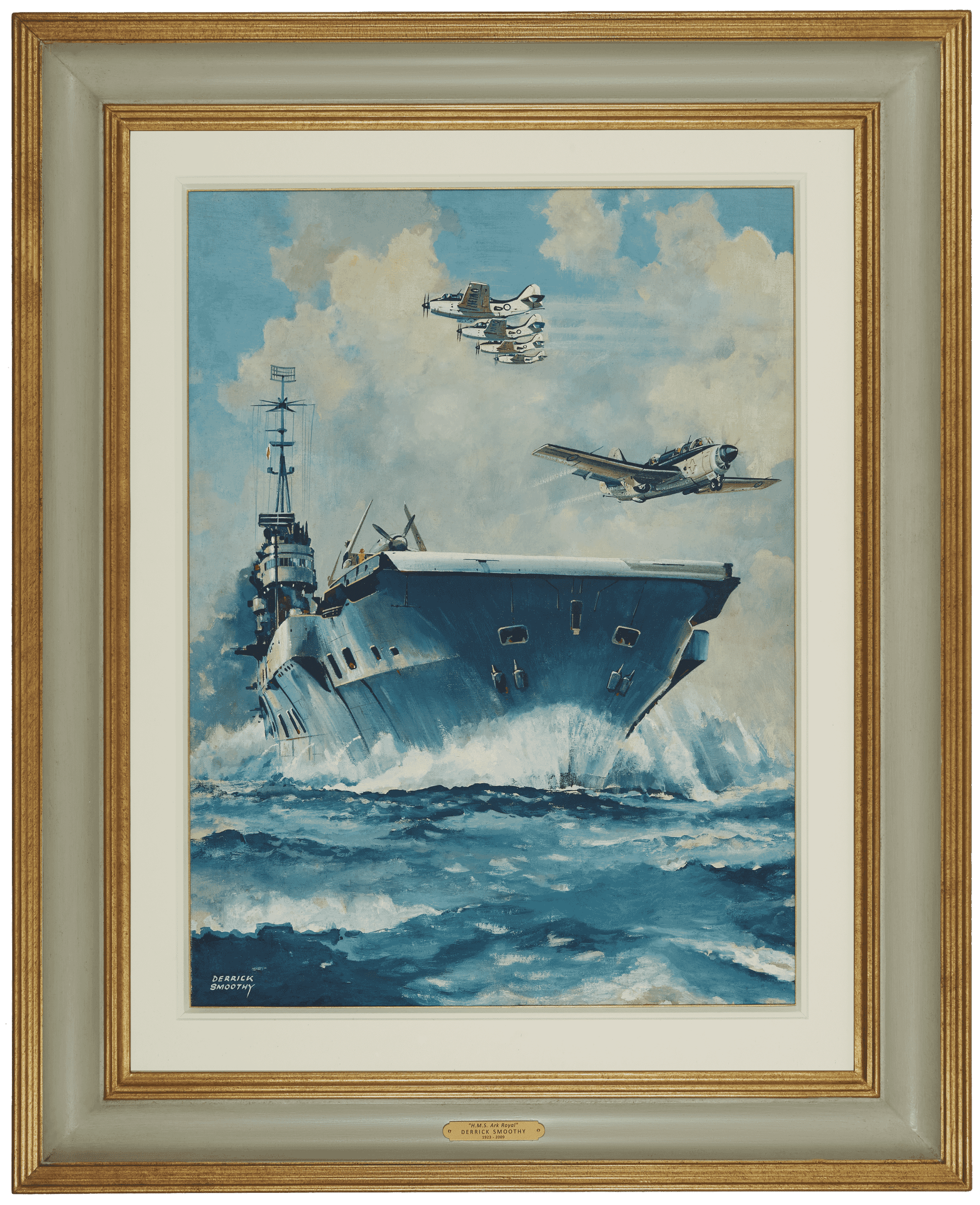 DERRICK SMOOTHY
1923-2009
"H.M.S.Ark Royal With Fairey Gannets"
Born in Rochford, Essex in 1923, Derrick Smoothy was one of Britain's leading painters of ships.
Considering his great popularity on the other side of the Atlantic, he could also be referred to as one of the USA.'s leading marine artists of his day.
He exhibited at the Royal Society of Marine Artists in London from 1950, and locally he was known for his collection of fifty-eight paintings of coastal paddle-steamers, now owned by the Beecroft Art Gallery at Southend-on-Sea.
The most obvious quality that emerged in his paintings was a genuine affection and close affinity for his subjects, his great love of ships and their ways doubtless playing no small part in Derrick's immense success, both here and in America.
His passion for ships went right back to his early childhood in Southend.
He spent virtually all of his free time on the end of Southend Pier, closely studying passing ships. He particularly loved the old tramp-steamers, which he considered the great characters of the sea.
He was wholly self-taught, and had never taken a single art lesson.
Derrick's burgeoning development as a nautical artist was interrupted by the Second World War.
Predictably, Derrick joined the Royal Navy, serving on Woolworth carriers. These were small aircraft carriers and, although makeshift, they proved to be critical in winning the U-Boat war in the mid-Atlantic.
Derrick crossed and re-crossed the Atlantic fourteen times, escorting convoys.
He recounted: "We carried Swordfish and Merlin aircraft. The Merlins would machine-gun the U-boat crews, then the Swordfish would finish the task with torpedoes. time, Once we sank three enemy submarines in a single action."
Returning home after the war, Derrick found a Civil Service office job with the Board of Trade, but it wasn't long before he was able to abandon this career and make a full-time living by painting ships.
He did the rounds of the shipping companies with samples of his work, receiving three commissions instantly.
In the immediate post-war years, London dominated the world shipping industry.
Shipping firms liked to commission pictures of their vessels to hang in their boardrooms and foyers. Advertising departments would typically commission paintings for use in trade journals and as valuable publicity material. Travel agencies would hang ship's paintings and maritime subjects above their sales desks to convey the excitement of international travel and exotic faraway destinations.
Among his many regular clients were P&O, the Union Castle Line, and the French National Line, for which he was designated the official house artist.
Derrick Smoothy died in 2009.
A number of his works are in the Felixstowe Museum in Suffolk as well as the Ulster Museum Folk Park in Northern Ireland.
Signed
Mixed Media
27 x 20 inches
68.5 x 51 cms.
Framed Size
38 x 31 inches; 96.5 x 79 cms.
SOLD