MARINE PAINTINGS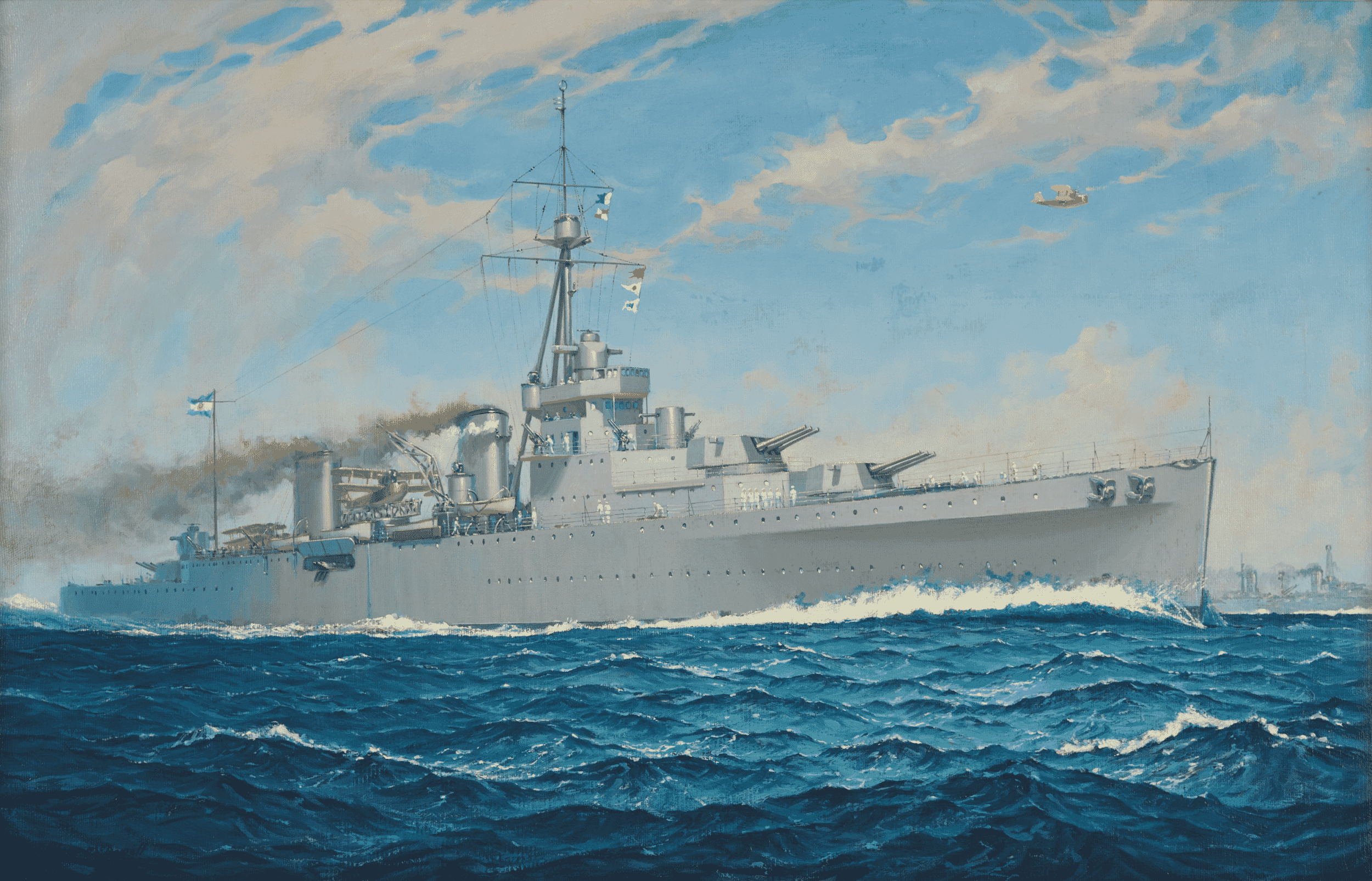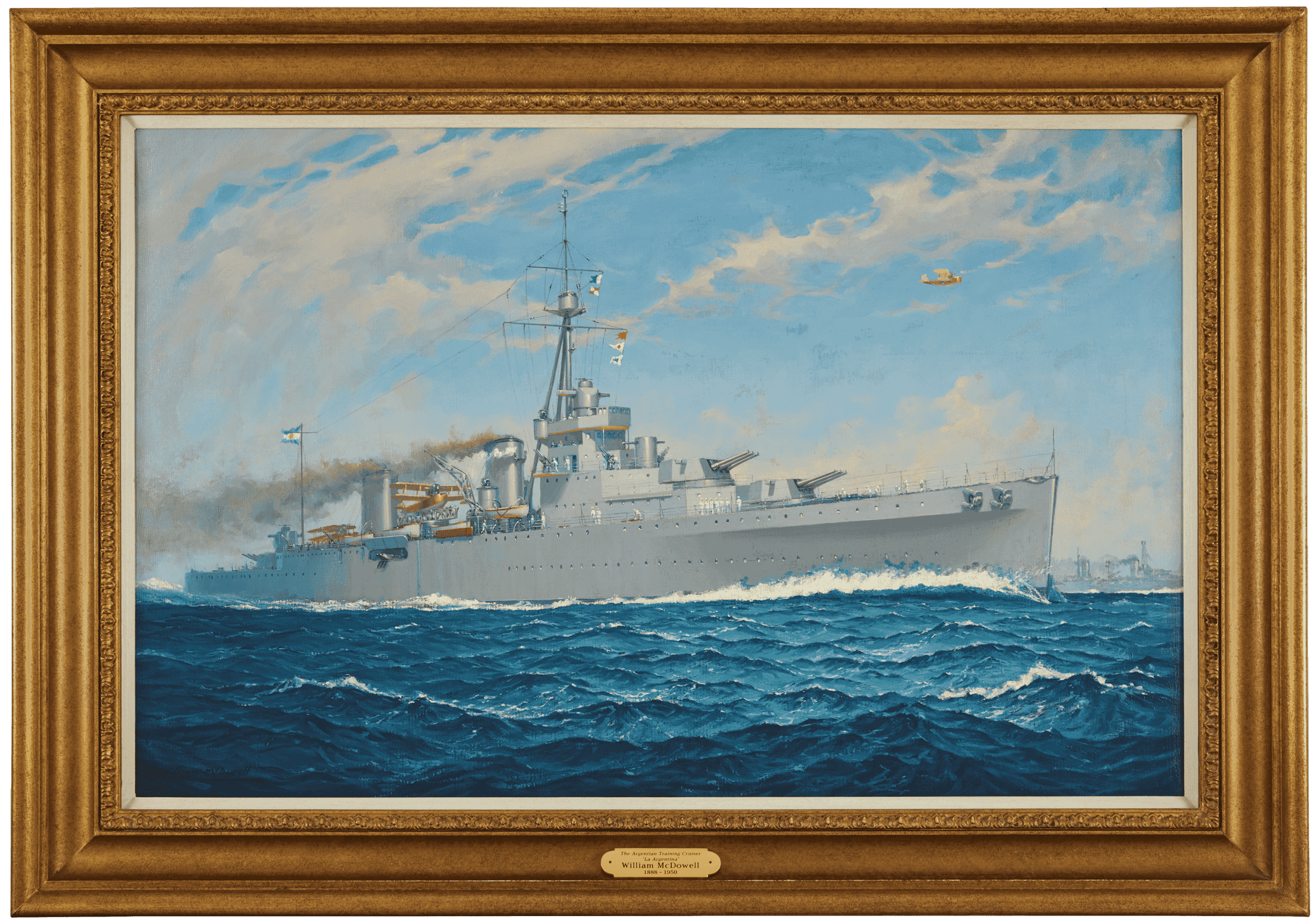 WILLIAM McDOWELL
1888-1950
"The Argentinian Training Cruiser La Argentina"
The training cruiser La Argentina was built by Vickers, Armstrong in Barrow-in-Furness and launched on 16th April 1937.
Due to delays with her machinery, caused by Great Britain's pre-war re-armament programme, she was not completed until January 1939.
Built to replace the 40 year old training cruiser Presidente Sarmiento, La Argentina displaced 7,160 tons fully loaded. She measured 541.2 feet in overall length with a 56.6 feet beam and carried a main armament of nine 6 inch guns. Her maximum speed was 32 knots and she had a complement of 556 plus 60 cadets.
La Argentina made a number of cruises during 1939 and 1940, and at the beginning of 1941 she joined Almirante Brown and Veinticino de Mayo in the Cruiser Division.  Because of Argentina's wartime neutrality she saw no active service during World War II. After the War she resumed her training ship role and continued in this service until 1972, when she was decommissioned and then scrapped in 1974.
William McDowell was born in Barrow-in-Furness in Cumbria in 1888.  After leaving school at the age of fifteen, he was apprenticed at Vickers, the famous local shipbuilders, where he began in the Drawing Office. He took every opportunity to increase his knowledge of the structure of ships, watching every stage of construction and learning the exact details of the ship's anatomy. He was a dedicated apprentice and after a full day's work he attended classes in Naval Architecture, qualifying as an Associate Member of the Institute of Naval Architects.
McDowell's training as a draughtsman encouraged his natural artistic ability and after the First World War he changed careers and became a full-time commercial artist, winning many commissions from the large shipping companies. The Second World War saw McDowell become an officer in the Royal Naval Scientific Service, a post he retained until his death. His in-depth knowledge of the construction of ships enabled him to portray Naval vessels with great accuracy and he worked extensively as an illustrator for "The Sphere".
He was also an accomplished writer and published several books, including the best seller "The Roughanapes" (published in America as "The Seventh Plank"). His last book "The Shape of Ships", which he also illustrated, was published just two weeks before he died in 1950. He also completed plans for the reconstruction of Captain Cook's Endeavour which were posthumously exhibited in the Dome of Discovery at the Festival of Britain in 1951.
William McDowell exhibited at the Walker Art Gallery in Liverpool during the 1920s, and the Society of Marine Artists in 1948 and 1949. The Merseyside Maritime Museum possesses one of his oil paintings of 1937, H.M.S. Liverpool.
Signed
Oil on canvas
23 x 36 inches
58.4 x 91.5 cms.
Provenance
Commissioned directly from the artist by Vickers, Armstrong of Barrow-in-Furness
Private Collection, Mayfair, London