LANDSCAPE PAINTINGS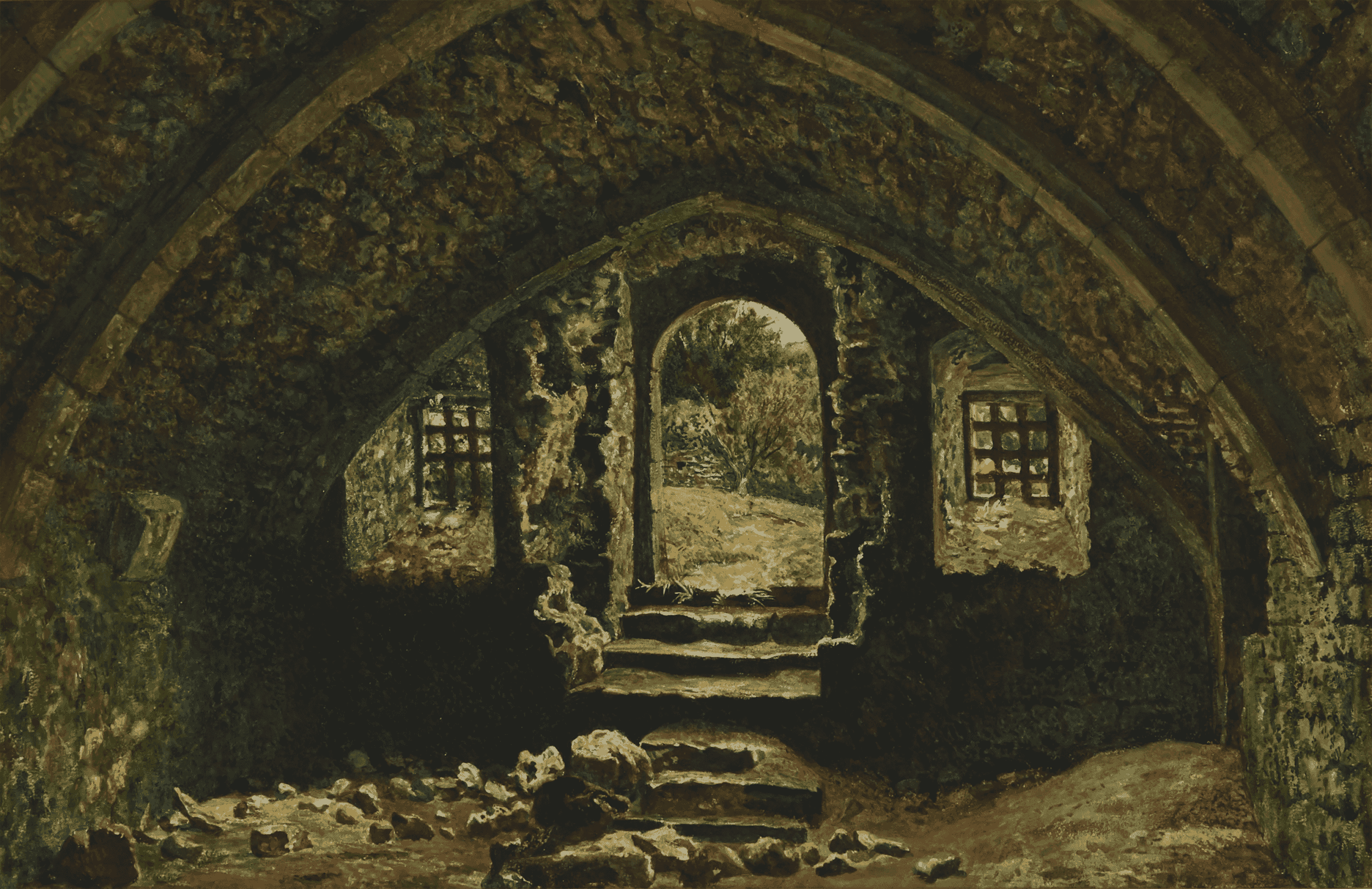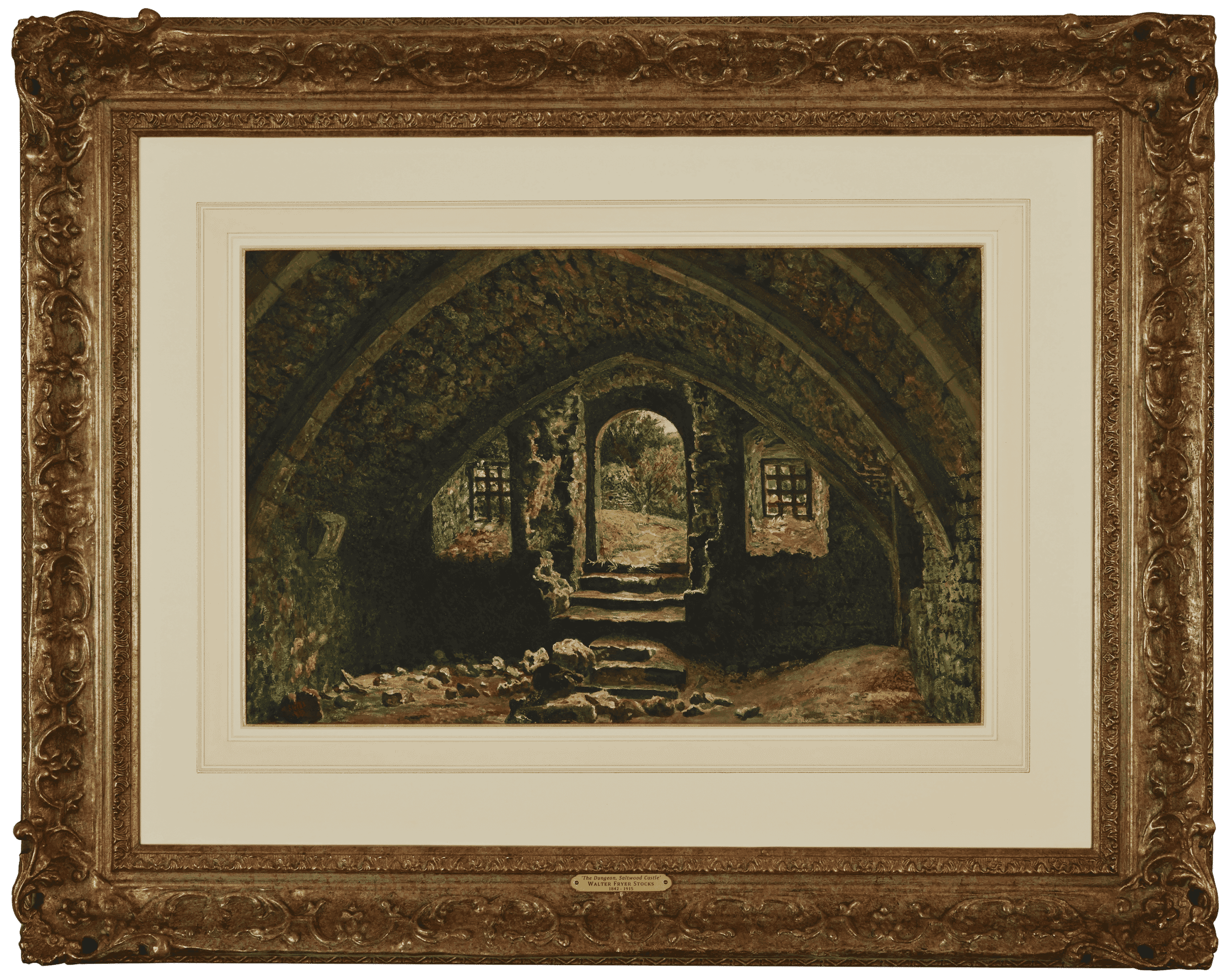 WALTER FRYER STOCKS
1842-1915
"The Dungeon, Saltwood Castle"
Walter Fryer Stocks was born in London in 1842.
He was a member of a celebrated artistic family, the son of the engraver Lumb Stocks and brother to genre and portrait painter Arthur and still-life painter Bernard O. Stocks.
He is known to have lived in Hampstead, Leamington Spa, Hatfield and Salisbury, travelling widely throughout the British Isles whilst intimately recording views set in Scotland, Staffordshire, Devon, Lancashire and the home counties.
Walter's oeuvre was meticulous, prolific and varied, and he painted landscapes, topographical views, scenes of ancient buildings, castles and old towns, as well as a series of still-life studies.
He was a highly skilled painter who was particularly adept at the portrayal of ancient stonework and masonry, where he would use many different layers of subtle and naturalistic colours to enhance the multi-layered and multi-faceted effects of ancient stonework in his paintings. He was almost certainly guided and inspired by his close artistic association and friendship with the great Pre-Raphaelites, including Simeon Solomon and Dante Rossetti.
His striking and sensitive portrait in red, white and black chalks of the captivating Jamaican-born beauty Fanny Eaton, artist's muse and domestic worker, is today to be found in the collection of the Princeton University Art Museum in America.
Fanny was a celebrated and feted model for the Pre-Raphaelite brotherhood and she was painted by Simeon Solomon, Albert Moore and Dante Gabriel Rossetti, among others.
Walter Stocks exhibited extensively during his lifetime, showing at the major artistic venues of the day, which included:
Royal Society of Artists, Birmingham 
Dudley Gallery 
Glasgow Institute 
Walker Art Gallery of Liverpool 
Manchester City Art Gallery 
Royal Society of Painters, Etchers & Engravers 
Royal Academy 
Royal Hibernian Academy 
Royal Institute of Painters in Watercolours 
Royal Institute of Oil Painters 
British Institution 
Royal Society of British Artists at Suffolk Street 
New Watercolour Society
Walter Fryer Stocks died in 1915. Today, his works can be found in the Victoria and Albert Museum, the British Museum, and the Horsham Museum and Art Gallery in Sussex.
The ancient castle of Saltwood lies in Saltwood village, situated just north of the coastal market town of Hythe in Kent.
Originating in the 11th century, the castle was expanded in the 13th and 14th centuries. After the Norman Conquest in 1066, the castle was appropriated by the Archbishop of Canterbury Lanfranc, remaining the property of the archbishops until 1540, when a reluctant Thomas Cranmer was forced to cede it to King Henry VIII.
The castle is reputed to have been the meeting place of the notorious four knights who carried out the ruthless assassination of Thomas A Becket in 1170.
By the 19th century, it was by all accounts a ruin, and it was not until the 1880's and 1930's that restorations were effected to make portions of the castle habitable.
In the late 19th century, the castle was acquired by an ancestor of Baron William Deedes, the Conservative politician and legendary journalist, who spent his childhood there.
More recently, in the 20th century it was sold to the art critic, politician and mountaineer, Sir Martin Conway who commissioned the architect Philip Tilden to begin reconstruction and restoration.
In 1953, the castle was bought by the art historian Sir Kenneth Clark and then by turn it became the home of his son, the politician and diarist, Alan Clark.
Today, the castle remains the private home of his widow, Jane Clark, and it is a Grade I listed building.
Signed and dated 1867
Watercolour & Gouache
12 x 18.5 inches
30.5 x 47 cms.
Framed Size
24 x 30 inches; 61 x 76 cms.