LANDSCAPE PAINTINGS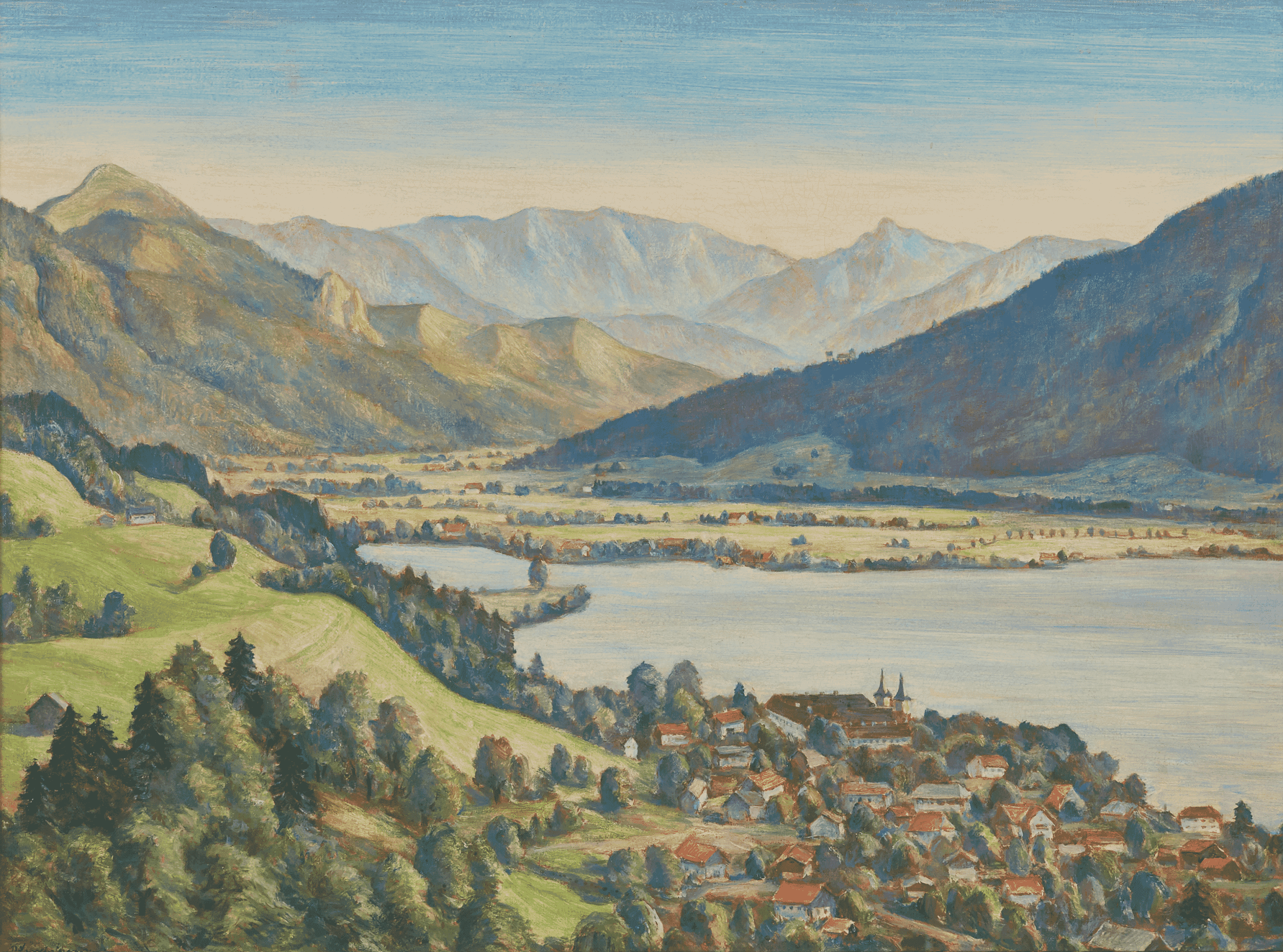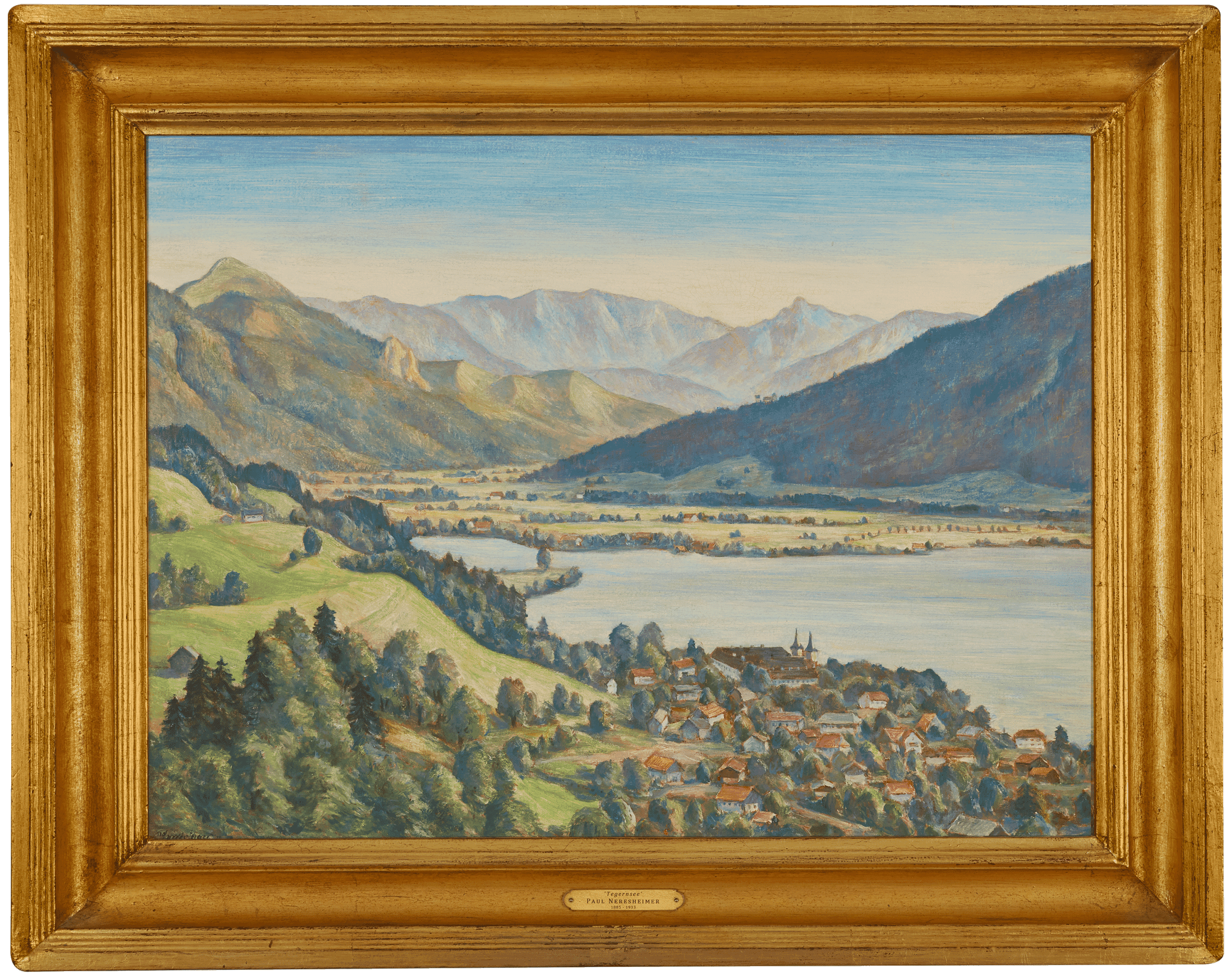 PAUL NERESHEIMER
1885-1933
"Tegernsee"
Paul Neresheimer was born in Amsterdam on 7 March 1885, one of a brood of fifteen children, and the son of wealthy jeweller Friedrich Neresheimer (1845-1907) and his wife Emma (1848-1933).
In 1893 his father decided to sell up, and the family moved to Germany, where they settled in Munich at Türkenstraße No. 9. Between 1895 and 1899 Paul Neresheimer attended the Maximilian Grammar School in Munich, and from 1899 to 1904 was a pupil at The Old Gymnasium, where he completed his studies for the Abitur.
After completing one year of compulsory military service, he finally opted for a course of architectural studies at the Technical University of Munich. During these studies he met fellow painter Hans Gött (1883-1974), and together they both decided to drop out of architecture to become full-time professional painters.
From the autumn of 1904 Neresheimer visited the private art school of Heinrich Knirr (1862-1944), while his friend Gött was admitted to the Munich Art Academy.
Heinrich Knirr was best known for creating the definitive official portrait of the Führer, Adolf Hitler, and was the only artist ever to have painted Hitler from life. He also taught the Swiss-German artist Paul Klee.
Between 1911 and 1912 Paul Neresheimer participated in the spring exhibition of the Munich Secession. The earliest known painting by Paul Neresheimer was a painting of a washerwoman. In 1911 he submitted this to the premiere of the Munich Secession, and it was on show from 3 March to 20 April in the Royal Academy Buildings situated in Munich's Koenigsplatz. According to contemporary sources, it was a rather large and brooding picture, but unfortunately no visual record exists of the painting today.
A portrait of a girl in a yellow crinoline dress, entitled simply "The Crinoline" was exhibited in 1912. It was universally acclaimed by the critics to represent "The most sensational colour spectrum of any painting in the entire exhibition"; thus wrote Fritz von Ostini in "Münchener Neueste Nachrichten" Nr. 192, on 16 April 1912.
 
His nude of 1913 entitled "Storm" highlighted the contemporary artistic conflict between the Secessionists and the Art Nouveau stylists and its crossing over to a starker and more evident symbolism. This period in Paul Neresheimer's artistic life concentrated chiefly upon portrait heads and portrait studies. During this time, he made the acquaintance of sculptor Hermann Geibel (1889-1972) and the painter Martin Brandenburg (1870-1919).
Between 1914-18 he was called up for military service, and at the cessation of hostilities he moved temporarily to Düsseldorf in July 1919, before returning to Munich where he settled in a studio at Elisabethstraße No.7.
In 1919 he participated in the "Juryfrei" exhibition in Munich, and from that year on he began specialising in landscapes, these painted in the style of the "New Objectivity", or "Neue Sachlichkeit", as it was universally known then. In these landscapes, he occasionally rivalled in quality and substance the works of his more illustrious artistic colleagues such as the German expressionists Karl Ludwig Hofer (1878-1955) and Georg Schrimpf (1889-1938). Through his older brother Heinrich, who was based in Ludwigshafen, Paul Neresheimer also received private commissions for female portrait paintings.
 
Between March and April 1922 Paul Neresheimer was accorded the honour of a solo exhibition at the Thannhauser Galleries in Munich. This represented a significant contemporary achievement, and one which was to enhance his status amongst the most illustrious artistic company imaginable.
The Thannhauser Galleries, the first of which was established in Munich by Heinrich Thannhauser in 1909, were to become hugely influential in the Modern Art Movement, firstly in Europe and later in the United States.Their cutting-edge exhibitions helped to foster and forge the reputations of many of the world's greatest Modernist painters.
These included such artistic titans as Max Beckmann, Georges Braque, Mary Cassat, Paul Cezanne, Edgar Degas, Paul Gaugin, Alberto Giacometti, Wassily Kandinsky, Paul Klee, Max Liebermann, Edouard Manet, Henri Matisse, Claude Monet, Edvard Munch, Pablo Picasso, Pierre-Auguste Renoir, Henri de Toulouse-Lautrec and Vincent van Gogh.
In 1924 Paul Neresheimer married the actress Lore Deditius from Luebeck and together they rented an apartment with a conjoined studio at Clementstrasse no.30. The pair were to remain childless throughout their married life.
In 1937, fuelled by the fierce Nazi opposition to painters of the avant garde and their ideological loathing of so-called "degenerate art", and weighed down by deliberate beaureaucratic hindrances and thinly veiled threats, the Thannhausers were forced to close their galleries.
The family left Germany, moving first to Paris, and then in 1940 onwards to New York, where they were to forge a unique bond with the Guggenheim family, eventually gifting some 70 works to the foundation, including thirty works by Picasso.
Paul Neresheimer regularly spent the summer months up until his death in the foothills of the majestic Bavarian Alps as well as in the idyllic region of the South Tyrol, where he derived enormous pleasure as well as constant artistic inspiration for his evocative and expressionistic landscape paintings.
His artistic career was to be relatively short-lived, however, and he died in Munich on 28 September 1933 at the age of 48.
After the death of his wife in 1944, the Nereseimer household was dissolved and the estate, together with all the remaining  pictures, was divided up among the existing heirs.
Literature:
WEISS, Siegfried (2002): Paul Neresheimer. "A Painter of New Objectivity in Munich"; published in "Die Weltkunst" (Issue 13), Munich, Pages 2044-2046
Signed and dated 1930
Oil on canvas
18 x 24 inches
46 x 61 cms.
Provenance
Private Collection
Framed Size
23 x 29 inches; 58.5 x 73.5 cms.