MARINE PAINTINGS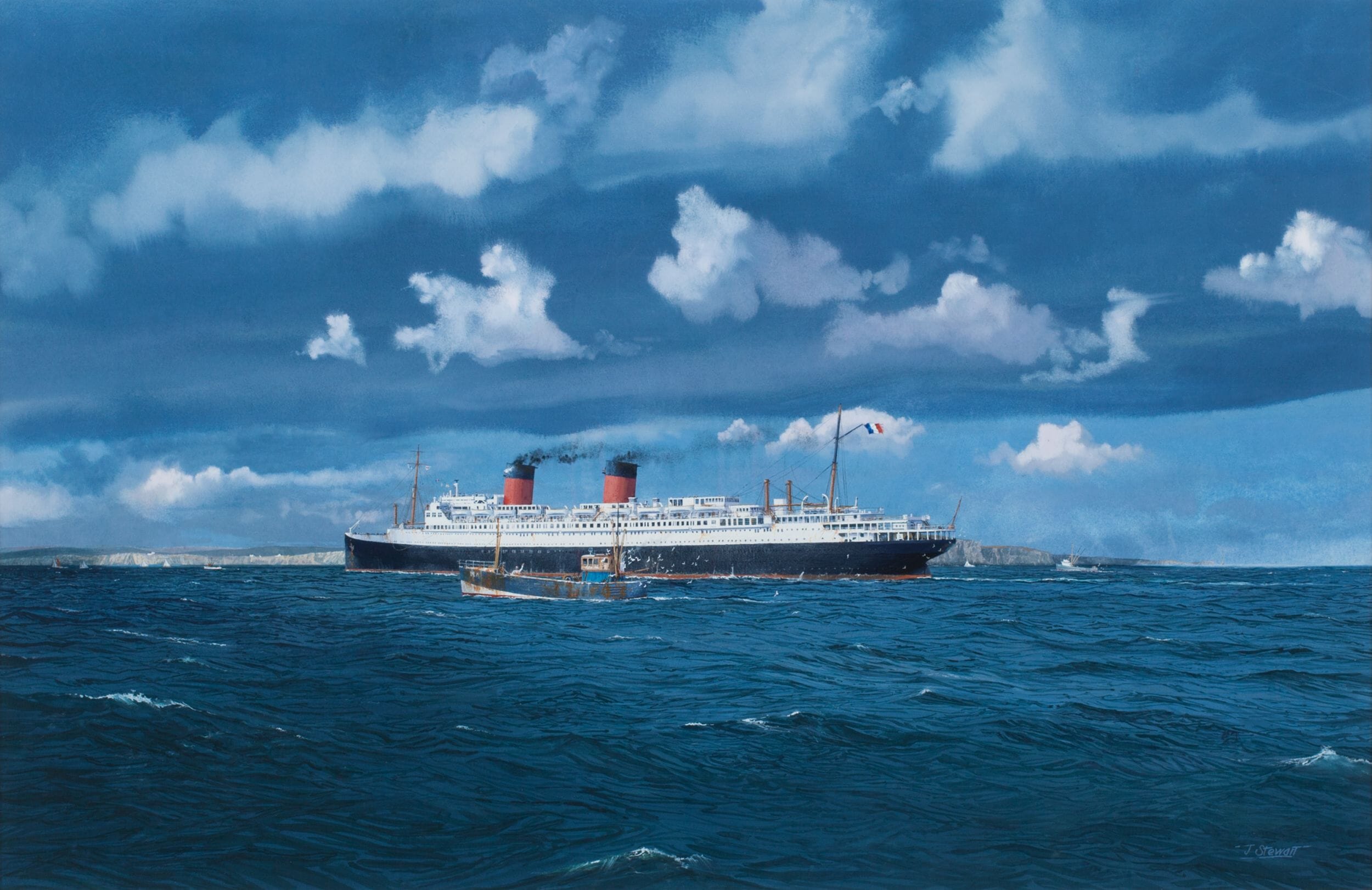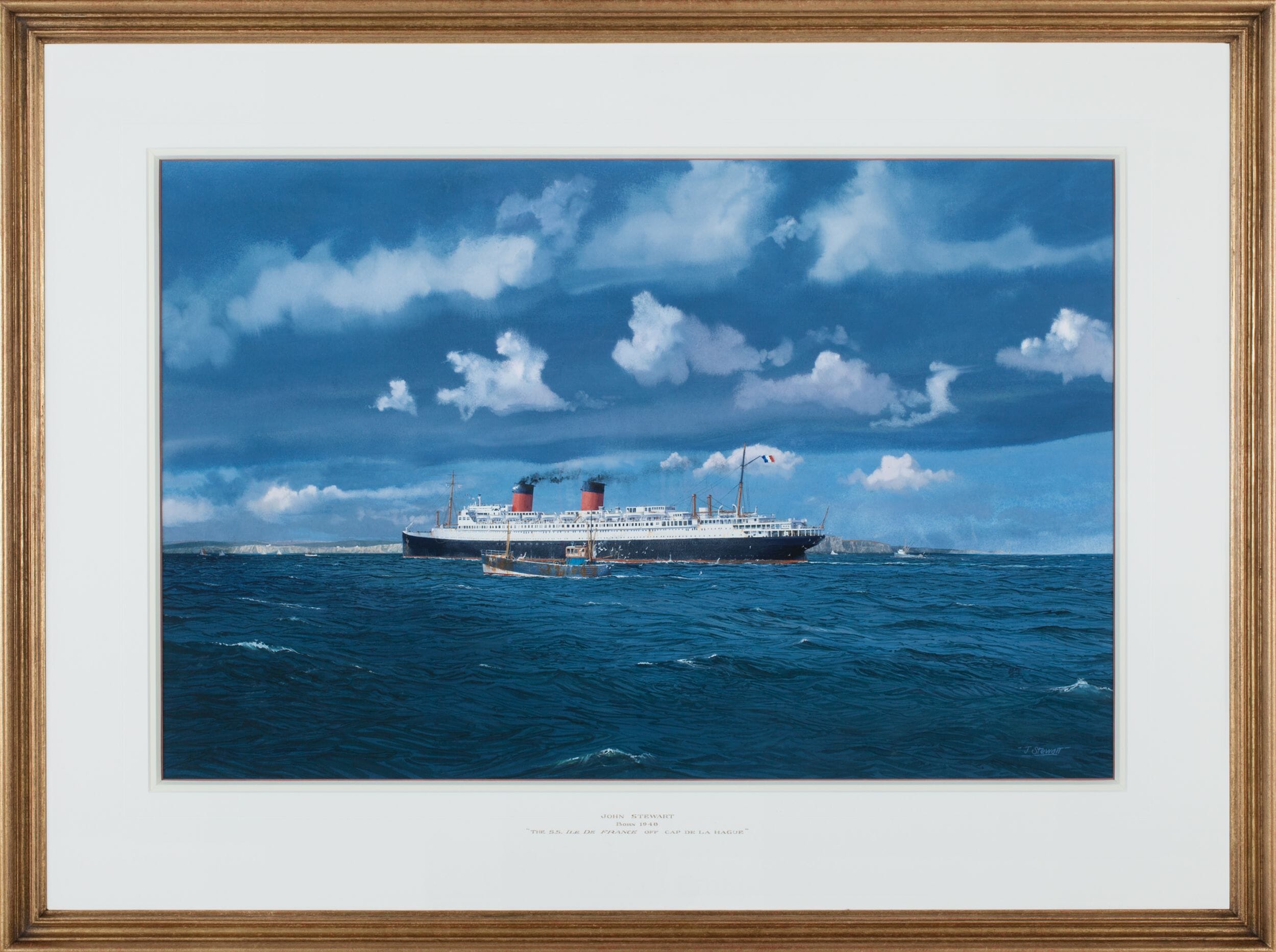 JOHN STEWART
Born 1948
"The S.S. Ile de France off Cap de la Hague"
John Stewart is a marine painter of outstanding talent, who became interested in the sea and things nautical from an early age. After school, he travelled the length and breadth of the British Isles, exploring and studying the coastline which has so inspired his work over the years. He went to sea to gain further first-hand experience before travelling on to the Middle East. Returning to England he studied at the Liverpool College of Art, and it was here that he became fascinated by Liverpool's River Mersey. He subsequently studied at the Brighton College of Art, thereby gaining a first class degree.
John Stewart's deep understanding of the sea has enabled him to portray so brilliantly the vagaries and dramatic impacts of sea, wind and sky. He is a total perfectionist with the minutest eye for detail and accuracy, each work taking many hours to complete to his total satisfaction. His work is today represented in many private art collections worldwide.
The ocean liner S.S. Ile de France was built in Saint-Nazaire, France for the Compagnie Generale Transatlantique, also known as the "French Line", or "CGT". It was widely considered by the company to be its most beautiful and grandest ocean liner, and was decorated with magnificent opulence throughout in the Art Deco style of the day. She was thus in every sense a "modern" ship, the first of such launched after the first World War. Her launch on May 14, 1926 at the Chantiers de Penhoet shipyard was attended by thousands of excited onlookers, from workers and the press to company officials and well-wishers. She left the shipyards for sea trials on May 29, 1927 after more than a year of fitting out.
On 5 June 1927 the Ile de France voyaged to its home port of Le Havre, and on 22 June it began its maiden voyage from that port to New York. She could accommodate 1,786 passengers, with 537 in first class. Beloved by Americans, the Ile de France became so popular that by 1935 she had carried more first-class passengers than any other transatlantic liner, although she was by no means fast.
At the start of World War Two the Ile de France was berthed at New York. Then in March 1940 she was lent to the British Admiralty and loaded with 12,000 tons of war supplies, and on May 1, 1940 she left for Europe in her new livery of black and grey. From Europe she voyaged to Singapore, where after the fall of France she was seized by the British and returned in 1941 to New York. She made several crossings as a troopship, with one such sailing from Halifax, Nova Scotia to the Scottish port of Greenock, carrying the 814 Tank Destroyer Battalion.
After 5 years of military service with the British Admiralty she was returned to the Compagnie Generale Transatlantique in 1945. The Ile de France was first used to ferry American and Canadian troops back home. Later, in April 1947, she returned to her builder's yard at St. Nazaire for a two-year restoration and refit. This included the removal of her third "dummy" funnel and an upturn of her straight black hull to meet her upper forepeak, to match the new style of the CGT's ships. These alterations would increase the Ile's de France's gross tonnage to 44,356.
During the month of July 1949 she travelled to New York on her first post-war luxury crossing, and indeed proved to be just as popular as she had been pre-war. On July 25, 1956, after the disastrous collision of the S.S. Andrea Doria and the MS. Stockholm off Nantucket, the Ile de France played a major role in the ensuing rescue operation. Of 1,706 passengers and crew of the Andrea Doria, approximately 750 were transferred to the Ile de France during the six hour long rescue operation.
With the rapidly accelerating development of jet transport, and the decrease of ocean travel, the Compagnie Generale Transatlantique decided it was to time to dispose of this magnificent liner. On February 16, 1959 she departed Le Havre and was sold to the Japanese for breaking up.
Signed
Watercolour and gouache
13.75 x 19.25 inches
34.9 x 48.9 cms
Framed Size
29.5 x 40 inches; 75 x 102 cms.