MARINE PAINTINGS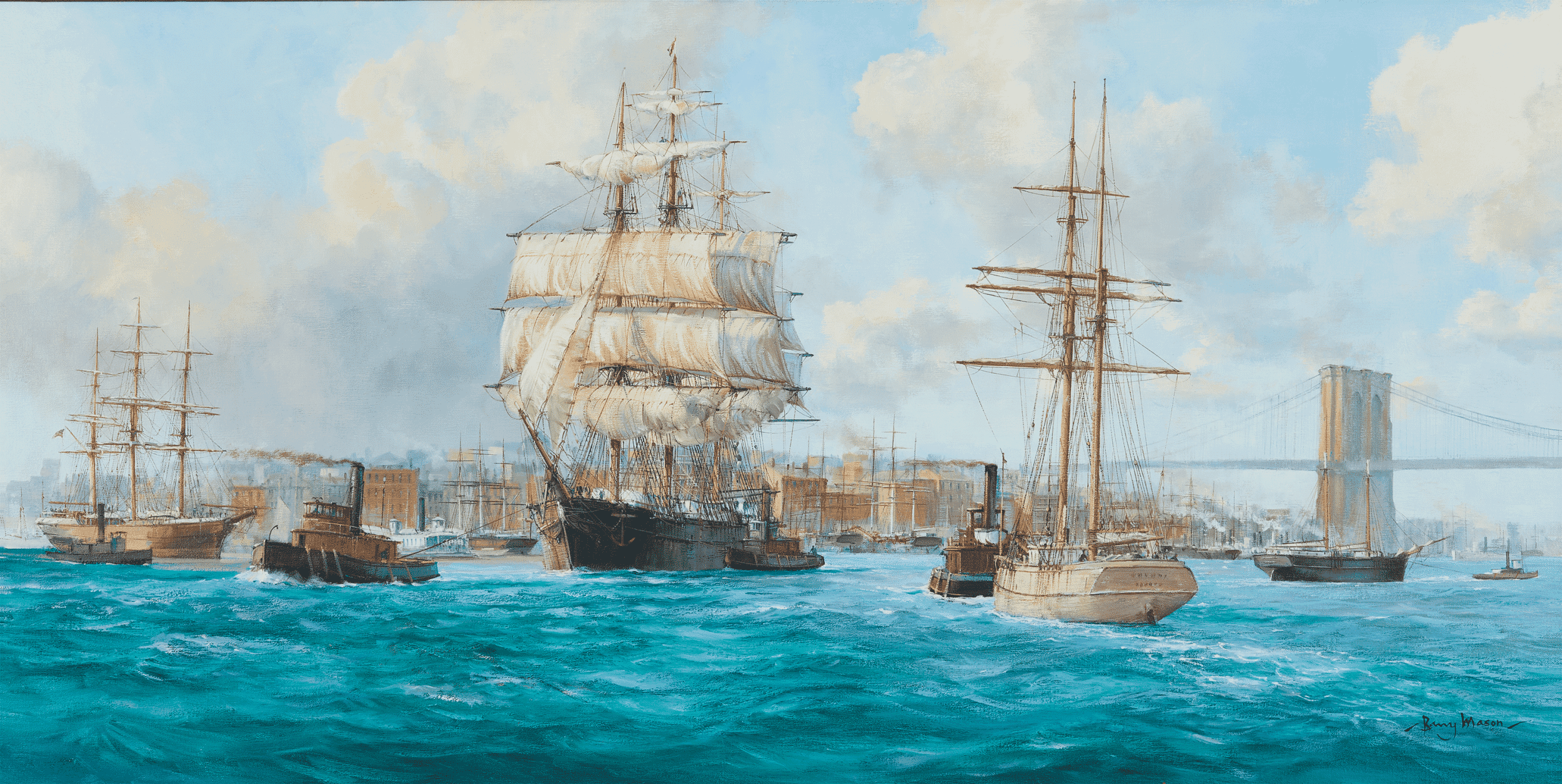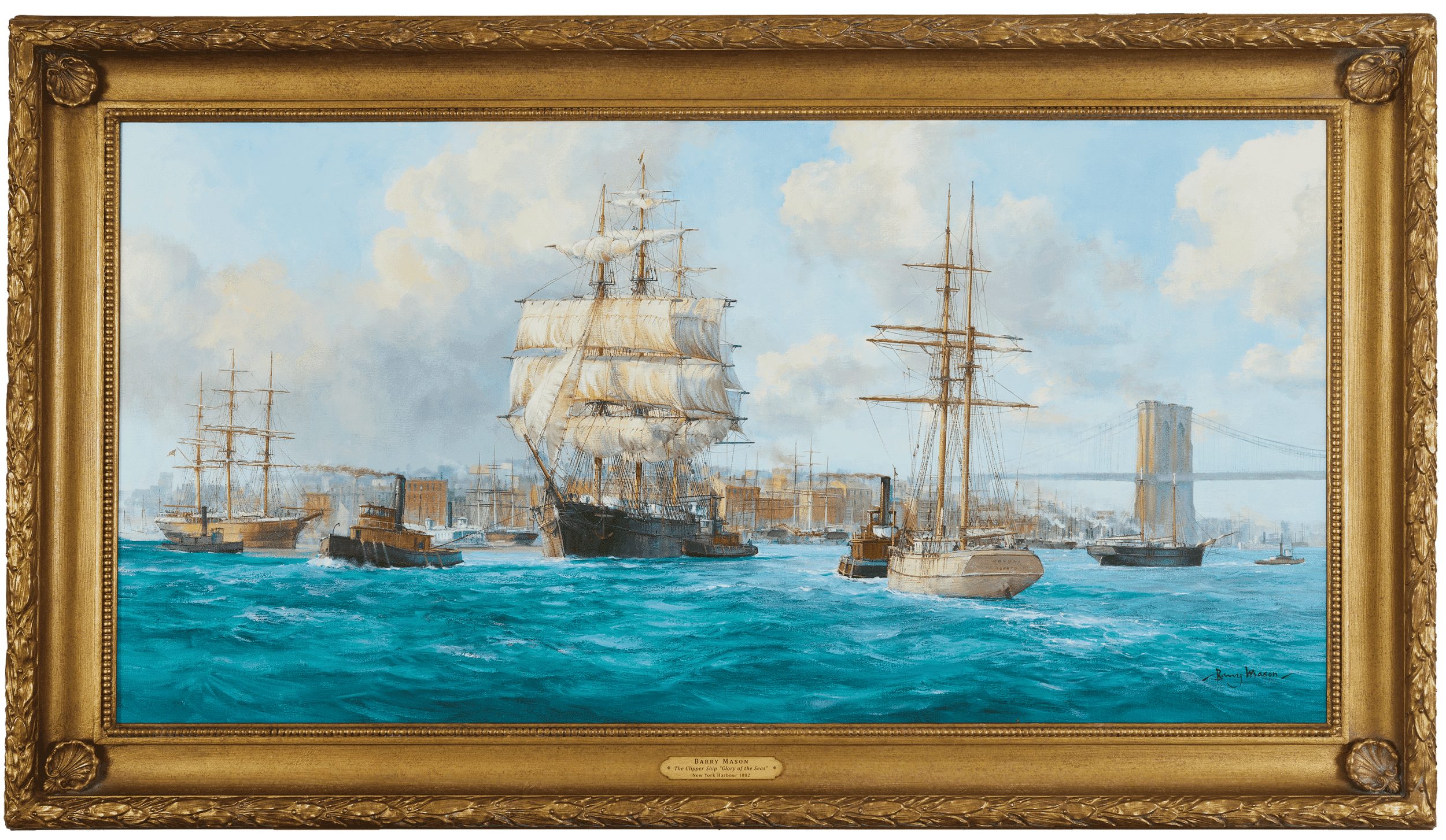 BARRY MASON
Born 1947
"Donald McKay's Clipper Glory of the Seas Departing New York Harbour"
The year is 1882, and with the wharves of South Street, New York receding off her stern, the magnificent American clipper Glory of the Seas is making for the open sea. She is leaving New York Harbour for the last time, bound for San Francisco.
The nearly completed Brooklyn Bridge, opened the following year, spans the East River on the right. A British iron clipper sits at the foot of South Street waiting to dock, and in the foreground a brigantine hauls upriver against the flowing tide.
Glory of the Seas was the last in a long line of medium clippers designed and built by the great Donald McKay at his East Boston yard.
Launched in November 1869, she was registered at 2,009 tons net and measured 240 feet in length with a 44 foot beam. Built to his own account at a time when he was in financial difficulties, McKay spared no expense whatsoever in her construction and even accompanied her on her maiden voyage from New York to San Francisco.
An American newspaper wrote at the time: "She is built of solid oak; her timbers are 11 inches square and only 4 inches apart; with 6 inch planking outside and 4 inch ceiling inside make an almost solid oak hull 21 inches thick."
Donald McKay was not the sort of man to rest content with a fiddle-head and scroll, and so Glory of the Seas was given an exquisitely carved figure-head, this representing the goddess Athene in flowing Grecian draperies.
This splendid vessel was referred to by contemporaries as the last of the American clippers; but it would be more accurate to describe her as the first of the Down Easters.  Designed as a good cargo carrier, with a fine turn of speed, she was ideal for the Cape Horn trade.
It was reckoned at the time that her sail area ran to some 8,000 yards of cotton canvas. She was christened by McKay's daughter, Frances, and she sailed from New York with 4,000 tons of cargo on 14 February 1870. Averaging 161 miles a day to the Equator, she had a passage of 120 days to San Francisco.
Unfortunately, news of his money worries had preceded him, and when she docked, McKay found that his ship had been sold to Charles Brigham of Boston, in lieu of debts.
Brigham soon resold her to Captain Josiah Knowles, who kept her until 1880, and under his command she achieved many notable passages and two records which still stand.
Changing hands several more times, she spent the 1890s in the Pacific Coast coal trade, but was laid up in 1902 until sold again for conversion to a barge in 1905. The 1906 San Francisco earthquake reprieved her, and she spent a busy five years hauling lumber needed for the city's rebuilding from the Northwest.
Signed
Oil on canvas
24 x 48 inches
61 x 122 cms.
Framed Size
31.5 x 55.5 inches; 80 x 141 cms.