LANDSCAPE PAINTINGS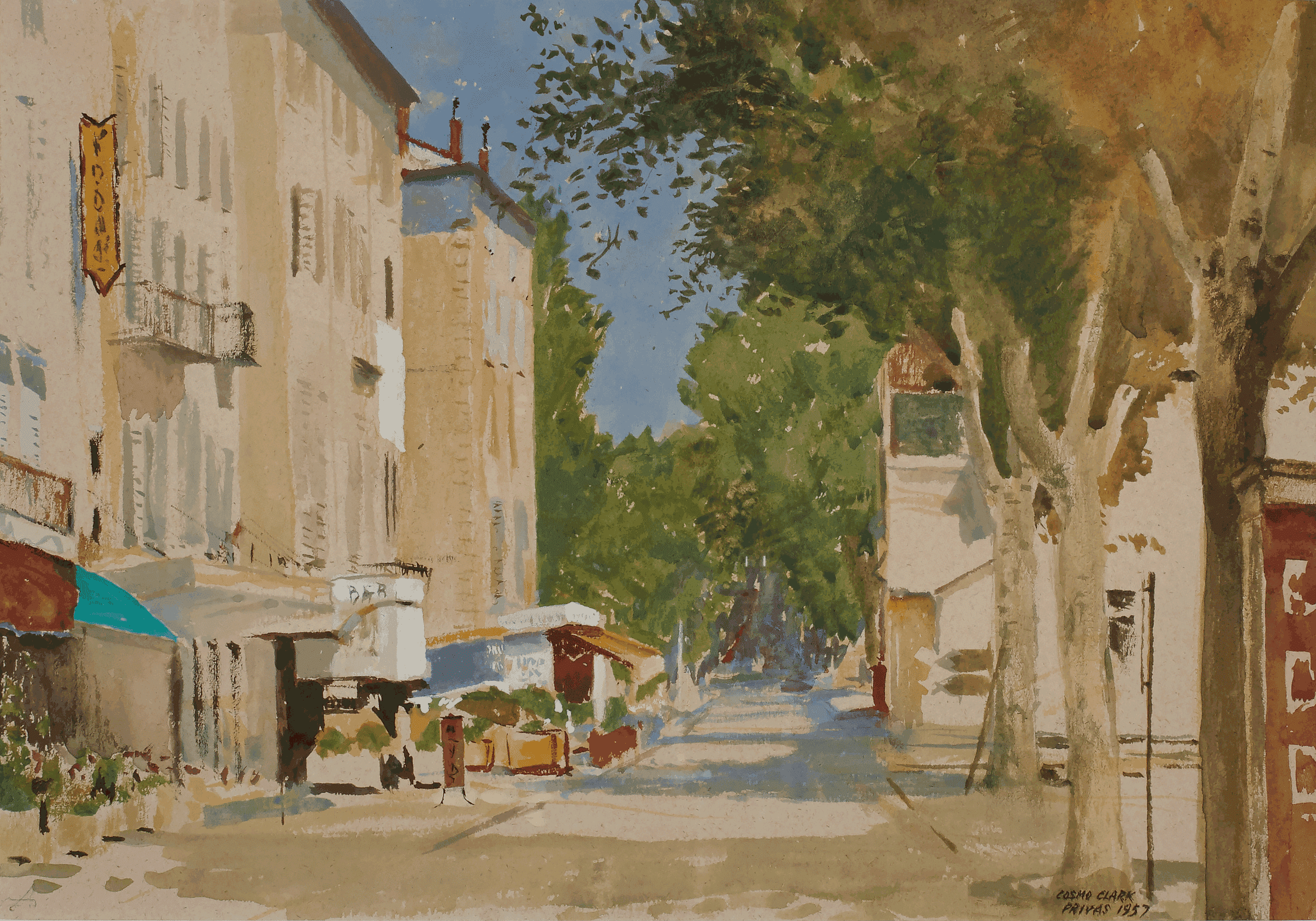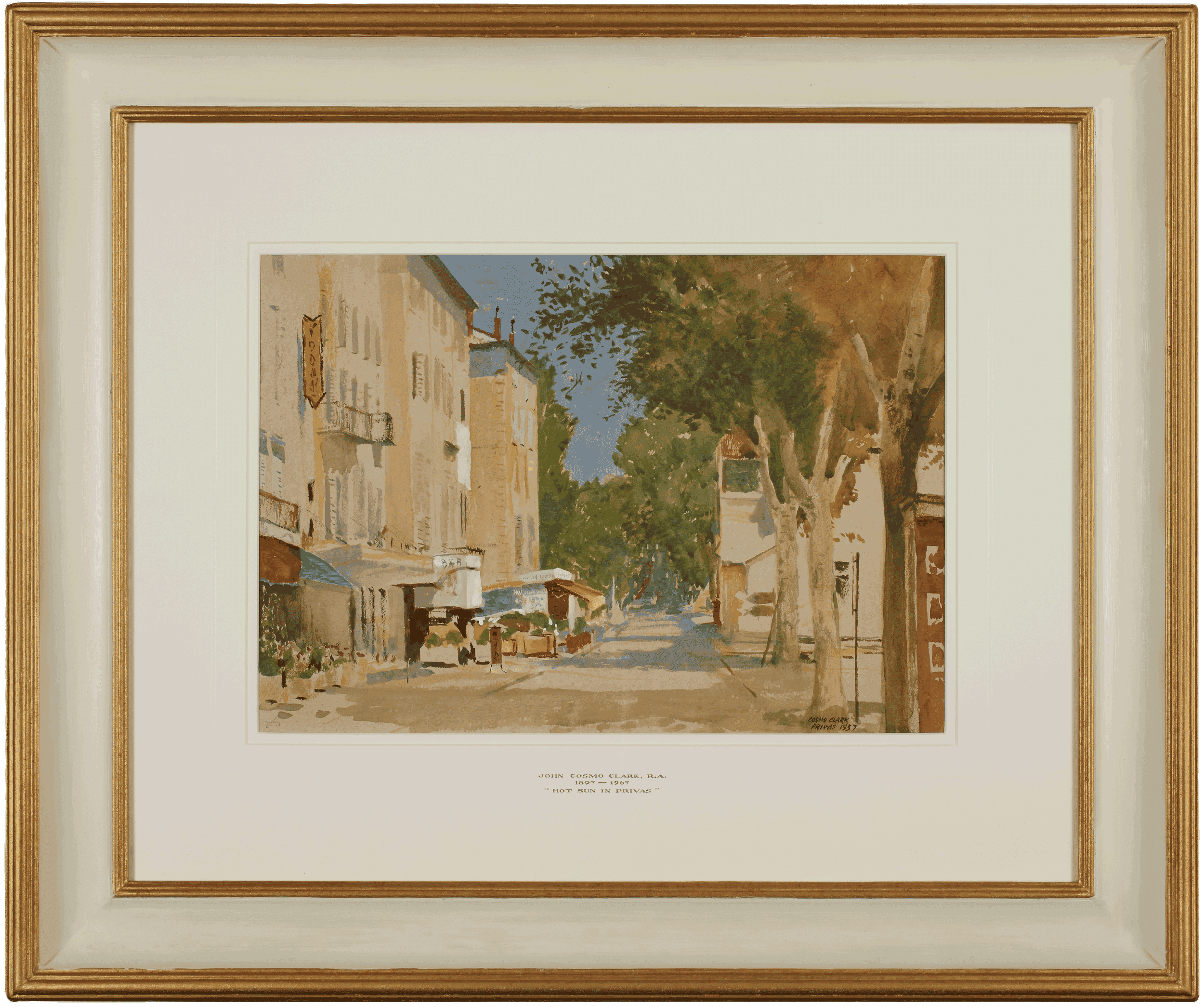 JOHN COSMO CLARK
1897-1967
"Hot Sun in Privas"
The painter and teacher John Cosmo Clark was born in London in 1897. His father was the artist James Clark (1858-1943), his wife the artist Jean Clark (1902-1999).
Cosmo Clark was educated at St. Mark's School in Chelsea, later studying at the Goldsmith's College School of Art from 1912-14.
In 1914 he enlisted with the London Regiment, later gaining a commission as Captain with the Middlesex Regiment. He served with the British Expeditionary Force in France, even finding the time to sketch whilst at the front, and in 1918 was awarded the Military Cross.
He returned to study at the Goldsmith's College after war service from 1918-19, when he published his war correspondence, and later at L'Academie Julian in Paris. Finally he studied at the Royal Academy between 1919 and 1921, where he won the coveted Travelling Scholarship as well as a gold medal.
In 1924 he married the artist Jean Wymer, and between 1928 and 1929 they lived together in New York, his daughter Julia being born that year.
Cosmo Clark taught at Camberwell School of Arts and Crafts, being appointed life teacher there in 1929 before becoming the head of Hackney Art School in 1938. In 1939 he was appointed Camouflage Officer at the Air Ministry.
He became Director of the Rural Industries Bureau from 1942 to 1963 and was also a trustee of the Imperial War Museum. He was elected a member of the New English Art Club in 1946, a member of the Royal Watercolour Society in 1952 and a member of the Royal Academy in 1958. In 1955 he was awarded the C.B.E., and in 1961 via the Royal Academy he was invited to the U.S.S.R. by the Soviet Union of Artists,
Cosmo Clark exhibited his work far and wide, including works at the Royal Academy, the Royal Watercolour Society, the New English Art Club, the Leicester Galleries, the Royal Institute, the Royal Institute of Oil Painters, the Huddersfield Gallery, and the Graves Gallery; as well as throughout Europe, Canada and the USA. Today his works are to be found in many leading art collections, both private and public.
John Cosmo Clark, CBE., MC., RA.,RWS., NEAC., died at his home in St. Peter's Square at Hammersmith, London in 1967.
He is represented today in the following collections, among others: The Potteries Museum and Art Gallery; Kirklees Museums and Galleries; Russell-Cotes Art Gallery and Museum; Royal West of England Academy; New College, University of Oxford.
Signed and dated 1957
Watercolour and Gouache
11.75 x 17 inches
30 x 43.25 cms.
Exhibited
Royal Watercolour Society, 1957, no. 2
Priced at 25 guineas.
Provenance
Private Collection, Bury, West Sussex
Framed Size
25 x 29.5 inches; 63.5 x 75 cms.