RECENT SALES & ARCHIVE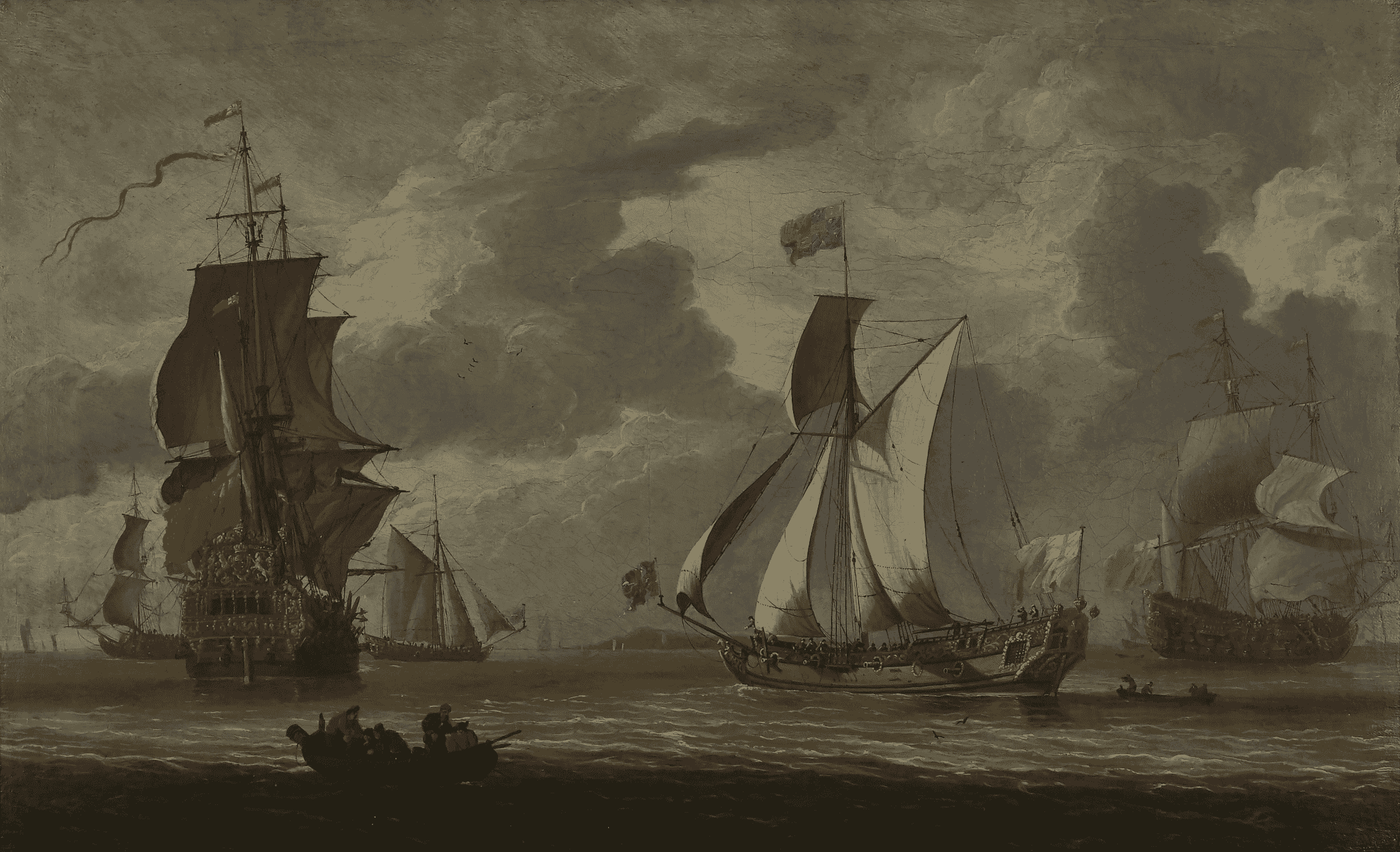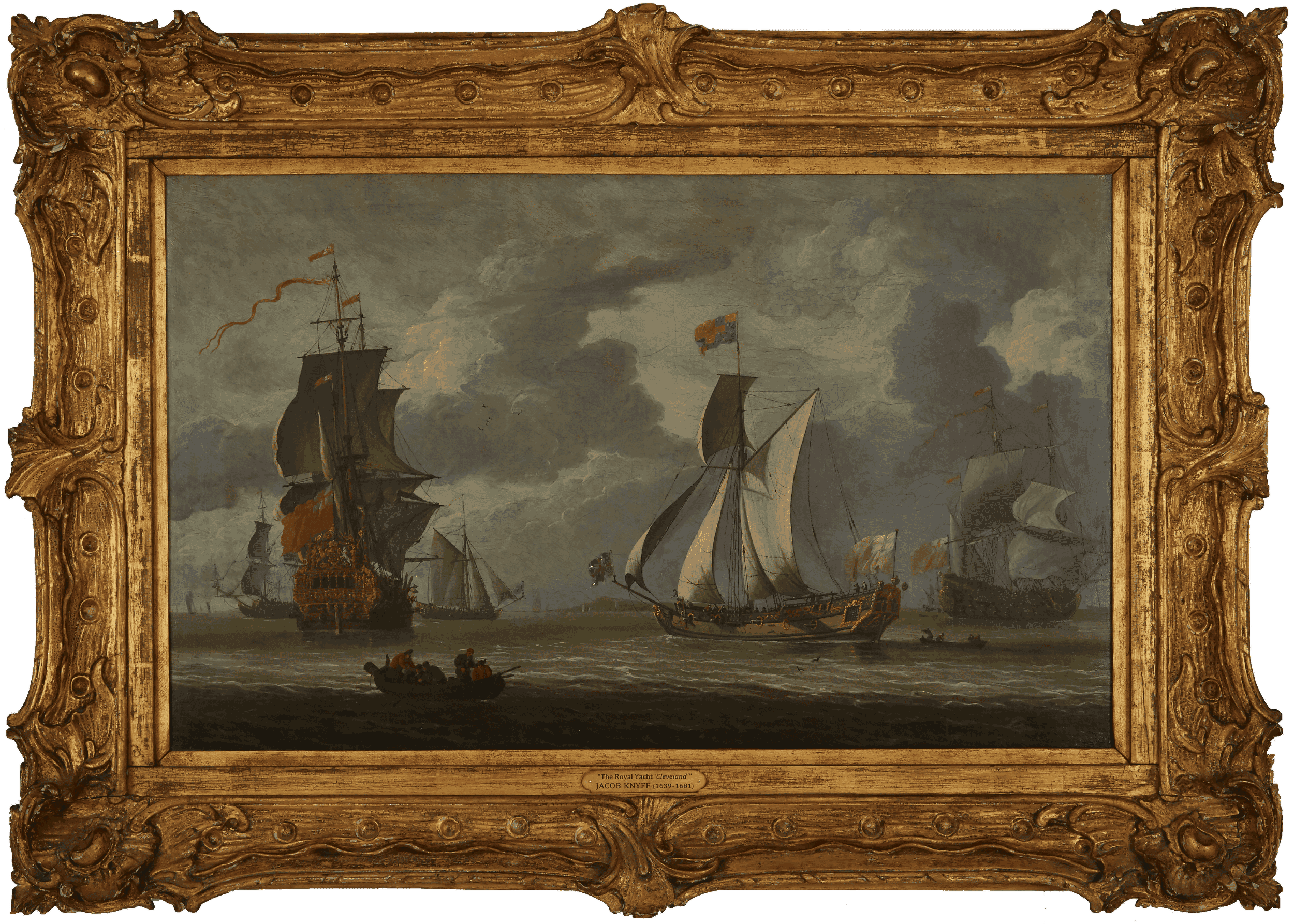 JACOB KNYFF
1638-1681
"King Charles II Aboard the Royal Yacht Cleveland,Joining the Fleet at Sea"
Named for Charles II's mistress Barbara Villiers, Duchess of Cleveland, the royal yacht Cleveland was designed by Surveyor, Sir Anthony Deane and built under his direction at Portsmouth in 1671. Measured at 107 tons, Cleveland was just over 53 feet in length with a 20 foot beam and mounted eight 3 pounder guns by way of a ceremonial armament. Gaff-rigged on a single mast, she was typical of the other royal yachts of her day and, for the first few years of her life, was the yacht most frequently used by the King. He would normally embark at Greenwich and, accompanied by other yachts carrying courtiers and officials, would proceed down the Thames to wherever the fleet was anchored, most often at the Nore.
Cleveland's most notable outing was the King's visit to the fleet, after the battle of Solebay, on 6th June 1672, an event captured in a spectacular painting by Willem van de Velde the Younger and widely reproduced. In January 1685, just prior to Charles II's death on 6th February, Cleveland was transferred into the service of the Office of the Ordnance for official use where she remained until paid off and sold, probably for breaking, in 1715.
Barbara Villiers (later Palmer), Countess of Castlemaine and Duchess of Cleveland (1641-1709), was a noted London beauty who married Roger Palmer in 1659 yet became the mistress of the King the very next year. Created Countess of Castlemaine in 1661, following her husband's elevation to the Irish peerage, the King then obliged his new wife to accept his mistress as a Lady of the Bedchamber in 1662, from when onwards she exerted a massive influence over court affairs and royal appointments. Made Duchess of Cleveland in 1670, she was eventually supplanted in the King's affections by the Duchess of Portsmouth which resulted in the former taking up residence in Paris after 1677.
In addition to this portrait, Knyff also depicted the Cleveland lying alongside the First Rate Royal Sovereign at the Nore in 1673, whilst Willem van de Velde painted his own portrait of this yacht in addition to the 1672 Fleet Visit picture mentioned above.
Jacob Knyff was born in Haarlem, Holland in 1638, the elder son of sea and river painter Wouter Knyff (1607-1693). Wouter was both pupil and imitator of the famous Jan Van Goyen (1596-1656) and was himself a most competent painter and an official of the Guild of Haarlem in 1675. Jacob's two brothers, Willem and Leonard, were also well known landscape painters of that era.
The Knyff family typified the dynastic painters of seventeenth century Holland, where family talent was passed on to the sons, who then gained valuable experience from their formative training in the family studio. The Knyffs are recorded as having lived first at Wesel, then in Haarlem (birthplace of Jacob), later Middelburg and finally at Bergen-op-Zoom.
Very few details exist regarding Jacob's early life up until 1670, when he is recorded as having worked from a studio in Paris. Soon after this, either in 1672 or 1673 he came over to England. By June 1672 the war with France and England was going badly for the Dutch, especially on land. Charles II made a proclamation encouraging Dutch painters to travel to England to take up artistic residency, despite the two countries being at war. Artistic patronage in Holland had all but dried up, and so a number of Dutch artists were happy to take advantage of this welcome invitation and among their number the best known and most accomplished were the two Willem van de Veldes and Jacob Knyff.
By the time Jacob came to work in Paris he had already gained a reputation as a fine artist. Two paintings from his Parisian period are possessed by the Trustees of Berkeley Castle in Gloucestershire, each signed and dated 1673; one painting depicts a view in Fontainebleau whilst the other shows a view of the River Seine.
Prior to his arrival in Paris, it is almost certain that a large proportion of his time was employed in travelling around the Mediterranean; as all his earlier known works comprise large and highly competent views of Mediterranean harbour scenes. These works portray the guiding influence of his father Wouter Knyff in their fine attention to detail and historical accuracy and their contemporary views of life both in harbour and at sea.
After 1673 Jacob's work seems to have comprised chiefly British coastal or river scenes, with an increasing emphasis upon the depiction of the great ships of the Stuart fleet, these invariably painted with a direct view of the ship's stern.
He almost never signed his work, in common with that celebrated native English maritime painter, Isaac Sailmaker (1633-1721). It is recorded that Jacob never signed any of his pictures after 1673, which signified his "English" period up until his death in London in 1681.
Examples of Jacob Knyff's work are held by the National Maritime Museum at Greenwich, the Museum of London and the Government Art Collection.
Oil on canvas
19.5 x 31 inches
49.5 x 78.8 cms.
Framed Size
27.5 x 39 inches; 70 x 99 cms.
Provenance
The Martin Family, Upper Hall, Ledbury, Herefordshire.

Christie's, London, Important Maritime Art, 31.10.2007, Lot 3
Private Collection, London
Literature
F.B. Cockett, "Early Sea Painters", 1660-1730, Antique Collectors' Club, Woodbridge, 1995, p.50, no.19.