RECENT SALES & ARCHIVE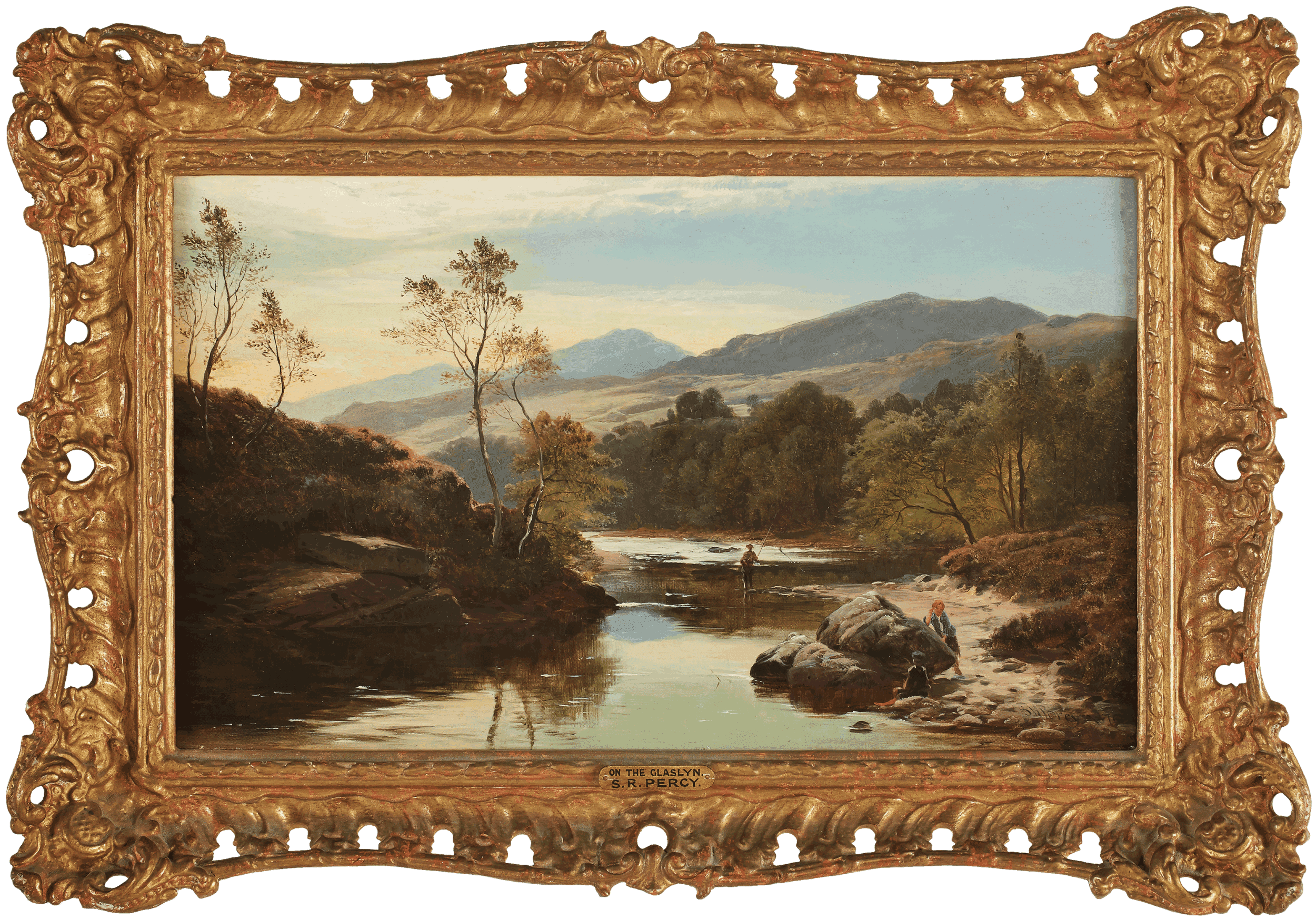 SIDNEY RICHARD PERCY
1821-1886
"On the River Glaslyn"
Born in 1821, Sidney Richard Percy Williams was born in London into the much celebrated Williams family of painters, and was the fifth son of Edward Williams Senior as well as nephew of the renowned animal painter James Ward.
The Williams family of artists were numerous, and in order to avoid confusion, he changed his name to Sidney Richard Percy , as did Arthur Gilbert and Henry John Boddington.
Sidney Richard Percy was destined to become one of the most feted landscape painters of the Victorian era, such was his popularity among both his artistic peers and the general public.
His style of painting, his palette and his very fine brushwork is quite unmistakeable, and this singles him out even among those other gifted members of the Williams family.
In 1842 at the age of twenty-one S.R. Percy first exhibited at the Royal Academy, with a work entitled "View Near Henley on Thames", and in 1843 he showed for the first time at the British Institution with a painting titled ""Sheep Washing on the Webber".
In 1857 Sidney Richard Percy married the beautiful and extravagant Emily Charlotte Fairlam, and in 1863 they moved from Barnes to Great Missenden in Buckinghamshire, where he and his new bride acquired a fine regency home named "Hill House".
From this vantage point, he was able to fully appreciate and draw artistic inspiration from the beautiful woodland scenery and the fine far-reaching views surrounding his new home.
Percy travelled all over the British Isles, depicting landscapes from Devon to the Highlands of Scotland, but it was the landscapes of his beloved North Wales which inspired and moved him the most. He is also known to have travelled to Venice, Switzerland and Paris.
The artist was to exhibit over three hundred paintings during his lifetime, these at the most prestigious exhibition venues of his day, including the Royal Academy, the British Institution, and the Royal Society of British Artists at Suffolk Street.
His studio sale was held at Christie's on 27 November 1886.
Sidney Richard Percy's work is represented in the following major public collections and museums:
The Ferens Art Gallery ,Hull
Temple Newsom House, Leeds
Victoria Art Gallery, Bath
National Museum of Wales, Cardiff
Museum and Art Gallery , Leicester
Museum and Art Gallery ,Sunderland,
City Art Gallery, York
Mappin Art Gallery, Sheffield
Castle Museum and Art Gallery, Nottingham
City Art Gallery ,Salford
Maharaj Fatesingh Museum and Laxmi Vilas Palace, Baroda, India,
Montreal Museum of Fine Arts, Canada.
Signed and dated 1875
Oil on canvas
9 x 15 inches
23 x 38 cms.
Provenance
N.R.Omell, "The Williams Family of Painters", Exhibit no.23