RECENT SALES & ARCHIVE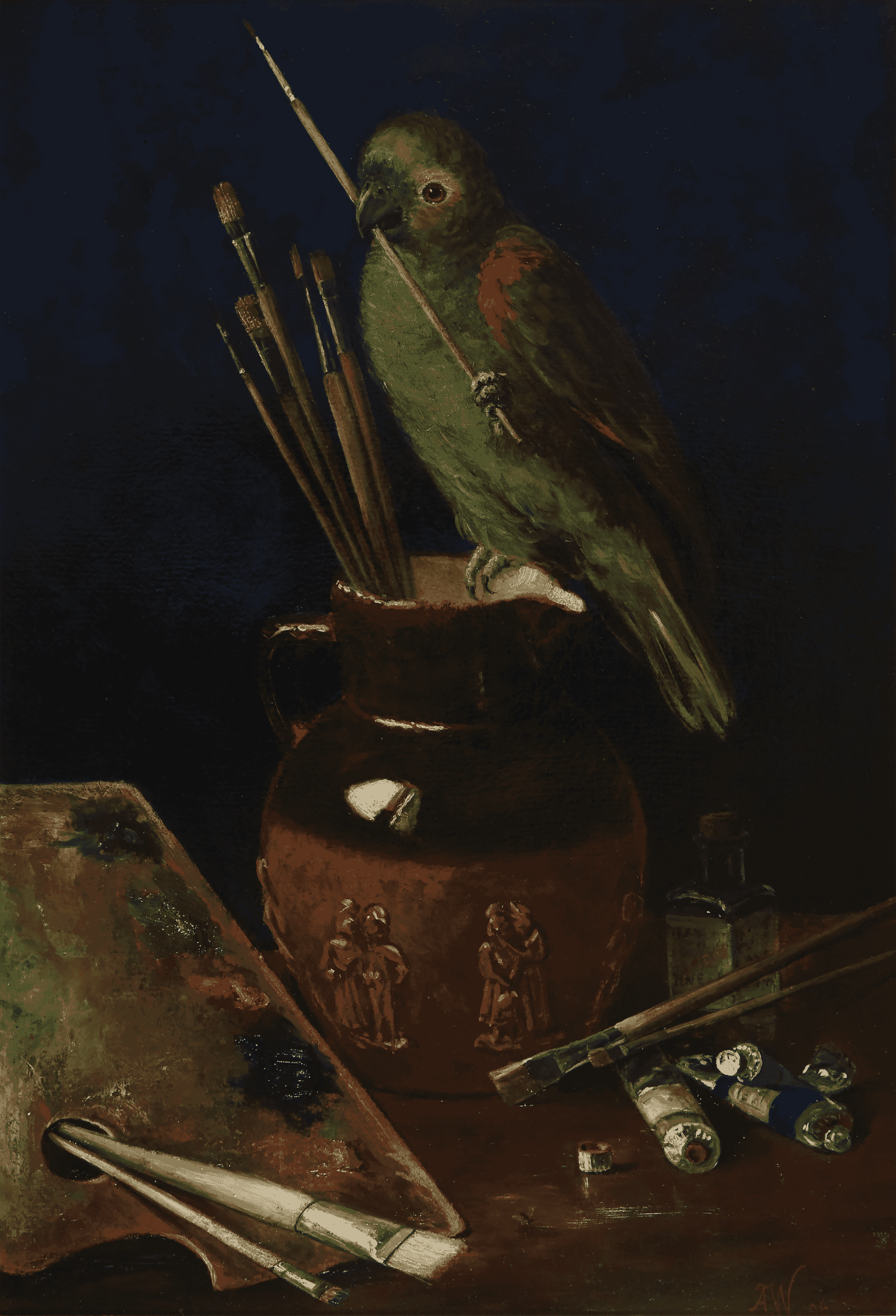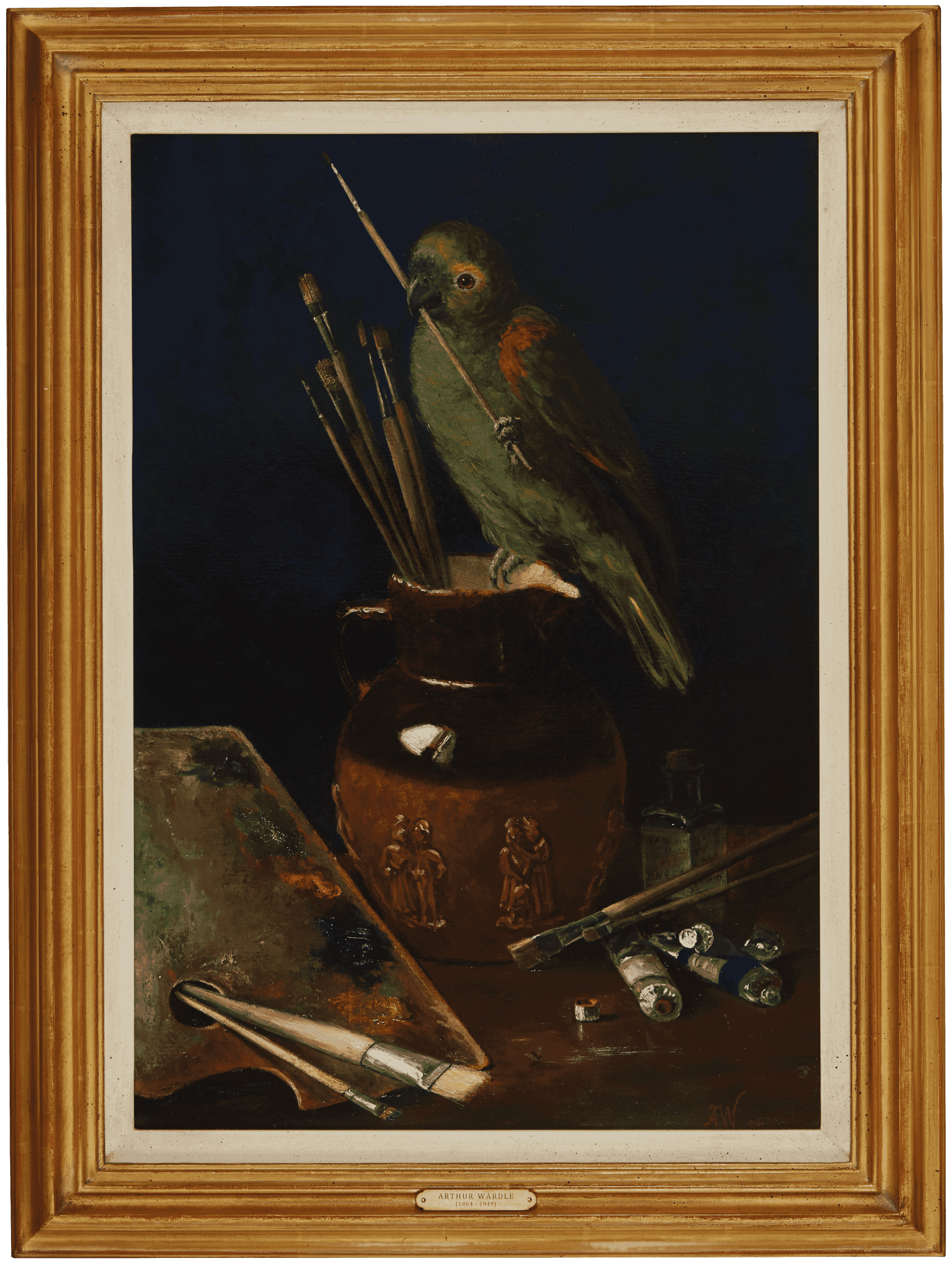 ARTHUR WARDLE
1864-1949
"Polly Parrot, Artist in Residence"

Arthur Wardle was born in London in 1864. His first exhibit at the Royal Academy was at the tender age of sixteen, when he showed a study of cattle grazing by the River Thames, and this was to lead to a profound lifelong interest in the painting and study of animal subjects.
In 1880 he is recorded as living at an address in Oakley Square, Camden, but by 1892 subsequent financial success and growing artistic recognition meant that he was able to move to the more affluent neighbourhood of Alma Square in St.John's Wood.
An extremely versatile, adept and talented artist, who painted an astonishing diversity and range of subject matter, his work may be divided into several categories - mythological, exotic and domestic.
He derived much inspiration from his study trips to London Zoo, where he would tirelessly sketch on the spot studies of exotic animals and birds from overseas, such as elephants, leopards, polar bears and tigers, and these would prove highly inspirational and significant subjects for his large mythological scenes, which basically sealed his reputation as an outstanding animal artist as well as a painter of historical subjects.
Arthur Wardle worked successfully in oils, watercolours and pastels. In the last decade of the 19th and inspired by the success of French painters in that delicate medium, the art of pastel was undergoing somewhat of a revival in Great Britain, leading to the foundation of the Pastel Society in 1898. Wardle was elected a member of this society in 1911.
In an article in "The Studio" magazine of July 1916, it was written thus: "As a pastelist, Arthur Wardle has taken a place in the modern British School which he can hardly be said to share with anyone else, a place gained by sheer strength of artistic personality. He has a brilliant appreciation of the genius of pastel, and uses it with delightful dexterity".
He was elected a member of the Royal Institute of Painters in Watercolours in 1922. In 1931 he held his first one-man exhibition at the Fine Arts Society and in 1935 the Vicar's Gallery held an exhibition of his work. He is also known to have exhibited his work in Paris.
Arthur Wardle is widely considered to have been the best known dog painters of the nineteenth and twentieth centuries, and he is especially well known and regarded for his paintings of terriers.
He painted what is considered the finest example of a fox terrier in its modern form; this was "The Totteridge XI", showing eleven smooth haired fox terriers in conformation show pose.
The painting was commissioned by the renowned fox terrier breeder Francis Redmond, who kept Wardle busy with numerous commissions of his dogs. Redmond was Chairman of the Kennel Club between 1922 and 1925, and the painting resides today in the Kennel Club collection.
Arthur Wardle died in London on 16 July 1949.
During his lifetime his works found their way into leading public collections, including the Chantry Bequest, the Leeds City Art Gallery, The Victoria and Albert Museum and the Tate Gallery.
A prolific exhibitor during his lifetime, he is recorded as having shown at the following artistic venues of his day, among others:
Birmingham City Art Gallery (32)
Dudley Art Gallery (8)
Fine Art Society (49)
Walker Art Gallery of Liverpool (58)
Manchester City Art Gallery (17)
Royal Academy (113)
Royal Society of British Artists (26)
Royal Hibernian Academy (5)
Royal Institute (95)
Royal Institute of Oil Painters (27)
Arthur Tooth Gallery (36)
Signed with Monogram and Dated 1896
Oil on Artist's Board
21 x 14.5 inches
53.5 x 37 cms.
Provenance
Private Collection, Munich
Framed Size
26.5 x 19.75 inches; 67.5 x 50 cms.