RECENT SALES & ARCHIVE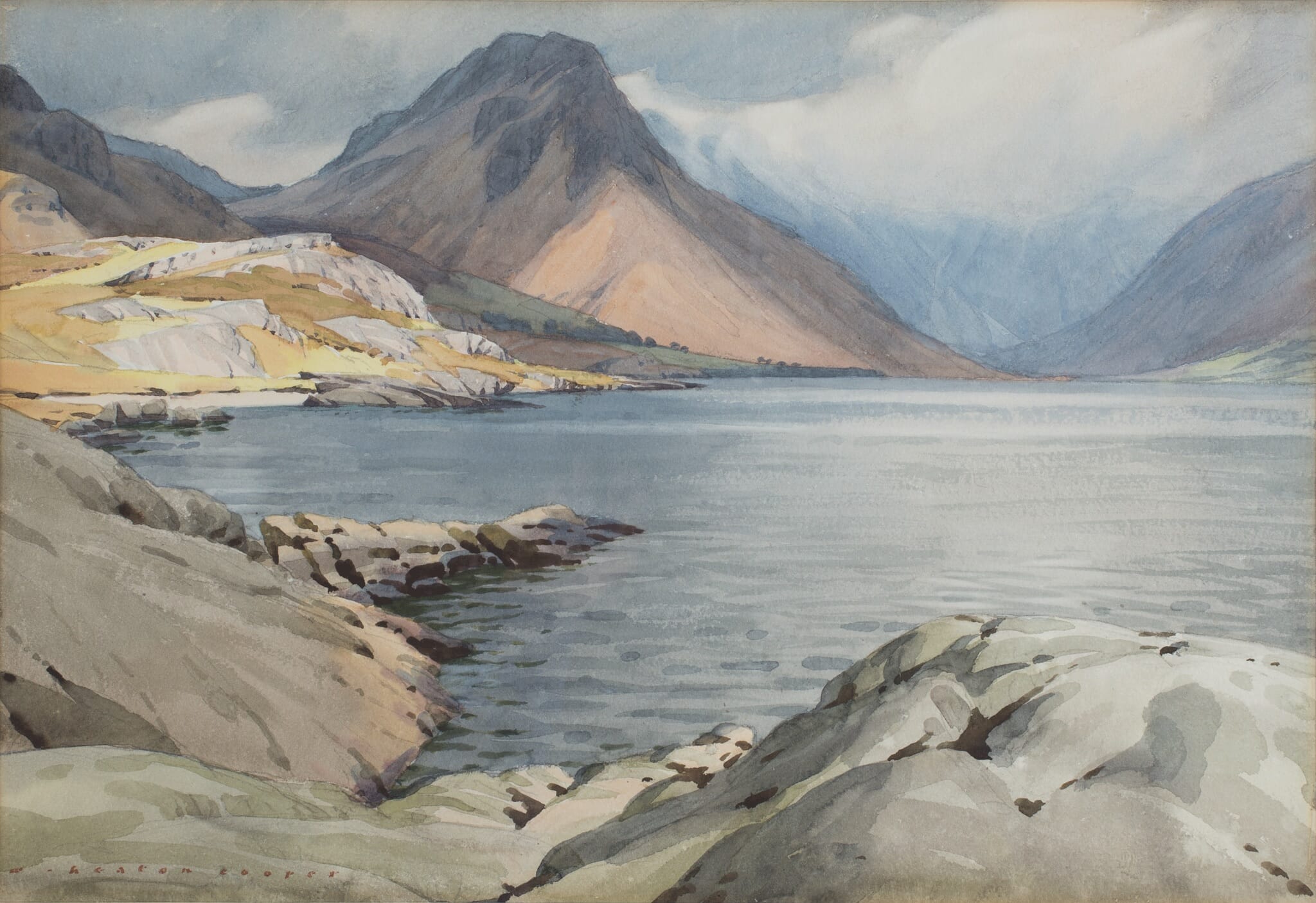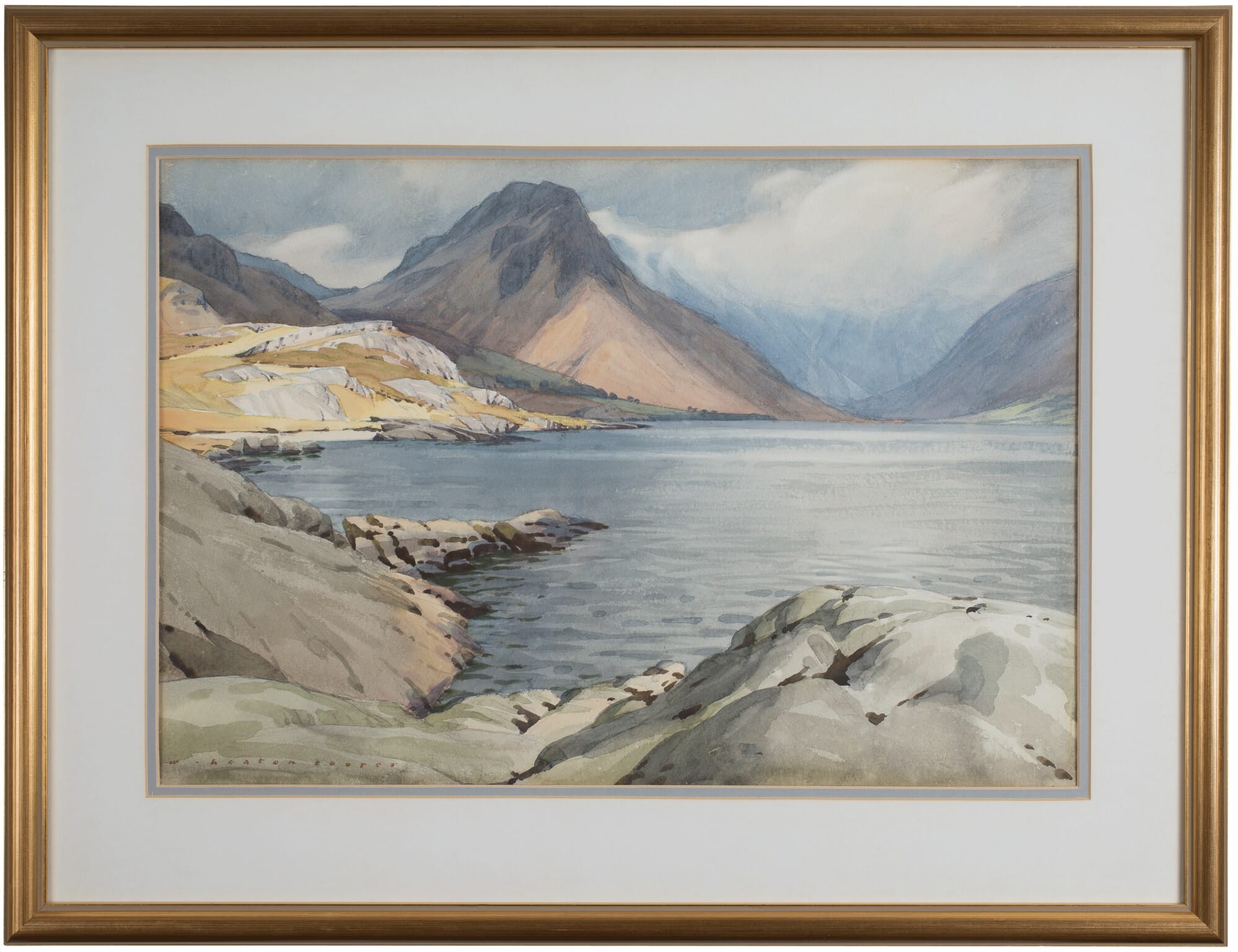 WILLIAM HEATON COOPER
1903-1995
"Rising Clouds, Wastwater"
William Heaton Cooper was born in 1903 at Coniston in the Lake District, the third child of the Lancashire landscape painter Alfred Heaton Cooper, and his Norwegian wife, Mathilde.
The dramatic and rugged beauty of the Lake District was to have a profound effect on the young William, who later became an established authority on the landscape and folklore of his beloved Lakeland. He became immersed in rock climbing and walking, and few were more versed than he with such an intimate knowledge of the geological history of the region.
He won a scholarship to the Royal Academy School in London and subsequently exhibited there, as well as showing at the Royal Society of British Artists and the Royal Institute. In 1953 he was elected a member of the Royal Institute of British Watercolourists and was President of the Lake Artists' Society for eleven years.
At the time of his father's death in 1929, William was living in the south of England in an experimental commune, home to an inspirational variety of artistically talented people. This Bohemian lifestyle evidently suited him admirably, though he was reluctantly forced by circumstances to return to his late father's Ambleside studio, in order to provide for his mother and a sister.
He became very unhappy at this time, and a search for personal and artistic integrity, together with a deep religious quest for inner peace drove him to follow the doctrines of the Oxford Movement for Moral Rearmament, founded in 1938 for moral and spiritual guidance.
His exceptionally strong and focused religious views now resulted in his decision to hand his life over entirely to God. His painting got better and better, even eclipsing his father's admirable work. In 1938 he moved from Ambleside to a newly built studio and home. That year marked a watershed, as he met his future wife, the sculptress Ophelia Gordon Bell.
William served as a camouflage officer in World War II. It was at this period in his life that the relatively new idea of reproductive art appealed to him. The advent of improved colour printing techniques meant that more faithful reproductions of originals could be made and, though the idea of selling mere copies was frowned upon in certain artistic circles, William still went ahead. His instinct was to prove only too right, because he was to produce and sell thousands of prints over the coming years, making William one of the best selling artists ever.
William's style of mountain painting was more impressionistic than his father's, his studies suffused with an expert knowledge of geology, resulting in his often stark and spare portrayal of crags and fells. The ever changing light inherent in the Lakeland landscape fascinated him, and he would traipse happily for miles over the fells, to set up camp and capture the elusive and momentary special light effects, these effects often unrepeatable in the same spots.
He was elected President for Life at the Fell and Rock Climbing Club, for which he both wrote and illustrated best-selling books on the area, books which today continue to both reliably inform and delight Lakeland visitors and enthusiasts.
William Heaton Cooper died in 1995 and lies buried in Grasmere. His contribution to the art of pure landscape painting, together with his enormous influence in promoting and fostering both interest and awareness in his beloved Lakeland ensured that he was honoured with affectionate tributes and obituaries in the Daily Telegraph, the Times and the Guardian.
Signed
Watercolour
15 x 22 inches
38 x 56 cms.

Provenance
From the Artist's Studio
Thence by Descent