LANDSCAPE PAINTINGS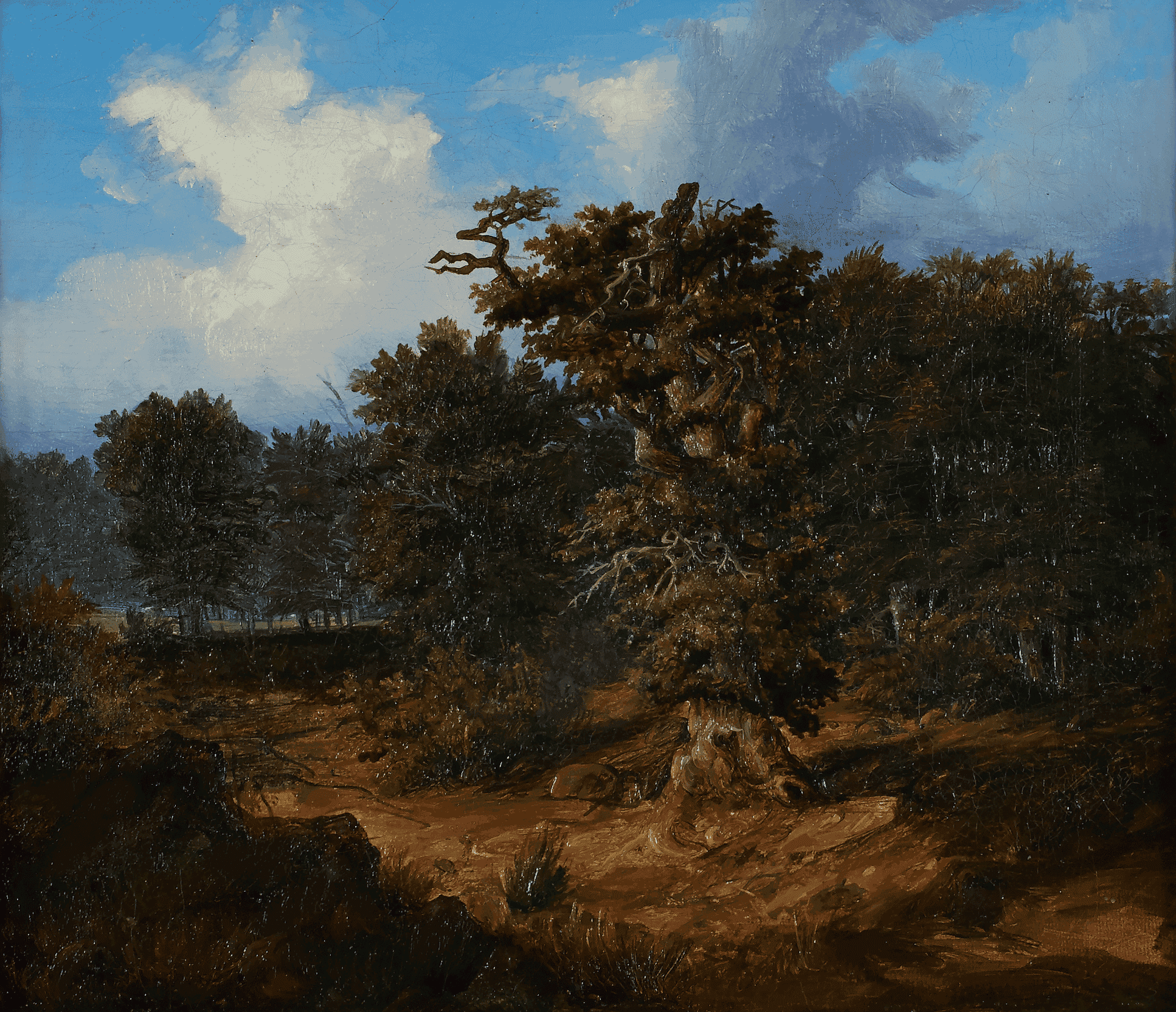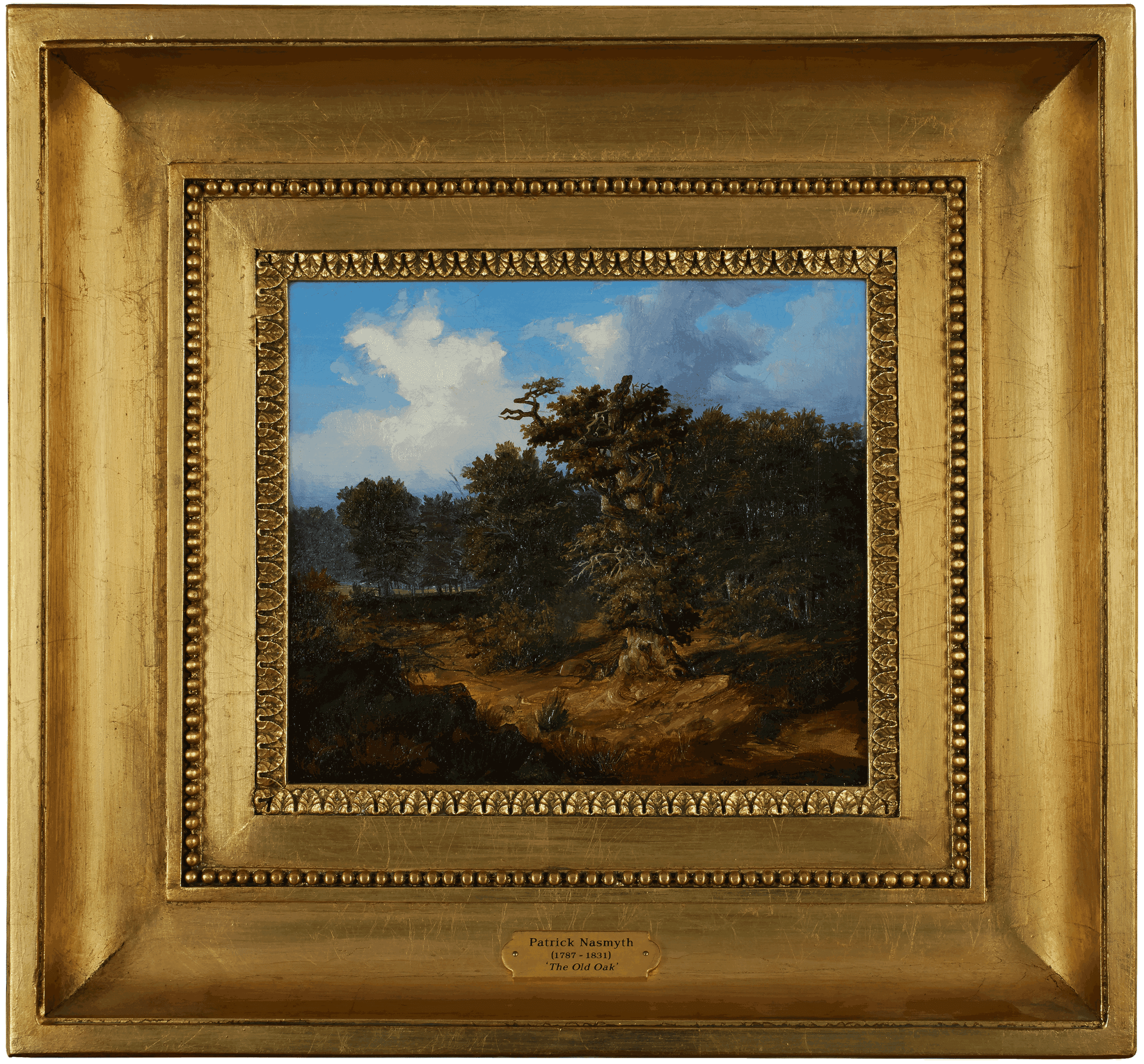 PATRICK NASMYTH
1787-1831
"The Old Oak Tree"
The artist was born in Edinburgh on 7 January 1787, the eldest of eleven children – four sons and seven daughters - of the Scottish artist Alexander Nasmyth (1758-1840).
Patrick Nasmyth discovered an early love of nature and often played truant from school in order to explore and sketch the surrounding countryside. He later studied under his father and it was not long before his prodigious talents were recognised, having turned to drawing as soon as he could hold a pencil.
He suffered an injury when young, whilst out sketching with his father, and this forced him to learn how to use his left hand to paint. To add to this misery, he was also to become profoundly deaf at the tender age of seventeen.
In 1807 he moved to Lambeth, and it was here that he began to specialise in keenly observed landscape subjects painted in both oil and watercolour. Lambeth in those long ago times was not the dreadful urban place it is now, but rather an inspiration to such a sensitive artist for its tranquil rural aspects. His paintings of this time were compared to the works of that celebrated Dutch 17th-century artist Meindert Hobbema (1638-1709), so much so that he became known as the "English Hobbema".
Patrick Nasmyth first concentrated on scenery set in Scotland, but later turned to the glories of the English country landscape, depicting wooded country lanes and picturesque rural cottages. His scenes tended towards the intimate rather than portraying bold vistas, and he took special pride in his depiction of the ever changing moods of the sky.
His brother was to observe wryly:
"The immediate neighbourhood of London abounded with the most charming and appropriate subjects for his pencil. These consisted of rural 'bits' of the most picturesque but homely description – decayed pollard trees and old moss-grown orchards, combined with cottages and farm-houses in the most paintable state of decay, with tangled hedges and neglected fences, overrun with vegetation clinging to them with all 'the careless grace of Nature'.
However neglected these might be by the farmer, they were always tit-bits for Patrick. When sketching such subjects he was in his glory, and he returned to his easel loaded with sketch-book treasures, which when painted form the gems of many a collection. In some of these charming subjects glimpses of the distant capital may be observed, with the dome of St. Paul's in the distance; but they are introduced with such skill and correctness as in no way to interfere with the rural character of his subject..."
Patrick Nasmyth achieved great success during his life and his paintings were both sought-after and coveted by his contemporaries. He exhibited his work in Edinburgh from 1808 to 1814, and first showed at the Royal Academy in 1811. He became a founder member of the Royal Society of British Artists in 1824.
His health however was to deteriorate and as he lived the life of a single man he failed to take proper care of himself. Whilst out on a sketching trip by the Thames he caught a cold whilst standing on wet ground, and this shortly after recovering from influenza. His strength rapidly waned, and on the night of a great thunderstorm, he begged to be raised up in his bed for a final glimpse of his beloved sky. Indeed, he has heard to utter a final sentence, "How Glorious it is!" before falling into a deep sleep.
He died at Lambeth the next day on 17 August 1831.
Patrick Nasmyth was buried at St. Mary's Church. His gravestone was organised by fellow Scottish painters, and their fitting inscription read thus:
"He was a native of Scotland, and his country was justly proud of his talents. As a delineator of landscape, the productions of his pencil, tasteful and vivid, reflect honour on the department of the British School. In his manner he was as modest and unassuming as in his profession he was skilful and eminent. This stone was erected by the resident Scottish artists in London – a humble but sincere tribute to his memory."
Examples of the works of Patrick Nasmyth may be seen in many private and public collections, including the British Museum, the Victorian and Albert Museum, the Williamson Art Gallery in Birkenhead, the Fitzwilliam in Cambridge, the New Gallery in Scotland and the Newport Art Gallery.
Oil on canvas
9 x 10 inches
22.75 x 25.5 cms.
Provenance
Private Collection, Toronto
Framed Size
16.25 x 17.25 inches; 41.25 x 43.75 cms.