MARINE PAINTINGS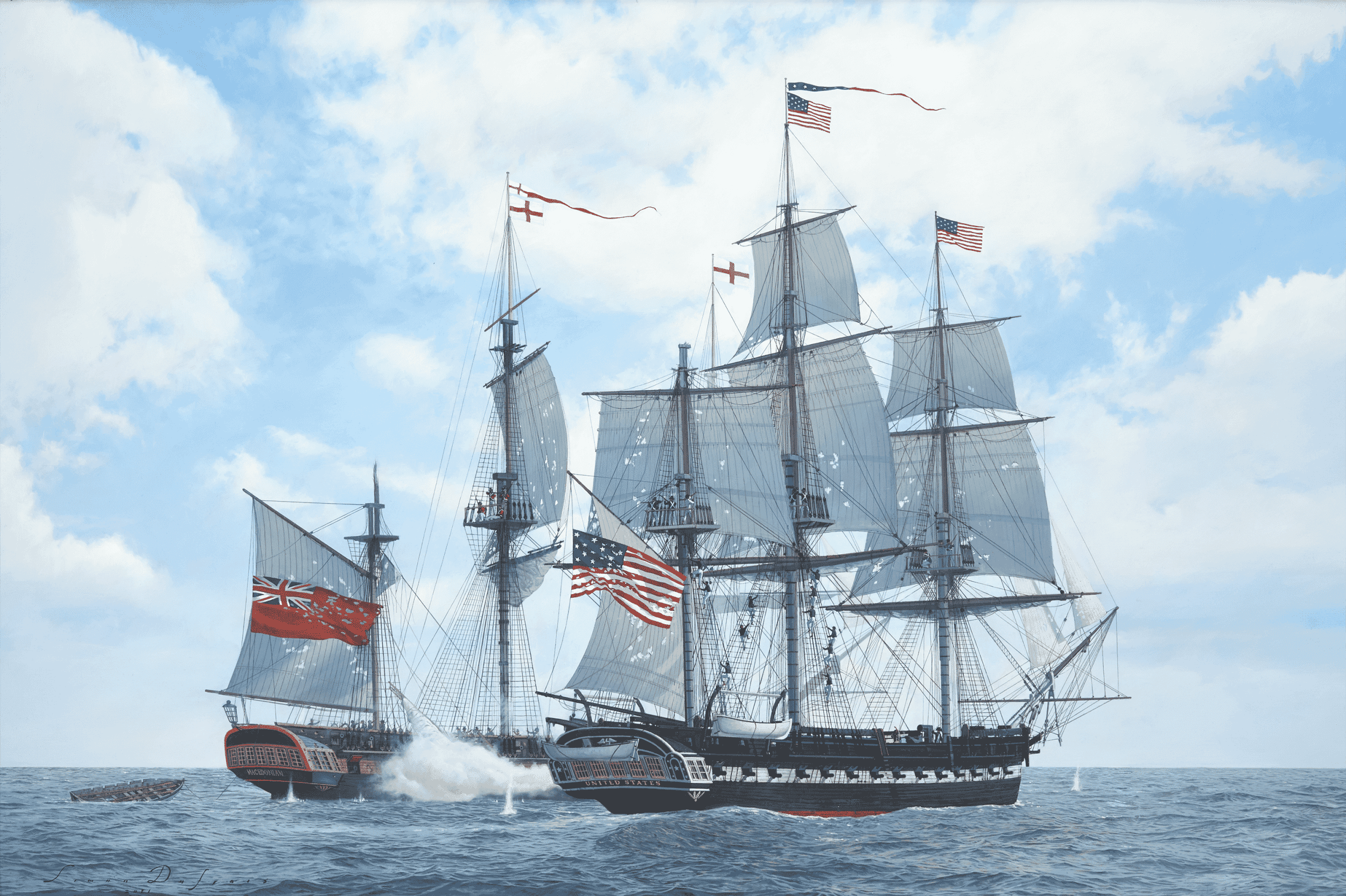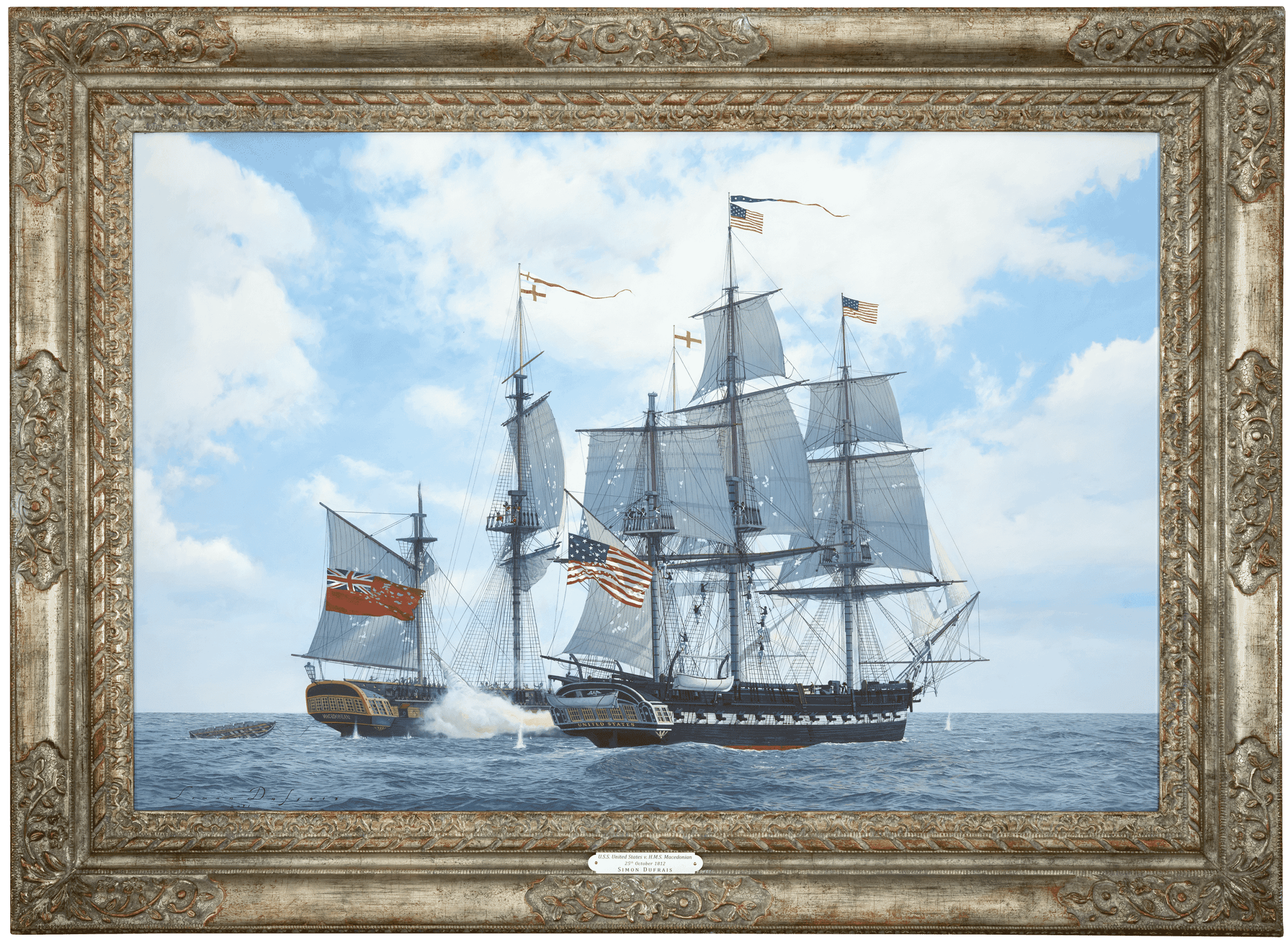 SIMON DUFRAIS
Born 1960
"The Capture of H.M.S. Macedonian by the American frigate U.S.S.United States off Madeira, 25th October 1812"
The Anglo-American 'War of 1812' witnessed several justly famous frigate actions, the second of which was fought out in mid-Atlantic, west of Madeira, on 25th October.
The American 44-gun frigate United States, under the command of Commodore Stephen Decatur, was under orders to attack and destroy British merchant ships when she encountered H.M.S.Macedonian, a 38-gun frigate of the Royal Navy and one of the newest in the fleet.
Macedonian, commanded by Captain John Carden, had sighted the strange ship just after daybreak and, by 7.30am., had identified her as a large American frigate of superior fire-power. Despite this, Carden prepared to engage her and the two frigates exchanged their opening broadsides at about 9.00am.; Macedonian then wore round and closed the United States on her larboard quarter thereby provoking a furious bombardment from the American's longer 24-pounder guns and powerful 42-pounder carronades.
Macedonian's mizzen-topmast was soon shot away and when its rigging fouled her maintop, she lost much of her manoeuvrability.  For the next hour-and-a-half, the United States poured a relentless fire into the British frigate, ripping her rigging to shreds, shattering her hull and bringing down her mizzen-mast along with her fore- and main-topmasts. All but two of her upper deck guns were dismounted and she had a large number of casualties, yet still Carden fought on.  After a failed attempt to board Macedonian, the United States then made ready to rake her adversary's stern and at that point, Carden realised that further resistance was useless and struck his colours.
Decatur accepted his surrender gracefully, the second British capitulation in two months, and sent Macedonian into Newport, Rhode Island, under the command of Lieutenant W.H. Allen. She was the first American prize of the War – the captured H.M.S.Guerrière taken in August being too damaged to save – and another bitter humiliation to British prestige on the high seas.
This original work is a similar composition to the famous oil of this engagement by Thomas Birch of Philadelphia, subsequently engraved by Benjamin Tanner and published on 25th October 1813.  Birch's original oil hung in the Oval Office of the White House during John F. Kennedy's presidency and was sold in New York in May 2008 for almost half a million US Dollars. The various engravings taken from it are illustrated in "American Naval Broadsides, A Collection of Early Naval Prints (1745-1815)" by Edgar Newbold Smith, pub. Philadelphia, 1974, pp. 110-19, plates 53-59.
Signed
Oil on canvas
24 x 36 inches
61 x 91.5 cms.
Framed Size
32 x 42 inches; 81 x 107 cms.