RECENT SALES & ARCHIVE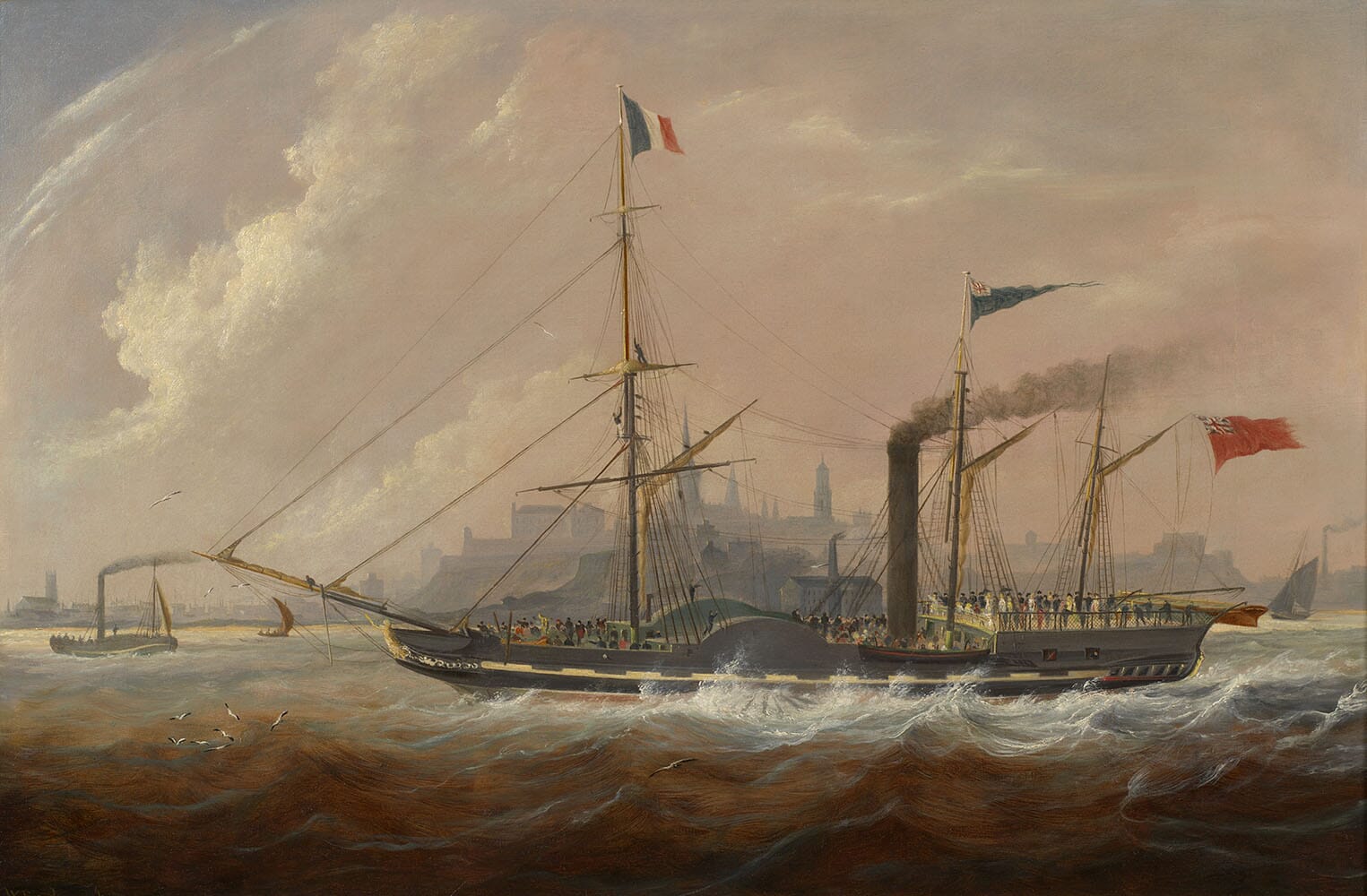 WILLIAM BREBNER SNR.
1789-1866
"The Launch of the Paddle Steamer Queen of Scotland off Aberdeen,1827"
The 309 ton schooner rigged steam packet Queen of Scotland was built in April 1827 by J.Duffus and Co. of Aberdeen. Almost 150 feet long, she was a two-decker with three masts and a female figurehead. She was certified A1 by Lloyds, and her master was Commander Alex Love.
On 16 April 1827 the Aberdeen Journal records the following re. Queen of Scotland:
"On Thursday last, we had the gratification of being present at the launch of the first steam vessel which had been built at this port. If we may judge by the admiration which this magnificent ship had excited, among naval and scientific persons, as well as those acquainted with steam navigation, we may safely pronounce her the finest of her class, not only for a frame of timber which cannot be surpassed but which had been put together in a manner that would do credit to any King's dock yards.
Her length is that of a 36 gun frigate, she has a spar deck and poop, with two splendid cabins, separate from the sleeping compartments which are ranged along the side of the ship and all entering from the main deck. These berths have removing stanchions which, if necessary, would enable her to carry 15 guns on a side. She will be propelled by two engines of 75 horse power each and is calculated to carry, beside her machinery, fuel, etc., three hundred tons.
Notwithstanding the unfavourable state of the weather from the incessant rain, a vast concourse of spectators had assembled at an early hour and seemed delighted with the beautiful airs played by the band of the Aberdeen Militia. At a quarter past one o-clock, the Queen of Scotland majestically glided into her future element, amidst the cheers of the multitude, the band playing "God Save the King". This superb vessel had been built by J.Duffus & Co. and her engines constructed at their extensive establishment here, and if the Queen of Scotland is to be considered a fair specimen of their work, it will bear a comparison with that of any of her class in the kingdom.
The launch was conducted by Mr. Ronald, the master builder, in a style which did him much credit and we were much pleased to observe the accommodation afforded by the proprietors of the neighbouring dock yards, whose servants appeared to vie with each other in rendering every assistance in their power on this novel occasion. We sincerely wish Messrs. Duffus & Co. every success in the prosecution of this now important branch of nautical science".
Queen of Scotland's advertised maiden voyage from Aberdeen to London was on 22 August 1827, with a return date to Aberdeen of 5 September, carrying both passengers and goods. But due to technical problems, her maiden voyage was postponed, and she left Aberdeen on 22 December, arriving in London three days later on 25 December 1827. She was then owned by the Aberdeen triumvirate of Alexander Bannerman, John Duffus and George Emslie. By 1836 she was now owned by George Emslie, William Reid and George Thompson Jnr. of the Aberdeen and London Steam Navigation Company. She was to have various subsequent owners until her retirement in 1869.
Few details are known about this highly competent Scottish painter of ships' portraits. He is recorded as having been born in Aberdeen in 1789, and his occupation was later listed in the local directories as "Artist, Marine and Portrait Painter". He married local girl Jane Moir on 21 December 1811 at Aberdeen Old Machar, North Church. They later moved down to London, living in the East End, with addresses at Pearl Street in 1851 and Clark Street, Stepney in 1861.
Jane predeceased her husband by some eighteen years in 1848, and she was buried in St. Peter's Cemetery in her native Aberdeen. William Brebner died in Mile End, East London in 1866.
One of their sons, William Brebner Jnr. was also a marine artist and, like his father, was essentially a Pier Head Painter. Such painters represented a genre of nautical painters who were very accomplished in their depiction of ships' portraiture, and they were often privately commissioned by ships' captains or ship owners to paint their vessels, especially painting a ship's launch or its maiden voyage.
Signed
Oil on canvas
15 x 23 inches
38.5 x 58.5 cms.
Framed Size
24 x 32 inches; 61 x 81.5 cms.
SOLD